First day in China after 6 years of longing to get back here
So, yesterday was finally the day, the day that meant that I am going back to the place I have been missing for many years. After a long day of travelling, that took about 20 hours including the waiting for flights, with at most 90 minutes of sleep, I am finally here! However, this time is different, because this time I am not alone.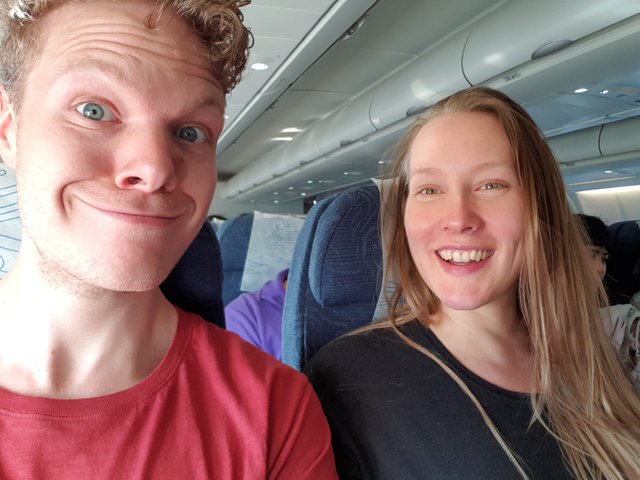 I've now been together with kim for over 5 years
And since I came back from China 6 years ago, she has heard so many stories and she get to hear about all I experienced, enjoyed and lived for in Beijing. I was here (feels wierd to say here) for a total of 9 months to study Mandarin and trained Kung-fu. I went here all alone, while being 21 years old, I did not speak the language, I did not know anyone. The funny thing is that I was never scared, even though I was young, travelling to a country far away where I had no idea how to communicate.
Kim is currently sleeping, but I can't... I'm to excited...
I tried to sleep for a bit, had a shower, layed down and closed my eyes for 30min. But I could not relax, I am to excited about being back here! We are staying in a place where I have not been before, in an area that I have not fully explored. So instead of sleeping I went out for a short walk, just to explore the neighbourhood. Found myself some BaoZi, fruits and water. Right now I am spending time in the bar at the hostel we are staying. Nice place with welcoming staff and Wifi.
In the cab to where we are staying we passed close by my old neighbourhood
Well, we passed by where the school was located, the gym I went to, restaurants I liked. Felt so cool to see what was the same and what has changed. I can't wait until Kim wakes up and we can go explore the area by foot! I just want to experience everything again, and at the same time have the opportunity to experience it all for the first time through Kim. I want to see if she thinks it is all as awesome as I have explained, and if I feel the same today as I did back then.
My expectations are huge on this trip, and I hope it can deliver
We have put together a list of things we want to explore, foods we want to try and places we might want to visit. That list gets longer the more nodes that are connected in my mind, that list will soon be to big to experience in 3 weeks, but hey, atleast there is no shortening on things to do.
Few things on our list are the following
Places to visit
Summer palace
Temple of heaven
Forbidden city
Drum and bell tower
The wall
and more...
Things to eat or eat at
Baozi (I cheated and did that today while Kim was sleeping... schh!)
Jaozi (dumpling)
Beijing duck
Annies (Italian place I used to love)
Cake for breakfast (I ate that once before, so has to try it again)
Teppanyaki
Scorpions
a lot more... we love food
Things to do
Cooking class
Ferry wheel in Tianjin
Food markets
Shopping places
We are both educated chefs, and have worked in the kitchen.
My experience is more into the cooking area, and Kim is more experienced in the baking. We are both foodies and love to try new stuff and to experience food together. So this trip is a lot about just eating, and then finding something to do between the meals. Might be a bit opposite of how most people do, but hey, fk most people! :D
Food in beijing is great, if you know where to look, you can find anything and everything.
---
An excited coach bjork
https://coachbjork.com
Online personal trainer