The life that lies within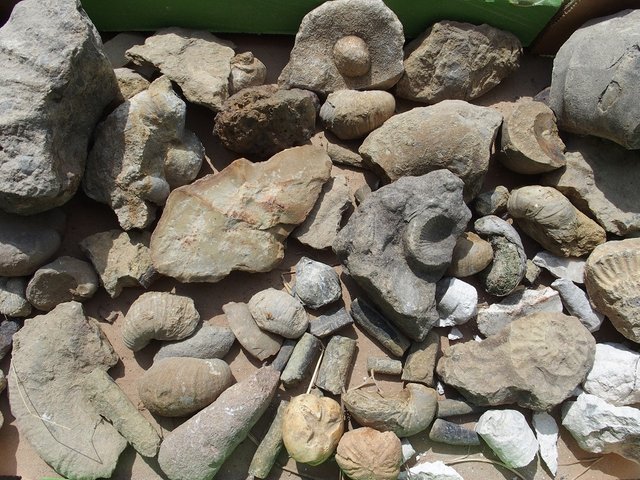 Nothing to see here but a big pile of rocks, right?
Well... at first glance, yes.
But if you take a second to look a little closer, you may realize that each and every one of these boring old rocks is in fact much more than that. Each one has a story to tell. The story of the animals, plants, and all living organisms which swam, walked, and thrived on the Earth hundreds of million of years ago.

The story of Fossils
Fossils are a testimony from which we are able to understand the evolution of life on Earth.
For decades now, my family and I have been walking the grounds of our little village in Burgundy France, collecting these ancient treasures here and there. It helps that my dad is a retired geologist and my older brother knows just about anything a history book can teach you. These 2 elements combined have made for some epic treasure hunting sessions.
| Circled area where the fossils were found | The rocky soil of a vineyard |
| --- | --- |
The problem with looking for fossils, for an amateur like me, is that I do not have the tools nor the proper skills/training to find them. It is important to know what you are searching for in order to properly adjust your vision to successfully pinpoint and differentiate a simple rock from a fossilized one. At first, just about anything I picked up was a precious treasure (and in some ways, it kind of is...but that's another story).
"Even when one has a good internal radar, the search is incredibly more difficult than it sounds. Not only are fossils often the same color as the rocks among which they are found, blending in with their background; they are also usually broken into odd-shaped fragments." - Richard E. Leaky
Luckily, my parents live in an area where vineyards are abundant. And vineyards are some of the best places amateurs can look for fossils.
Why you ask? 2 main reasons:
vineyards are most often planted on rocky soil (rocks = fossils)
this soil is flipped over by tractors on a regular basis, bringing a few of the deeper sediments back up to the surface.
The fact that a lot of the same fossils are often found is because rocks are stacked in layers with the oldest fossils at the deepest layers, and the youngest, or most recent fossils, near the top. As such, rock layers play the role of vertical timelines.

So the deeper we dig, the farther back in time we see
The rock sedimentation of the area we are about to explore dates from the Cretaceous and Jurassic period (between 200 to 65 million years ago), a time when the sea covered almost all of the Burgundian region. The climate here 175 million years ago (give or take a few years😉) would have been hot, similar to the one of the Bahamas today, with lagoons harbouring an abundance of marine life.
Fossils found in this area: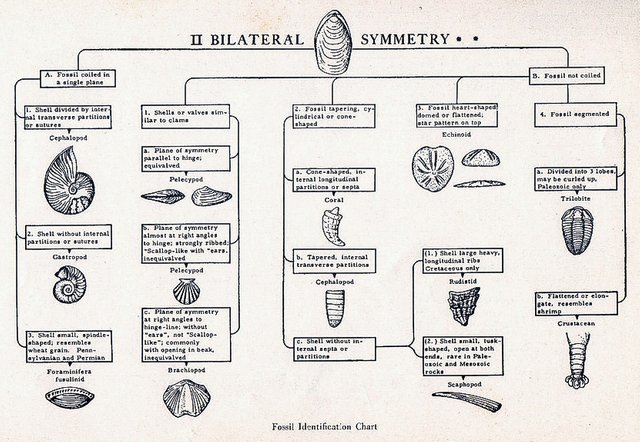 source
---
---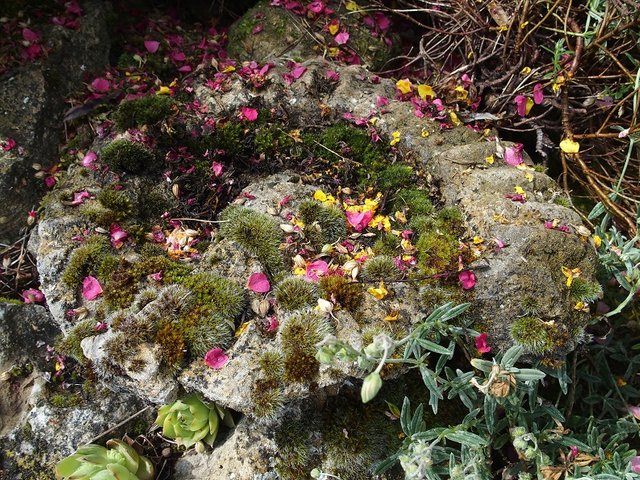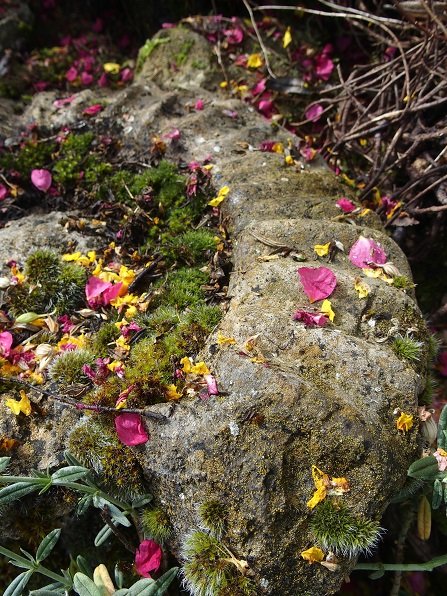 ******
This huge Ammonite tells a funny little story. When my parents began to renovate the stable of their old farmhouse a few years ago, they also decided to dig into the floor in order to level it out with the rest of the garden grounds.
Within the rocks used to create the old floor, they found this giant ammonite of approximately 40 cm diameter, just laying there, amongst piles of other common rocks.
Happy to have found such a beautiful piece of history, my mom placed it in her garden, giving it yet another "life" amongst the flowers and plants.
******
Did the previous inhabitants who obviously placed it there do this for a reason? Was it a form of blessing for the new construction to be built? Or was this massive ammonite just another piece of rock placed here to fill in the gaps as quickly as possible?
---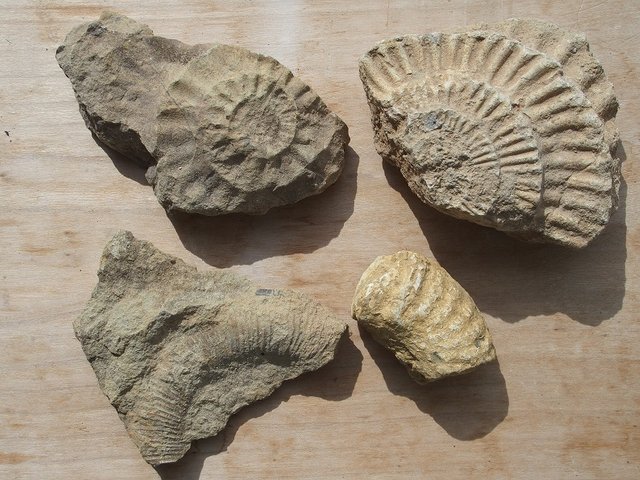 The 2 ammonites you see at the top of the photo are molds or prints, the 2 at the bottom are the actual fossilized animals.
Ammonites were predatory mollusks that resembled squid. These cephalopods had eyes, tentacles, and spiral shells. They are more closely related to a living octopus, though the shells resemble that of a nautilus. source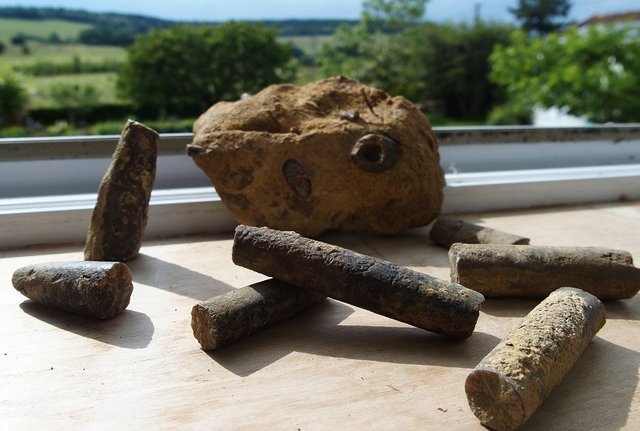 These bullet-shaped fossils (above) are called Belemnites - they are an extinct group of squid-like cephalopods which lived during the Jurassic and Cretaceous periods. Belemnites had 10 arms which, unlike today's squids, were made up only of creepy small hooks instead of suckers.
Funny how they slowly began to develop such a technically complex and unique weapon as suction.
Both can be used as a hunting tool but why not keep the first one? Is it a question of choosing a defensive weapon (suckers) over an offensive one (hooks)? Less energy spent perhaps?
I can't help but wonder why a few of our bigger species of squids still have both.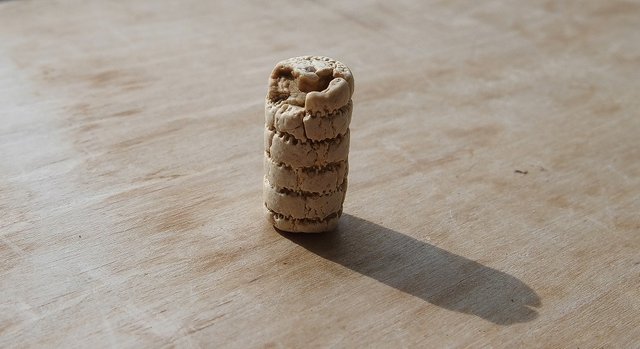 Crinoids
(above) are beautiful marine animals which bizarrely enough look much more like plants than animals. They are some of the earliest animals recorded to this day. Crinoids have managed to survive and evolve through several global climate changes and mass extinctions. They belong to the same family as urchins and starfish.
Here is what they look like today, in their natural habitat:

source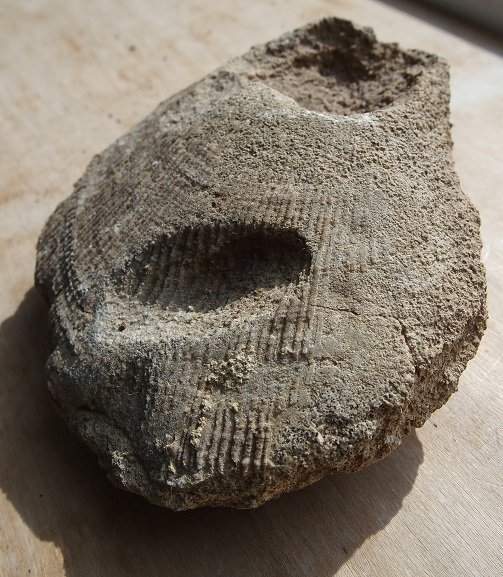 *****
Lamellibranch or bivalves are a type of mollusc resembling much of today's clams, mussels, and scallops.
The oldest fossil of its kind dates as far back as 530 million years ago. That's a lot of years!
The bivalve below (right side) called Gryphaea is also known as the Devil's Toenail, perhaps because the Devil has goat's feet and they look like horns, or perhaps the Devil just really needs a pedicure.
*****
---
| 3 small bivalves | Gryphaea - most commonly found fossil in the area |
| --- | --- |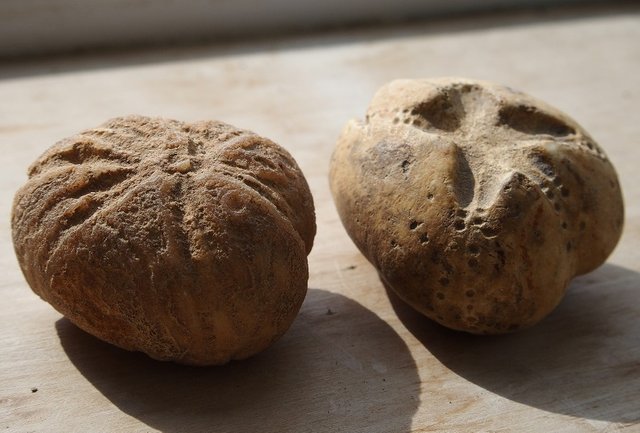 Echinoids or Sea Urchins, as seen above, are common fossils found within the Jurassic and Cretaceous rocks of Burgundy.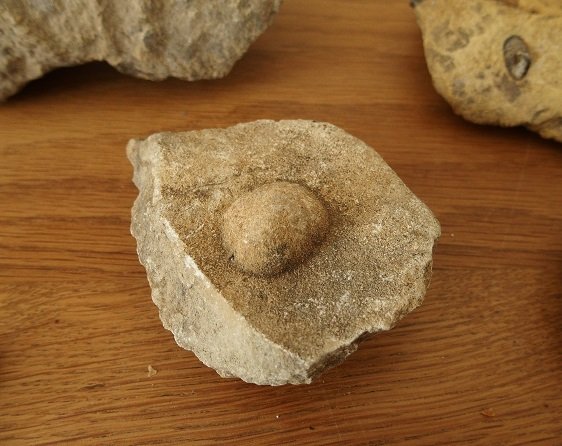 I've been trying to figure out what this one is but have no idea. If any of you know or want to take a wild guess, I'm all ears.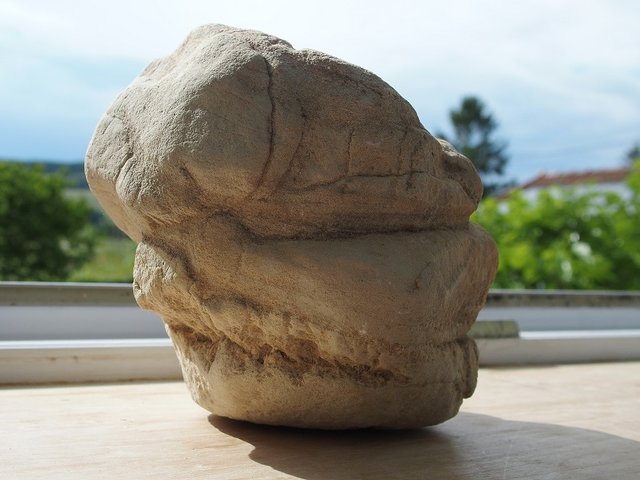 And here is a photo of a fossilized dinosaur poop. Or at least that's what it looks like to me (similar "plop" formation to cow dung, for all you connoisseurs out there).
EXTRAS:
The following fossils were found by my dad, in other parts of the world. I'm adding them in the post to show you the wider variety of fossils found around the Earth.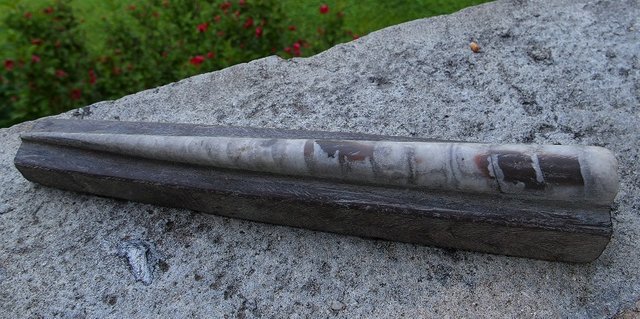 Orthoceras fossil found in China (mollusk that lived more than 400 million years ago)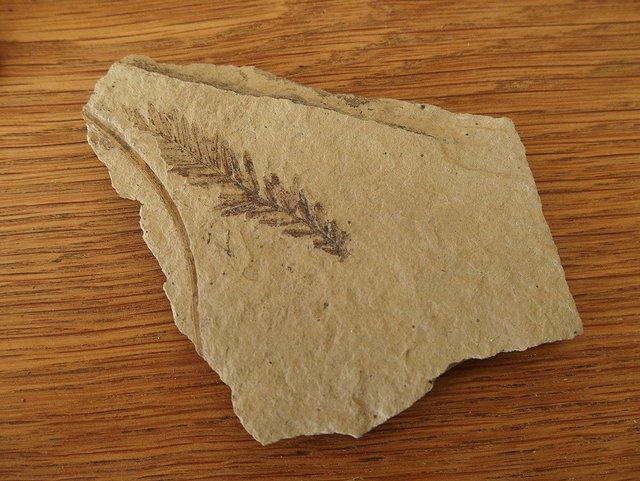 Fossilized mold of a leaf found in Nevada, USA. Does anyone recognize the plant?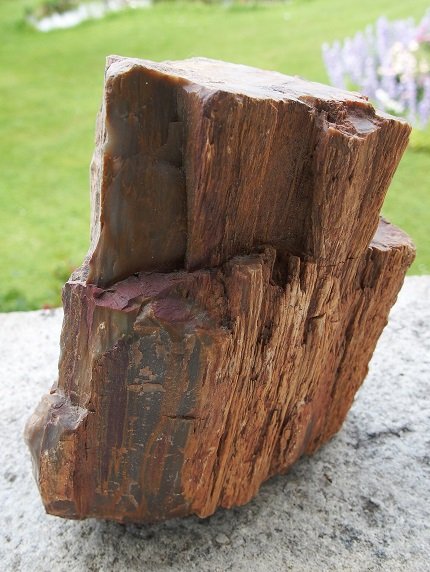 Petrified wood bought (not found, that's illegal!) in Arizona, USA.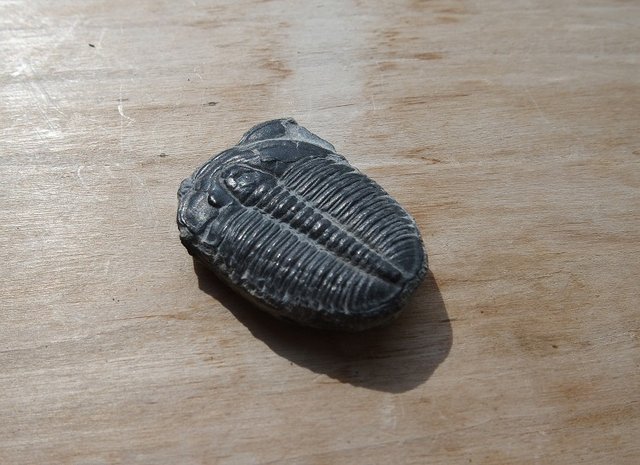 Trilobite found in Canada.
Trilobites proliferated and thrived throughout the Paleozoic world, comprising one of the earliest known groups of arthropods. They are probably most closely related to modern horseshoe crabs.

Source
"As we peer back through the fossil record, through layer upon layer of long-extinct species, we are reminded of our mortality as a species. There is no law that declares the human animal to be different, as seen in this broad biological perspective, from any other animal. There is no law that declares the human species to be immortal."
― Richard E. Leakey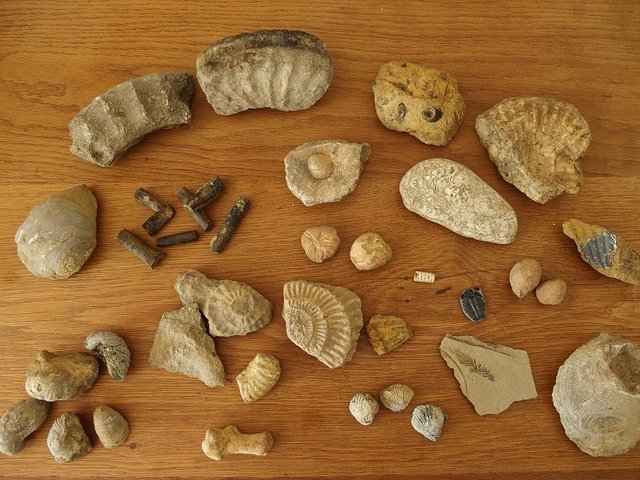 So the next time you go for a walk in the countryside, follow the path of an old canyon, or sit by the river banks, take a few minutes to look down at your feet - you may be surprised to find that what you are stepping on tells a story far greater than you could ever imagine.

All photos in this post were taken by me unless otherwise stated.
Don't hesitate to leave comments, ask questions, and share ideas - I love to hear from all of you.
To view some of my previous posts, click on the links below:
---
---
"Learning is not a race for information, it is a walk of discovery" - Jane Healy