So Why Art?
"The Real meaning of Art"
One comment in my last post cited the 'real meaning of art'. I certainly don't know the real meaning of art, if there is one. :) Personally, I think of my brand of artsy madness as 'escapist self-expression.'
I escape into my head, then I draw what I see. Sometimes it's girls (yes it's digital)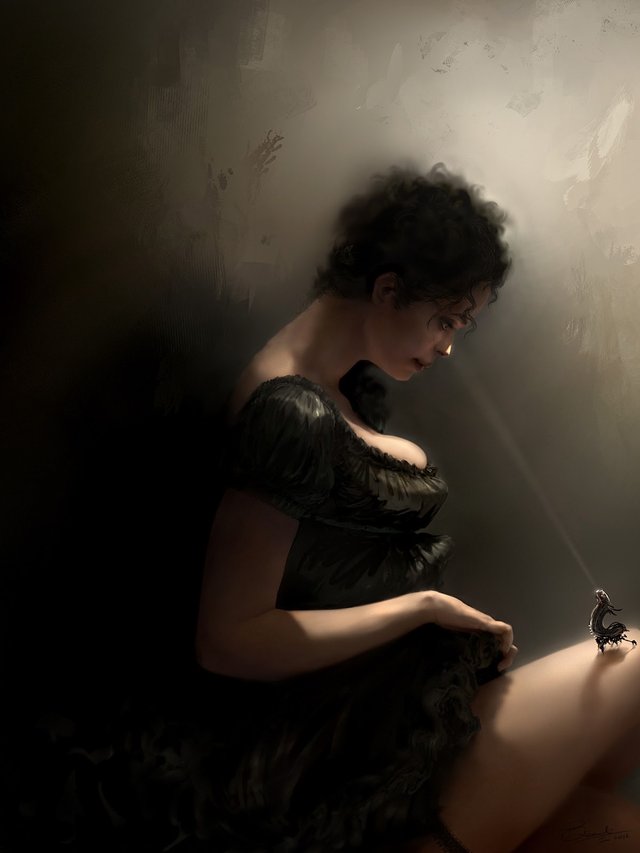 Sometimes monsters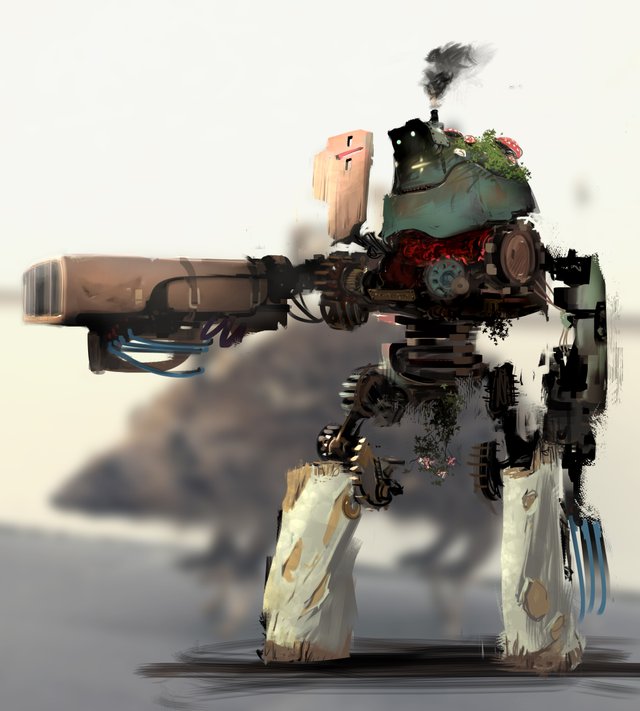 Other times it's CENSORED with CENSORED CENSORED which is not to say that I CENSORED CENSORED CENSORED, or even tried CENSORED. Anyway, CENSORED.
But sometimes I escape physically to somewhere else, sit on a stone, and draw what I see in my sketchbook. I use a 9"x12" sketchbook usually, and just a fine point ink pen. In one of my next posts I'll try and share the process of one of these.
For now though I'd like to say that I can drive very fast if need be, but I much prefer not to.
My friend Joe provided an unscripted and vigorous end to this little travel story of mine, and I couldn't thank him enough for it because for the first time, I just happened to be making a silly little travel video. This happened in Rovinj, Croatia, which is in Istria in the west. I've spent nearly 4 months in total in Croatia over several visits, so I know a few things about it.
1.That Dubrovnik gets slightly more expensive every time. Did you go there last month? Good! Well, it just got more expensive now. But when I drew this, and before the Lannisters filmed Kings Landing there, it was a lot cheaper. But it's still beautiful!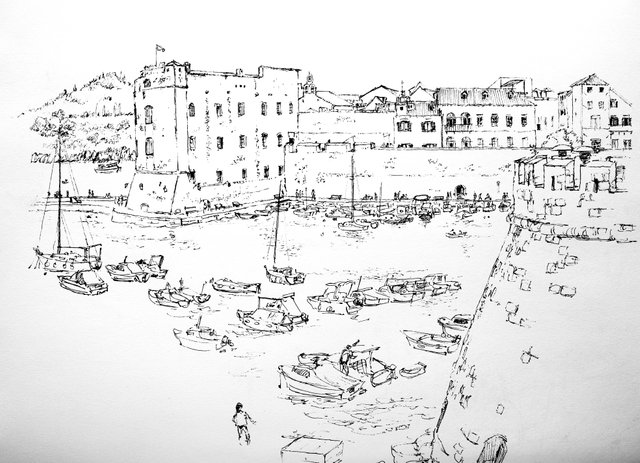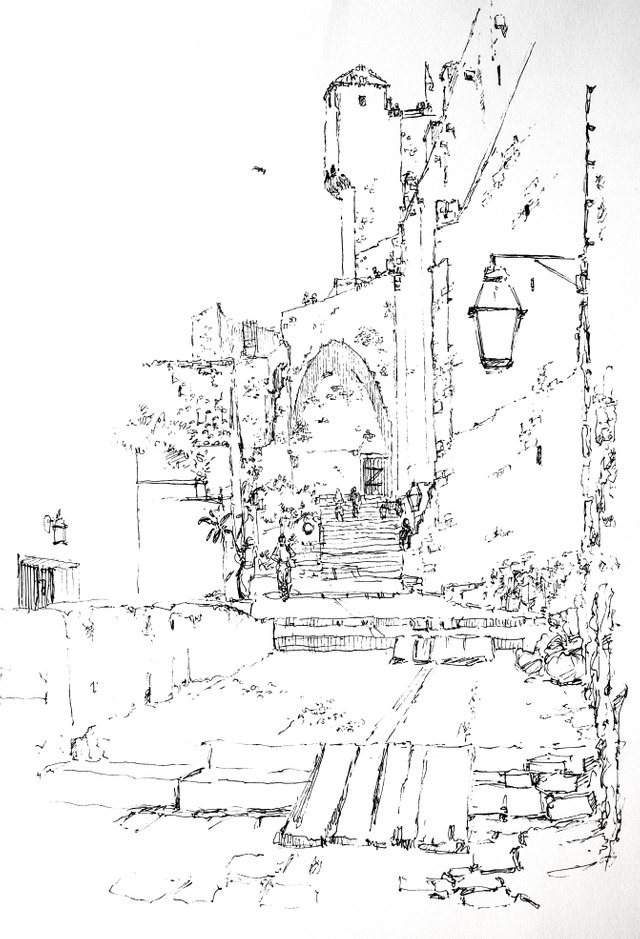 2.That Rakija, their brandy, should be consumed with great joy and also great care. Imagine your brain is an egg, and Rakija is a fist around it. One night in 2012, after enough of those, the fist shut. Then I spent about 10 minutes writing this note to my host, and another 4 minutes trying to slip it under their door.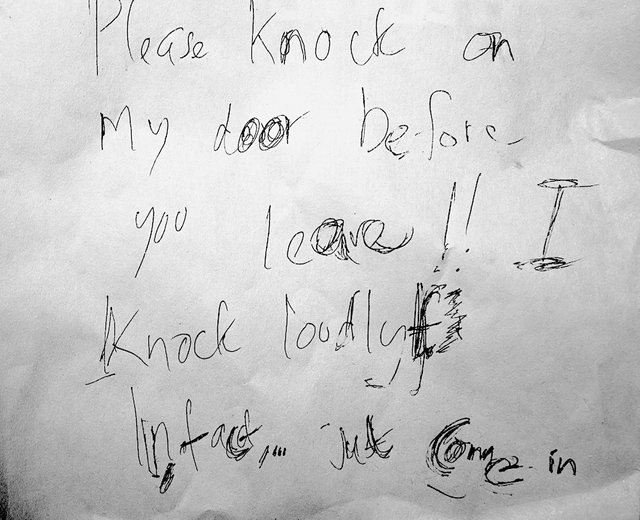 3.That there's a Tim Hortens (not a typo) in Zadar. How I found it doesn't matter (really, don't ask), but to the fundamentalist Canadians who understand the gravity of this, listen to me: there is nothing for you there. You will find no donuts there. You will find a little bit of coffee in very, very small cups, and you will find rakija (see note above).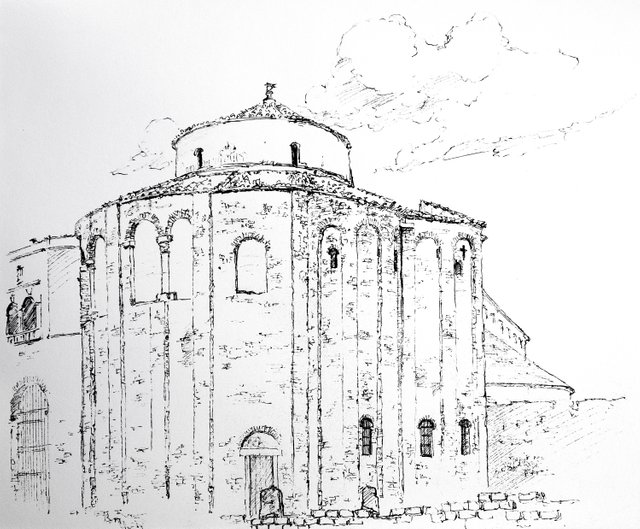 4.That many cities have a Stari Grad, which means 'old town', the oldest part of the city. But on Hvar island, there's a whole town called Stari Grad, because it's one of the oldest towns in Croatia. And here on one side of the narrow bay is a restaurant owned by a Czech lady, which used to be a quarantine house several centuries ago. She told me that a ship approaching the bay would be forced to stop there, its occupants kept in the quarantine house for some time and observed for symptoms of mild ailments like the plague. They would then be allowed passage into town if they appeared healthy. How did they stop the ships, you say? An underwater chain the entire width of the bay of course. How would you do it?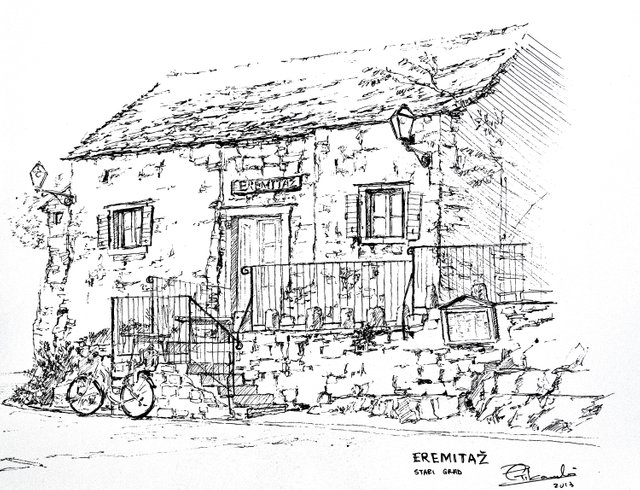 You can actually find the various centuries of stone work if you look carefully, the newest addition being the bike with the child seat, c. 2011.
Fun note: I always start a study like this one by staring at the subject and at the page for a while and imagining I've already drawn it, which might sound a bit like having sex just by looking at a woman, but anyway. I imagine its placement, and I measure every element on the blank page in my head (I'm using ink, so I can't make any rough marks). Then I pick a corner (if it's architecture, it's always a corner - they're easier to check against) and start.
On this particular one I picked the corner of the right window. I drew the window and its window frames entirely, then I cursed and turned the page and started again. I realized the lampshade on the far left wouldn't fit the page.
But that was a different trip! We were talking about Joe. Joe who made me drive faster than I like.
(Apologies, the video was shot on phone and for phone, so its vertical. Yeah, it's slowly becoming a thing!)
Take care and Keep it Steeming :)