Is a self-inflicted participation award a good sign of success?
Shady street beggars will often put money out on display.
Do you know why?
Bleeding Ninja Turtle
I just came here to be a random arts and entertainment blogger.
Rather than sharing another artist's work and talking about it, I produce my own art and write my own words. That's old news to anyone who's been following my blog for awhile.
We all have our reasons to be here, we all have our own way. Being unique does not make me unique on it's own.
I refuse to buy your votes.
How can I call myself successful here if I go around purchasing success?
If an author releases a book, then hires a team to purchase every book in existence, does that make them a top selling author? Maybe on paper. If people found out about how this author became successful, would they rush to the stores to buy their next book?
Personally, I think people would be grossed out by this behavior. They would most likely view that author as more of a fraud than a writer and in the end that author might be forced to retire early.
If I was going around purchasing my rewards, how could I honestly tell my friends, family, my kids, you folks, everyone, "I am a successful, independent, outsider artist on the internet."
I certainly wouldn't be able to say I get paid because people like my work if I was buying likes. Then, while looking into my future, I wonder how I'd ever be accepted in the mainstream art community if they found out I simply purchased my success.
The Entire Time I've Been Here
I thought a vote meant, "I like this."
Steemit isn't the end of the road for me. I simply needed a place to get my foot in the door, a place to settle in and get started.
Two Insanity Productions. You'll see that at the bottom of every article I publish here. It's my brand. Exclusive to Steemit. Everything I do gets released to the public here. When I share my links around the internet to get more eyes on my work, those eyes must come here.
I created a brand and it resides as it's own entity on a blockchain. I'm one of the first people in the world to do such a thing. I'm proud of this accomplishment.
Everything this brand does, every move I make as sole proprietor is recorded and kept forever. Success now means nothing if it doesn't contribute towards the future. Honesty and integrity must be maintained or I'm done and I can kiss that future goodbye.
I don't demand people like my work. I release it to the public and simply hope they do. If people didn't enjoy what I do here, I would have left long ago. So far, every step of the way has been contributing to my future somehow.
Why Does the Shady Beggar Put Money on Display?
Lately, I've been experimenting. I have not voted on my two most recent posts, nor this one, and I'm going to continue like this for a few days.
I'm curious. Will people like my work if doesn't come equipped with money on display? So far, so good.
A shady street beggar will put a hat down and add a few coins. They like to play little mind games with the passersby. People will feel more inclined to give a coin, if they see others have done the same. When a mark comes along and drops a coin, the shady beggar looks around, picks up the coin, and puts it in their pocket. Now it's out of sight.
You see, if the hat was full of coins, the passerby is less likely to help someone who appears as if they don't need it. This is why those hats never fill up.
Some of those people can make over $1000 in one day doing this scam.
On the Other Hand
A street performer is working. A guitar case full of coins on the ground could lead to an over flowing guitar case. People feel more inclined to pay the performer if the performance is good and they see others having fun walking up to help out with a coin or paper bill. All it takes is a crowd of people to see one person drop a coin. Before you know it, people are lining up to help and the case will quickly fill up.
Would you pay a performer if you saw them open a guitar case full of money and leave it on the ground before they started playing? That's what someone who doesn't know how to play the guitar would do. Would that performer feel successful if they setup shop in the park, open their case full of money, and play to an empty field? Are they getting ahead if they are paying for their own imaginary success? If they truly believe they are, they're fucking crazy.
Something to Think About.

Credits:
All images seen here were produced digitally, by me.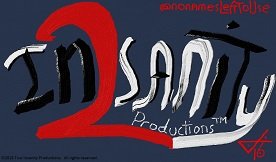 "How does something that is supposed represent value keep it's value when it's no longer valued?"
[email protected]
© 2017 Two Insanity Productions.
Follow @NoNamesLeftToUse
(Click the link for previous posts!)