Positivity Quote #3
Hello people.
Today i plan to write on my positivity quote series. I can across this quote recently and loved it.
I find this quote very powerful and meaningful. So much meaning in just 2 lines. It is the truth of life!!!!
IT WILL NEVER RAIN ROSES.
WHEN WE WANT ROSES, WE MUST PLANT MORE ROSES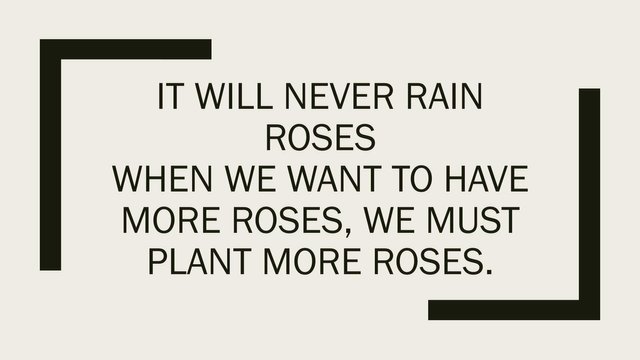 Life is never easy. We will not achieve anything by itself. I will not walk directly towards us. We will have to work for it. Work with full dedication to achieve it. There will be no shower of success upon us. The road to success is difficult. We may fail many times. But that doesn't mean that we stop trying. We must stay positive and motivated!!!
To achieve success, we will have to find ways towards it and try to overcome our difficulties. Just as the quote says, WE MUST PLANT MORE POSES IF WE WANT TO HAVE MORE ROSES. Just work towards the goal with DEDICATION and POSITIVITY and one day, we will not even realize that we reached our goal.
HOPE THESE QUOTES HELP BE SPREAD POSITIVITY IN PEOPLE'S LIVES. THANKS FOR READING.