Day 13: 5K to 1 Million - Je Me Souviens
Quick Recap:
Starting September 23rd, 2019, I embarked on the journey to turn $5000 into one million dollars by trading stocks and cryptocurrencies in a way that anybody can replicate. I am using Tastyworks as my main trading platform for stocks and options (You can sign up for your own account with my referral link)
For crypto, I am mostly using Binance and KuCoin.  You can sign up for Binance and KuCoin with my referral links as well. See the Day 1 Blog for my exact trading strategy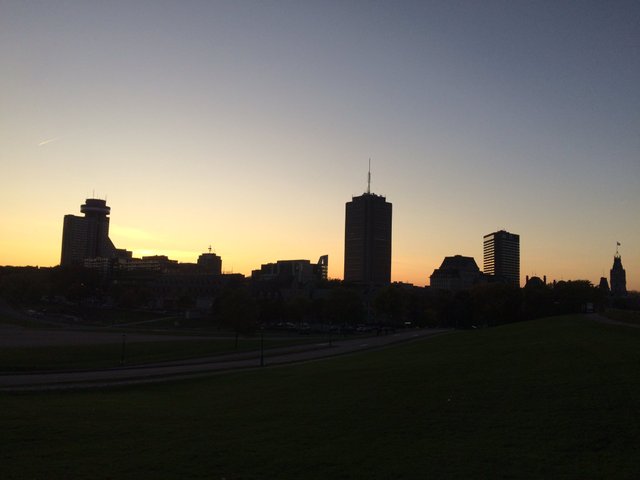 Day 13:
Stock market is closed today and bitcoin is still just hovering right around the $8K level, looking for a bigger move one way or the other. 
So there are no trades to be made today.  Although next week is looking like it will be an action packed week with very high profit potential.
Anyways, I have spent the last week traveling with my family in the French-Canadian province of Quebec.  Mostly visiting the city of Montreal and Quebec City for the very first time. 
And this is the main reason why I trade stocks.  
My main goal is to travel the world with my family while still making money trading stocks.  
We all need a bigger "why" in order to overcome all the ups and downs. 
And this is my big "why".  To achieve the "5 Freedoms" so I can live life on my own terms.
Freedom of money - Generate income through trading stocks so I always hav enough cash flow to travel
Freedom of time - Because I can trade stocks from anywhere, I am not bound by a schedule and can pack up and go at any given time.
Freedom of people - Since I am 100% in control of trading stocks through online brokerage platforms, I don't have to deal with people.  No bosses, no co-workers, no clients/customers.  I can choose to only interact with people that I want to deal with.
Freedom of place - Again, since I can trade stocks anywhere there is wi-fi connection.  I can pretty much go anywhere I want.
Freedom of Purpose - finally, when all the other 4 freedoms are achieved, I can really make sure that I choose my life's purpose carefully.  Right now it is all about being the best father I can be, and create the best life and experiences for my wife and kid.
Anyways, that is it for today.  Keep your eyes on the prize.  Whatever you can conceive, you can achieve.
Follow Me on Twitter to get the latest and quickest updates
Disclaimer:
All contents that I produce are for entertainment purposes ONLY and should NOT be construed in any way as financial or trading advice.  All trades that I will be writing about are purely theoretical and should NOT be construed as a real trade.