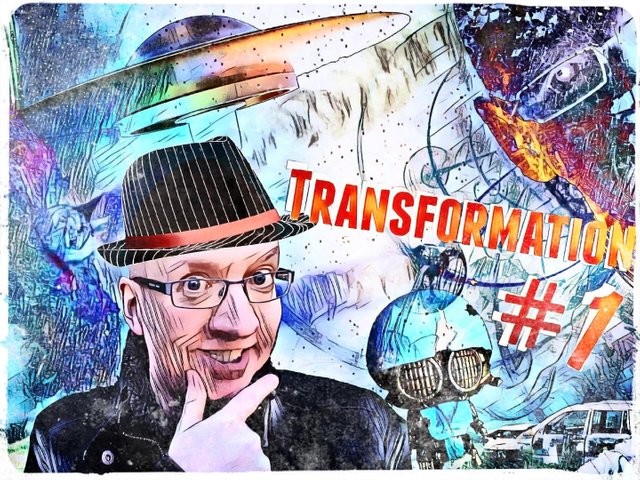 You fancy a bit of pudding, baby?
The Good Lady looked at me in a way that she probably thought was seductive but instead it made her look like an Otter trying to open a tin of anchovies.
Pudding? For breakfast? Well, why the hell not!
I said with gusto.
I wasn't one of those men that insisted on the lights going out before shaking the pink pepperpot after all.
The Good Lady glided toward me as if on freshly oiled feet. She deposited a small bowl before me.
I looked at it with no small foreboding.
I thought you said pudding?
I asked, hoping that she had a trump card of something saucy up her sleeve and that the bowl in front of me was not the alleged pudding she had offered.
Yes, Pudding...
She purred, pushing a spoon into my hands as if it were a love thermometer.

But this can't be it?
The thing that was in the bowl before me looked exactly like the hairballs that my oldest cat was fond of depositing in hallways in the dead of the night.
The Good Lady grimaced.
I said pudding and that is pudding. Now eat it.
Her tone was stern and forbidding and I couldn't help but feel a frittering in my nethers at such stern'ity.
I dipped the spoon into the pudding and tried to widgy a bit onto it. The thing in the bowl clung together fibrously, stubbornly refusing to be spooned.
Can I have a knife?
I ventured.
If she turned for even a split second I reckoned I could race past her and escape out of the door.

The Good lady shook her head in exasperation and grabbed the spoon from me, muttering something which sounded suspiciously like fuck sake, man up. Of course, it couldn't have been that, there quite simply wasn't anything more man than her man and that man was me.
Triumphantly she pulled the spoon free from the mass in the bowl and held it out to my reluctant lips.
I opened my mouth and manfully swallowed.
The small brownish mass lurking on the end of the spoon reluctantly came off and slipped into my mouth.
Huuuughgh. In the name of fuck? What is that?
I retched as my tongue and teeth wrestled with the intruder.
You like?
Beamed the Good Lady as if we had not been together for more years than I cared to count.
I chewed at the dense, soily thing in my mouth and made a face.
No?! It tastes like dirt and the bleak emptiness of space. What the fuck is it?
I managed to choke out the words around the muddy wad.
It's Patlava.
Said the Good Lady in a hurt tone.
What the hell is Patlava?!
I finally managed to swallow the dirtball and reached for my coffee to swill away the brackish taste.
Its potato skin and oatmeal pudding. It's lovely. It's got banana in it too.
Her tone shifted from hurt to offended as she recited the ingredients.
I stood and gathered my long coat and Fedora.
Well, babycakes. It's minging. Absolutely minging. There is more chance of me sticking that up my arse and yelling "I'm a duck" than there is of me eating it.
I tipped my hat on at a more rakish angle than usual and tipped my head to her.
Now, I am off. Somewhere out there is case with my name on it that needs solving.
I ignored her furious quacking and headed out the door.
To find a case...