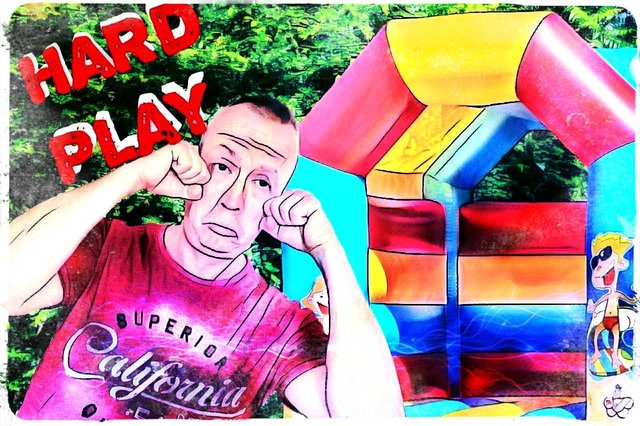 Being a holiday, cabin fever can become a thing when the world is closed down and everything is cold and wet.
Today, the little lady asked to go to a soft play.
A softplay, yes of course!
I had bellowed like a madman because I had just finished my third cup of coffee.
And so we headed off to the nearest one that was half decent.
We arrived and I got us a table. The little lady kicked her shoes off in nano-seconds ready to launch herself into the world of bright primary-coloured, padded climby stuff.

I shook my head in bemusement and bent down to untie my own shoes.
To be brutally honest, I hate softplay. It is like a special hell designed for parents who don't actually like children.
I mean I love my own, that's a given. But I truly cannot be arsed with other people's. Especially when I am locked in a big tin shed with a gang of them who are screaming and running and screaming some more.
There, my laces were undone. I kicked my shoes off and looked up for the little lady.
That was weird. She wasn't there?

Surely she hasn't gone in without me? Always went in together?
I got up to look for her, checking the table, to make sure I wasn't leaving anything too valuable lying about. This was still Glasgow after all and several of the mummy types that were seated about had been casting their sleekit eyes my way.
It might have been that they were only eyeing up my happy sacks and enviously imagining the unused baby batter lying dormant within but I didn't want to take the chance.
I walked over to the mesh fence beside the giant corkscrew slide and peeked through.
There! I saw her. She was running with a crowd of similarly aged four and five year olds. They screamed as they tore past me.
I tried to attract her attention but she was having a whale of a time and didn't see me.

I felt a big pang of loss within my chest. Up till now the little lady had never went in herself. She would always want me to go in with her, crawling through the tiny spaces together and all of the other associated softplay gubbins.
Now she didn't need Daddy to hold her hand anymore.
At various points she popped out for some water before piling back in.
I sat and read my book.
Eventually, it was time to go home. We hopped in the car and set off.
You looked as if you had a great time lass!
I said, attempting to sound enthusiastic and not all sad-daddy.
I did!! It was amazing! I loved it!
She beamed at me in the rear view mirror.
I opened my mouth to say that was excellent but she interrupted me.
Oh and Daddy, sorry I didn't play with you. Don't worry though, I still love you.
Love you too, little wing.
The ache in my chest lessened just a little.
I realised that watching this one grow up and become more and more independent is going to be very hard. Very hard indeed.