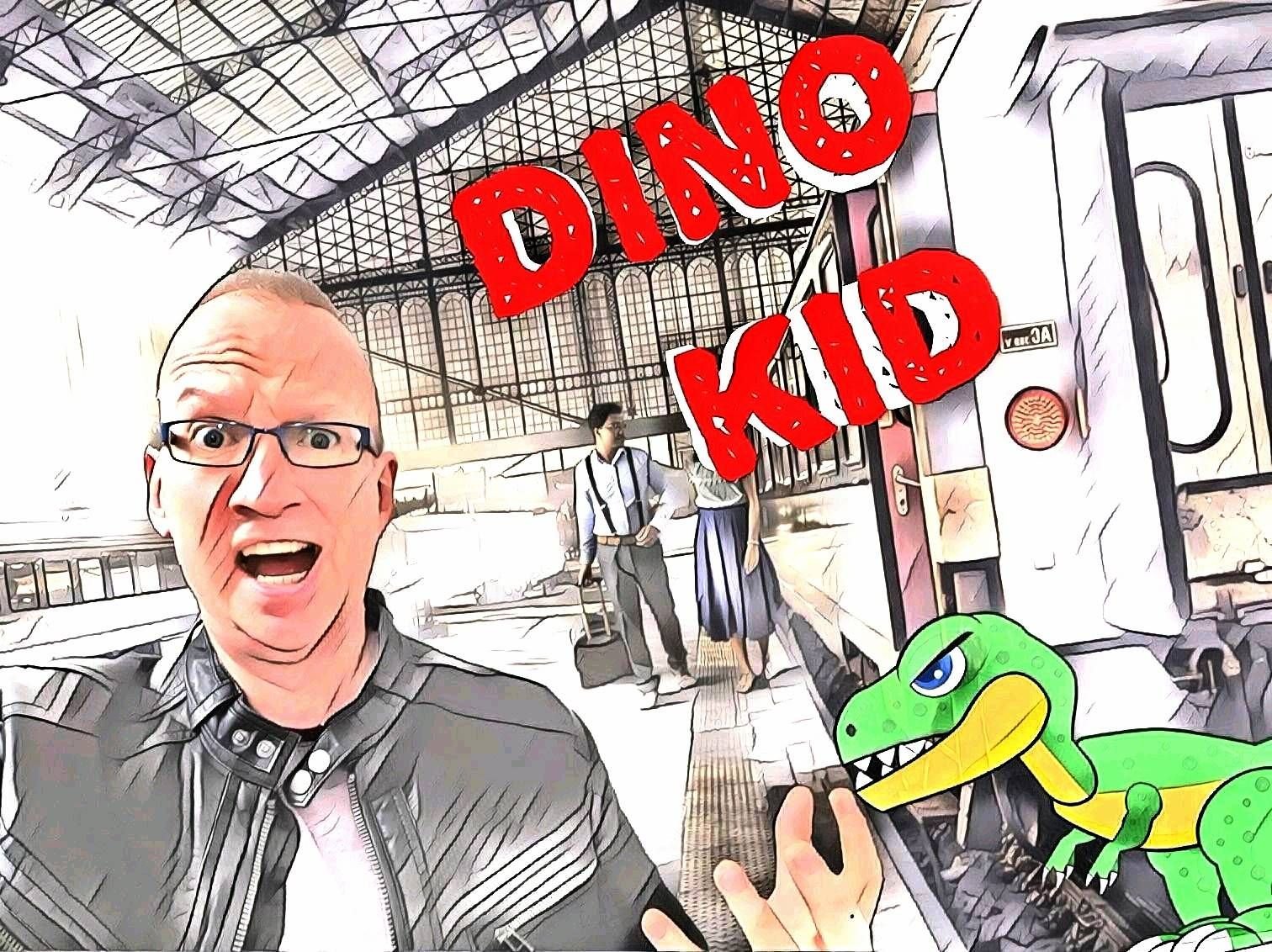 It was with a contented sigh that I flumped down on my seat on the train for the commute to Edinburgh this morning.
All seemed well with the world. The train was relatively quiet. I had a table seat and a nice strong coffee to help me while away the journey.
I closed my eyes and breathed in a big calm Zen thing of a breath. Aaahh... Life was good.

Awanna window seat!!
There was a huge crashing of plastic on the table I sat at.
Wtfunkz?!
I opened my eyes.
Wedging themselves into the two seats on the opposite side of the table were an old man and a very young sticky looking boy.
The plastic crashing noise came from the kid's plastic Dinosaur toy that he was walloping repeatedly onto the table between us as if he were a butcher and the table several pounds of buffalo flesh.

The old man greeted me with a cheery tip of his head.
Aye aye, Grandfather Slippytits and his annoying bastard nephew is in the house.
I thought as I nodded back with a strained smile. The kid was licking the window and making farting noises with his mouth against the glass.
Fuckity-baws, I had a bad feeling about this.
I moved my coffee cup further away from the kid's big plastic dinosaur monstrosity. Wee bastard better be careful. I thought kindly.

The kid was still licking the window, he must have been three or four years old. There were streams of flecky saliva running down it now.
I stifled a boak of a gag.
There was a jolt as the train pulled out of the station.
I got my laptop out and plugged in my headphones.

Previously, as a commute virgin, I had been playing with my phone or reading my Kindle on my journeys. Then the fabulous @jedau suggested watching a movie instead because I was complaining that I never had time.
Genius!
I decided to start withThe Force Awakens. Aaarr, that will get my nuts all salty!
I slouched down and angled the screen so that I wouldn't have to see the daft glass licking child across from me.
I had been watching for about ten minutes when something thudded into my laptop screen from behind.
I ignored it.
It happened again. Then again.

I paused the movie and sat up to see what was happening. The messy kid was banging his dinosaur about on the table and making raar noises. For whatever four-year-old reason he had, he seemed to have decided that this would involve thumping my laptop every two minutes.
I looked sternly at Grandfather Slippytits,, he looked all nervy and twitchy as if I had caught him surreptitiously drinking my piss.

Can you...?
I motioned at the wee noisy bastard being a wee bastard across from me.
He seemed to come to as if waking from a fever dream.
Oh! Oh no! Oliver. Oliver, please. Please Oliver, please stop hitting that man's laptop?
Oliver looked contemptuously at the old diddy and then looked at me. Very deliberately be thumped his dinosaur off my screen.
Then he smiled. A sneering smile of dominance and control.

Grandfather Slippytits flapped his hands in the air in an agitated impersonation of a man being attacked by a seagull.
Oliver! Stop! Stop it, Oliver, please!! Please, Oliver!
I glared at Oliver, he returned me a look that implied in his future he would pay women to spit on his nethers and insert strange fruits up his Nathan Barley.
Oh for fuck sake.
I sighed, closing my laptop lid and sticking it by my side.
Grandfather Slippytits attitude changed instantly from one of pleading apology to one of outrage.
Excuse me! Mind your language please!?
I looked at him, then the kid, then back at him.
I narrowed my eyes. Perhaps I should apologise? I didn't like it when adults swore around my children.
The better man would surely apologise. I opened my mouth to speak. Somewhere from the depths, my coal black heart burped...
Fuck off.
I smiled and plugged my headphones into my phone and ignored them for the rest of my journey.