Burnin The House Down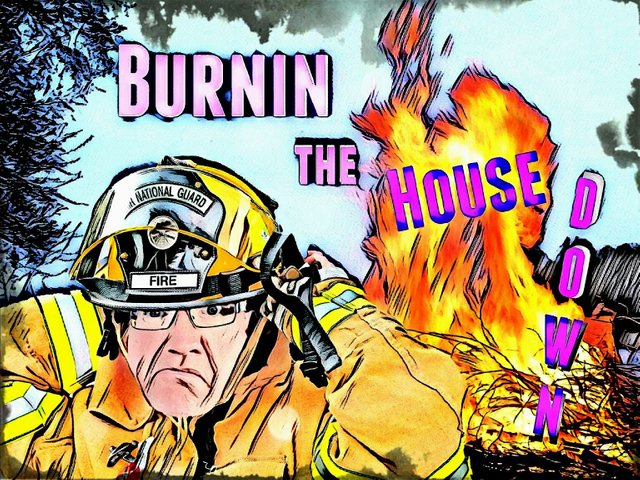 Are you sure this was necessary?
The Good Lady wrung her hands with angst as she watched the flames rise high.
Aye, it was necessary, lass.
Before us, our house burned. The flames cracking and sparking some twenty, thirty feet in the night sky.
But, I don't understand? Why? Why now? I mean, we had been trundling along for years and nothing bad had happened?
The Good Lady wailed, her face eerily lit orange by the inferno before her.
It was a defensive move baby. Don't you understand?
I set my mouth in a grim line.
I don't understand. This was our home and you have just set fire to it because someone might do something bad?
She looked at me as if I was a stranger to her.
Aye, the potential was there. I had to mitigate it somehow.
I snorted like a bull with a power hardon.
Couldn't you at least have discussed it? Talked it over before you put a torch to the place? I have a stake in all this too, you know?
A tear tracked down the Good Lady's face as she watched everything we had built together burn.
No time to discuss it, baby. Or the bad thing that had the slight potential to happen might have happened. I had to act as a supermajority and take the decision.
I looked off into the distance beyond the flames to the dystopian future only I could see lurked. A broken landscape with nothing living left in it.
I shook my head.
You ask why now? I can't answer that in a way that makes sense or seems logical. All I can tell you is, this had to happen to protect us all from the bad things that could maybe happen if the stars aligned in a particular way or the tossed coin landed on its edge. Or something something.
I struck a heroic pose in the flickering light of the flames. A pose worthy of a Baron.
When the flock needs culling, the shepherd doesn't ask the sheep who should walk into the night. Oh no, the shepherd chooses. Because he is chosen to choose.
I laid a hand reassuringly on the Good Lady's shoulder.
I did this so that I, I mean we could be safe.
I breathed in the scent of char and ash. It smelled good.
I guess, the fear was that someone might have taken my house away from me...
I said softly, my voice barely audible over the roar and crackle of the fire.
But now we don't have a house to be taken from us!?
She let out a great heaving sob.
I nodded. I would do anything to make sure I, I mean we were ok.
This was only the beginning.
Together, we watched the house burn.