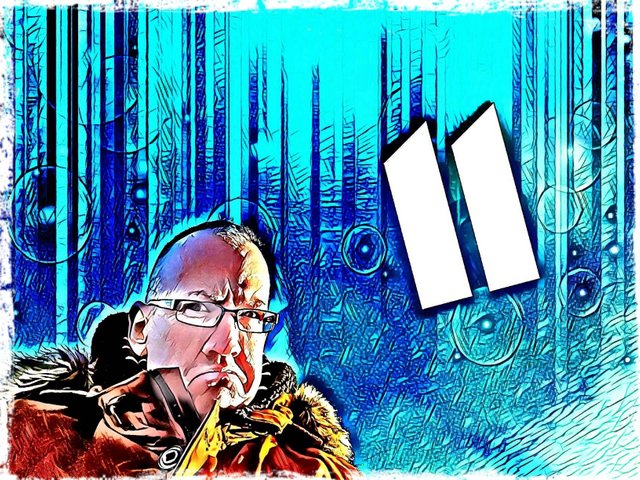 My head pounded and I felt slightly sick. Deep down I wondered if it was the whisky and the prosecco from the night before or even the red wine but I knew that such a notion was silly. It was obviously something other than that.
I looked at the time on my phone.

Huh, look at that. 11:11.
It was the New Year.
I felt debilitated somehow. As if the turning of the year had made me weaker than I had been before.
I dragged myself over to my laptop.
The three second boot time seemed like an age.
A vein pulsed like a goat's throbbing penis in my temple.
I tried my best not to make a pitiful whining noise but was only half successful.
I navigated to the Steemit website and looked at my feed.
It was still there. That bloody pinned post at the top of my feed.
11 days it had been pinned now.
Hang on, 11 days?!? That number again? 11, what could be the significance of this?
I put my thinking face on, which bore an uncanny resemblance to my jive face.
1 and 1 makes eleven. So does 10 plus 1. Was I onto something? 10 +1 was 11 yeah but 10 + (1 +1) (which was 11) was 12!?
I looked at the time on my phone again...

What the hell!?!? Now, as if taunting me, it was 11.12!?
I felt strangely giddy as if I were looking over a precipice into a dark and forbidding abyss.
This was too much to be a coincidence... I reached for a pen and a piece of paper. This was it, I was obviously close to cracking the secret behind everything. Was this the Illuminati? The Matrix?
Perhaps I was about to crack the key that was used to keep the sheeple dulled into their daily subservience.
Daddy, have you got your shoes on yet?
The good lady came in to the living room. Her face had a snark to it, like an old slipper left out in the rain.
Not yet, I have stumbled upon something really important. I will have to stay and try to figure it out?
No you don't. Get that lazy hungover arse off the couch and get your shoes on. We are going to the park.
The good lady snarled as if I was a layabout wastrel who had spent half the night drinking and carousing instead of sleeping.
Oh, wait...