Quick and Easy Cannabis Chocolate Bar Recipe
How to Make Homemade Cannabis Chocolate Edibles
This is a quick and easy recipe for making delicious cannabis chocolate bars. The recipe includes only 5 ingredients, and also is completed in just 5 simple steps. And really takes between 1-2 hours start to finish.
What Ingredients you will need:
1/4 cup cannabis coconut oil (~50 grams)
1/4 cup cacao powder
1 and 1/2 tablespoons maple syrup
1 and 1/2 tablespoons honey
1/2 teaspoon vanilla extract
optional ingredients:
nuts
fruits & berries (dried or fresh)
peanut butter
pieces of chocolate
What Supplies you will need:
measuring cups and spoons (cup, 1/4 cup, 1/2 teaspoon, 1/2 tablespoon)
fork or spoon
spatula
digital scale
pyrex bowl
frying pan or flat bottomed pan
oven mitten
24 oz (710mL) tupperware
optional items:
parchment paper
whisk
Total time: ~ 45 - 120 minutes
depends on how long the chocolate bar is allowed to cool during step 5
So, lets start making some homemade cannabis chocolate bars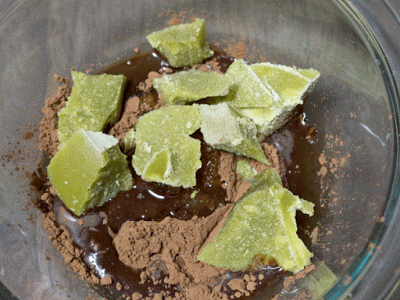 Step 1: Measuring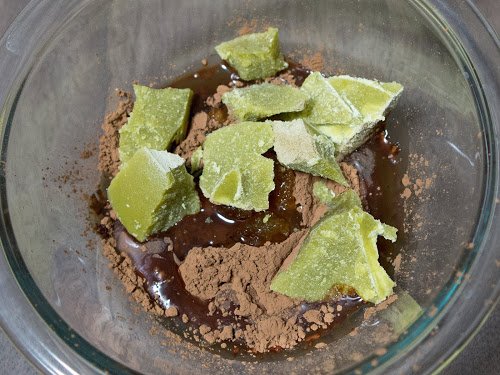 Start by measuring and adding each of the ingredients (cacao powder, cannabis coconut oil, maple syrup, honey, vanilla extract) into the pyrex bowl.
We recommend using a scale for measuring out the cannabis coconut oil. It is a great tool for determining approximate strength of your edibles.
See determining strength & potency below for more information.
Step 2: Heating & Mixing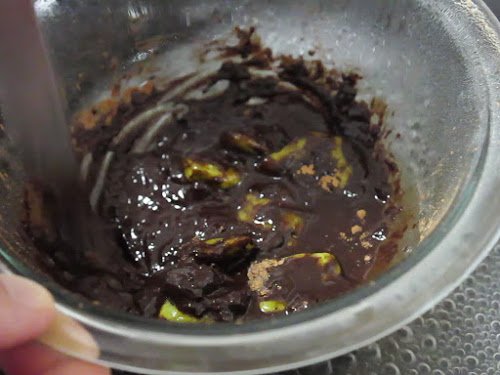 Once all of the ingredients are in the pyrex bowl. Heat a frying pan on medium heat and add water into the pan. Place the pyrex bowl into the frying pan. You want a decent amount of water to be in the frying pan at all times. However not enough so that it will overflow once the water comes to a full boil. Depending on the heat setting, you may need to reapply water to the pan during this step.
Remember to only use glassware that is heat tempered such as pyrex glass. If you are not sure, use a smaller sauce pan instead of the glass bowl. As long as water can boil between them it will work fine.
Using a spoon or fork or whisk, begin to mix the ingredients. The cannabis coconut oil and other liquids will begin to turn the cacao powder into a gel. Continue to stir vigorously throughout this process.
Should the mixture be overly soupy or oily, add more cacao powder in small amounts.
Should the mixture be too crumbly and dry add more regular coconut oil (non-cannabis).
Most importantly, be aware of the temperature, as you do not want to burn the chocolate. You are simply trying to melt all of the ingredients evenly.
Step 3: Pouring the Cannabis Chocolate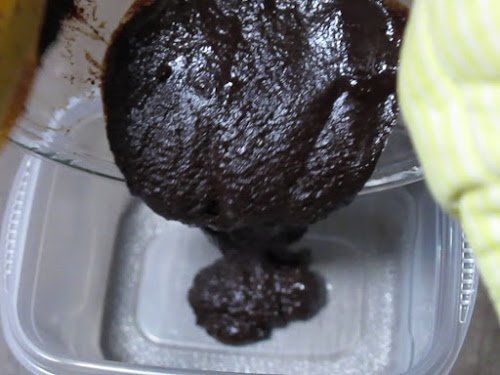 Once all of the ingredients have dissolved, you are ready to pour the cannabis chocolate into your tupperware container. Turn off the stove and using the oven mittens and a spatula, carefully pour into the tupperware. The spatula will help you retrieve all that was in the pyrex bowl and also level out the bar.
Be careful here as the bowl will still be quite hot to the touch.
Avoid spilling the chocolate on the upper part of the tupperware as it will not be part of the finished molding at the bottom.
Step 4: Freezing the Cannabis Chocolate Bar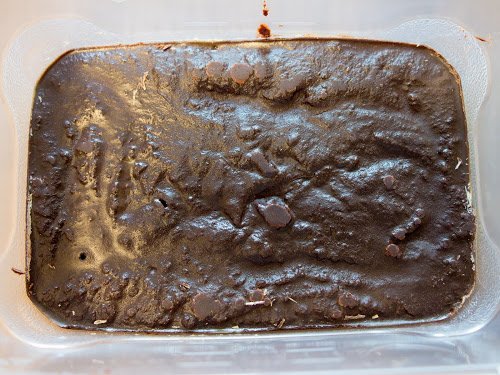 Depending on how cold your fridge / freezer is, this step can take around 30-60 minutes. If you are not in a rush to make use of your homemade cannabis chocolate edible it can stay in the freezer for months.
Step 5: Scoring the Cannabis Chocolate Bar for Proper Dosing
This is actually one of the most crucial steps in this process, aside from standard safety while cooking. Once the bar has had time to harden you need to score the bar into even parts.
This is really important so that you and everyone who enjoys this bar knows approximately how much they are ingesting. For reference I tend to break it down into 20 or 25 equal pieces.
It is always possible to eat more should you realize the dosing is too weak for your needs. Please be careful and do not overdose yourself or others.
Determining Strength and Potency of your Cannabis Chocolate Edible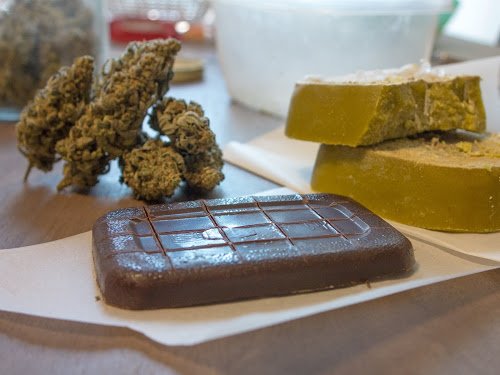 Say you use 1 oz of cannabis flower to make a pound of coconut butter. That means you should be 1oz of cannabis distributed throughout that 1 lb of canna coco oil.
This recipe uses 50g of canna coco oil. Which is approximately 1/10th of that 1 lb of oil. So you can assume the entire cannabis chocolate bar will then contain approximately 1/10th of an ounce of cannabis or roughly 2.8 grams
And by breaking the bar into equal parts, let's say 4 parts, you then can predict the approximate strength from what it started at. In this example each piece of the bar would contain around 0.7 grams of active cannabis oil.
Everyone responds to edibles differently. So until you know your own tolerance, start with smaller doses.
Additional Notes
Long-term Storage: the 24oz tupperware is a cost effective method for creating the chocolate molds, and using the recipe above you can also fit 4 bars into a single tupperware. In the freezer these bars can last for at least 6 months.
When using Fruit & Berries: keep in mind that fruit and berries can reduce the shelf-life of your chocolate edibles. They should be always refrigerated, and consumed in no more than 1-2 weeks. Freeze your cannabis chocolate bar for longer storage.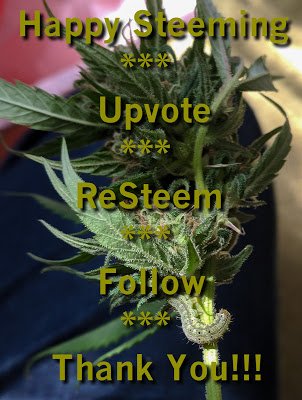 Thanks for reading, please comment/upvote or check us out at:
YouTube Channel https://www.youtube.com/Massmedicinals <--Please subscribe!!!!
Our Website http://www.massmedicinals.blogspot.com
Seed banks We Endorse Click here for our vendor listing
Happy Growing!!!
@massmedicinals