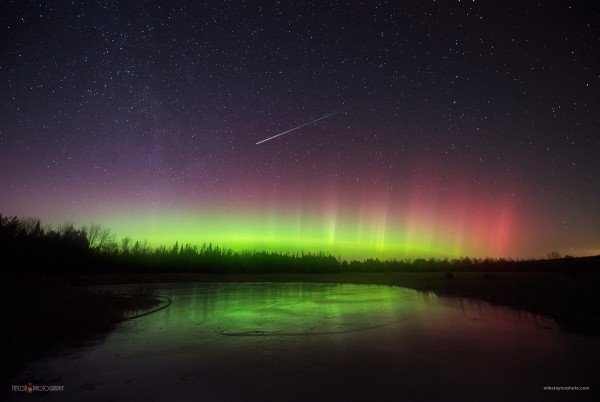 Image credit
The Aurora is basically bands of light that occurs near the magnetic poles. In the North, it is called the "Aurora Borealis" and in the South, it is called "Aurora Australis". The bands of light are created by radiation from the sun entering the earth's atmosphere and colliding with the gas particles in the air, the gas particles get energised and then emit light. The Aurora takes place near the poles because it is where the magnetic fields of the earth come together and where the energised particles move toward because of those poles.
The bands of light come in different colours depending on the gasses in the air, the strength of the radiation from the sun and the type of radiation it is. The most common colour is green, but occasionally other colours can occur from the colour spectrum as well as multiple colours at once. The bands of light form curtains most of the time, but can also form arcs or spirals. They occur when there is a lot of solar activity and are best seen on clear nights in areas where there is very little light pollution.
I hope to be abe to see it one day and get a few photos as I don't live close enough to the poles to be able to see it. Some of the best places to see the Aurora Borealis are in Norway, Scotland, Iceland, Russia, Alaska, Greenland, Finland, Sweden and Northern Canada. To see the Aurora Australis is difficult but the best place are in Southern Chile, Southern Argentina, Tasmania and Stewart Island, just off of New Zealand.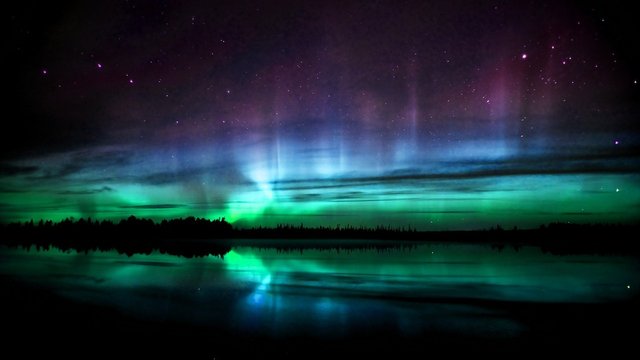 Image Credit
Hope you have enjoyed it!