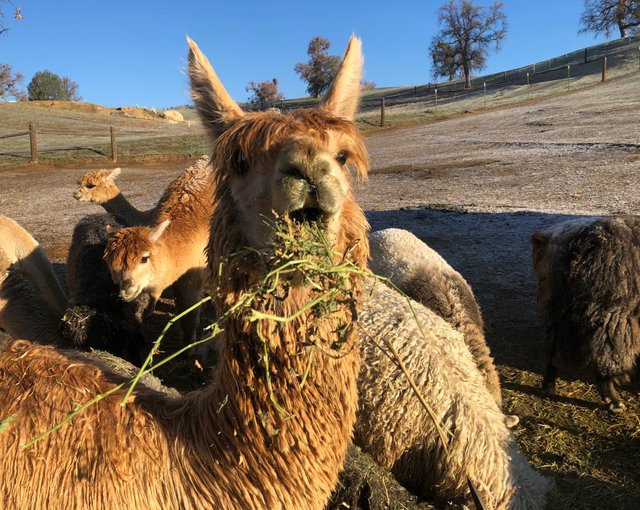 Warning: This is a bit of a rant post.
I am sort of overdue right? I mean, we all are allowed a bit of a rant every once in awhile right? Normally I end up making an entry into #comedyopenmic when I feel a rant coming on to make it fun. This usually leaves a couple of certain gentleman upset though, as I always seem to beat them :)
This time I want to do something a bit different, as well as some humor let's throw in some charts and data!!!
Why?
Well what better way to address an ongoing narrative than with these weird things called facts. Now, normally I try to ignore things that are said and really don't like talking about things I do at all... but there is a certain critique or complaint that I have heard quite a bit in the past few months, and I felt it was about time to put them to rest... WITH DATA!
Justine, what the heck are you even talking about?
Well, at least a dozen times I have gotten some comments on how I do things here on Steem, more really of why I do things on Steem.. which I typically am sort of confused about and then move on.. but hey, why not address them?
Here are some examples;
"You only are interested in making rewards"
"You seem to only care about the money you make and nothing else"
"You just want attention."
"It's all a power grab."
"You only get votes because of how you look."
Now, first of all.. none of these hurt my feelings.. and I am giggling while writing this post so please.. giggle with me as we look through the facts of each statement.


The first two are pretty similar so we will cover those together:
"You only are interested in making rewards"
"You seem to only care about the money you make and nothing else"
This one I find pretty funny, as most of what I do on the platform is behind the scenes, which keeps me pretty busy. This also means that I don't post often.. as I am busy helping projects, curating, mentoring, solving problems, etc. In fact, my focus on these things rather than just posting to make money is why I often say that "I suck at Steem."
So when these things are said.. my response is pretty much...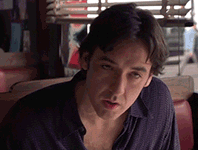 But hey, maybe some numbers will help clear this one up!
I took a look at my average rewards over the last few weeks, and how often I post. I usually post about 3x a week (up until recent Steem Alliance thing) and my average is about $21 and some change.
I then took a look at what this would look like if I simply focused on posting and was able to get one out everyday, which is pretty common for most people here.
Then I put that data in a graph for a nice visual comparison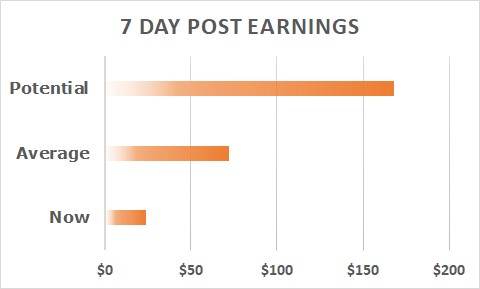 Man, I seriously suck at Steem….
So, essentially.. with changing absolutely nothing more than just taking an hour from my volunteer work to post daily, I would more than double my rewards each week. Which would be an increase of over $400 a month.
This doesn't included adding in additional options like self voting, using bid bots, or even posting multiple times a day as many do as well. Just by simply posting once a day.. yeah. Also, just to really sink this one in.. I took a look and it seems I have given out over $1200 worth in contests, sponsorships and donations.
Also, with my recent involvement in the Steem Alliance foundation project (which my intentions have been questioned in as well) my posting has dropped to about once a week.. as is seen in the above chart. I don't know a sane person on earth that would do something "to make money" that actually hindered them from doing so.. but hey, maybe that is just me.
Maybe we could say those statements are not factual then? I hope so.


---
But what about the POWER?
oh yes.. this one.. "It's all a power grab."
sigh, yes I understand that sometimes its not the "steem" involved but the perceived power that comes with certain things that some could see as a reason for being involved. Hell, I have seen people here fall over themselves to get some of that perceived power, so I get the concern.
What I find pretty different is those people are always talking about their role in it then.. posting multiple times to ensure people know they are in charge or behind something.. I mean.. why would anyone want some sort of "power" but then never talk about what they do at all? Most here have no idea what projects I am behind or how I help, or what I am involved in... so well, seems like I don't see this as an important thing. I guess this specific part of that complaint, I cant refute with just data...
But hey, lets look at a different type of "Power" on this platform...
Steem Power
We are on a stake based platform and due to that, the more stake you have the more "say" you have as well as "power" of course.
So, with the same idea as before.. looking at average vs potential if I posted daily, I made another chart: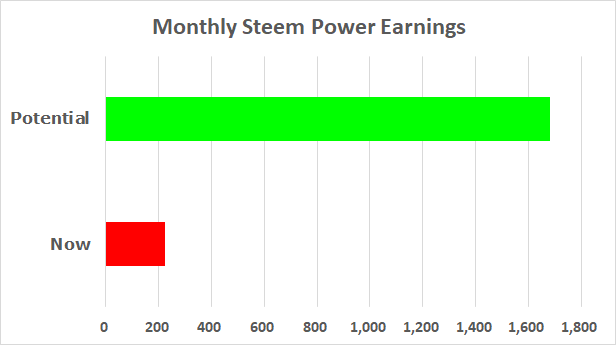 Oh, that one hurt...
Ok, so it seems if I would just focus on posting everyday … and stop doing so much behind the scenes, I would be adding over 1600SP to my account each month vs that depressing 200SP currently. And of course.. posting multiple times a day would make that number double.
So, if I was worried about power.. I technically could have posted everyday over the last 6mths and my account would sitting at over 20k SP.. 4 times what it is now. Which would give me more "Power" in many different ways on this platform.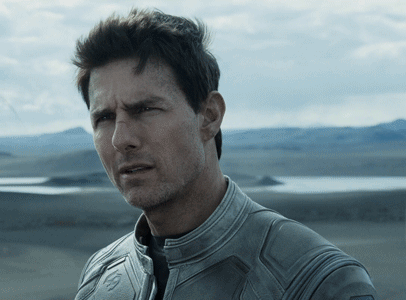 I know, I told you I suck at Steem…


---


Ok, lets cover these last 2 so we can move on with our lives...


When all else fails, get personal right? These are some of my favorites, ones that really try to hit you in the gut...
"You just want attention"
"You only get votes because of how you look."
Ah yes, I feel this is silly for many, many reasons.. but maybe these can just be summed up with one.. very bold.. and blunt statement... let's give it a try shall we?;
THEN WHY THE HELL WOULDN'T I JUST POST VIDEOS AND PHOTOS OF MYSELF EVERY SINGLE DAY???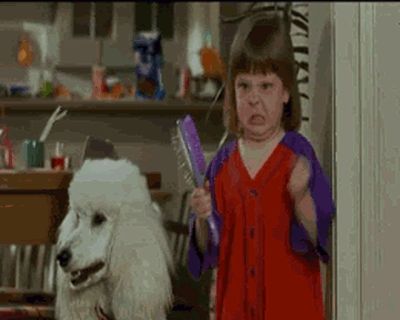 Ok, sorry.. but it really needed to be said. If this was my true intention posting my face all over the blockchain sure would be easier than working my ass off behind the scenes. Ugh, my face doesn't do anything.. and quite frankly, I wouldn't want it to.


---
Let's wrap this up
The intent of this post is not to complain or make a scene, rather to remind us all that not everything we hear is true here.. and sometimes if you just dig a bit you may discover some pretty interesting things. I am a big believer in never taking things at face value and always encourage individuals to look at actions and not just what you hear.. it's easier to find the truth that way.
I also try to be pretty positive here, it's something I am working on doing in life as well.. find the hidden beauty in every situation as well as a way to learn from it. So this post is also a reminder to be kind to one another, as well as to always be true to yourself and your values. Stand up for what you believe in, even if its not the popular thing to do.
Be you, whoever you are.. own it, embrace it and never let those who feel the need to tear you down to make themselves feel better ever get you down. Do that, and they win.
Focus on what you can control, do good things and constantly look for ways to better yourself as a human being. Life is way too short too spend it trying to please others and wont lead to anywhere productive.. oh yeah, and don't forget to have a good laugh ;)
This life is what we make it. So, let your actions speak volumes, and you know.. don't take any shit.


Much Love,
Justine