Five Talent Series: Talent 3d Do Not Cross a Broken Bridge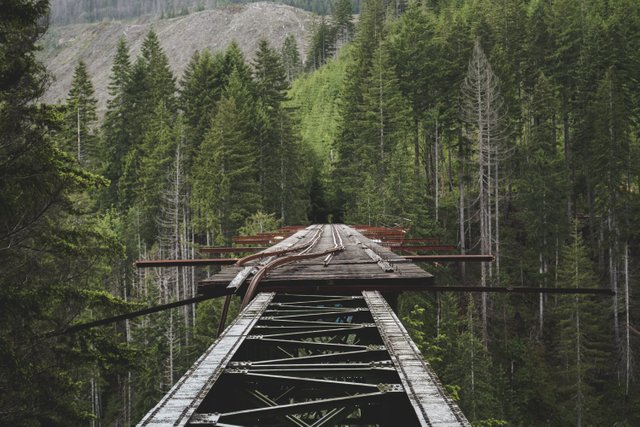 The Bridge to Self-Discovery
In our journey through the very import Talent 3 of investing we have touched on the Net Worth Statement in Your Net Worth Should be a Blessing Not A Curse and The Wealth Management Process. In my last post Master Your Constraints to Free Your Restraints we have refined our understanding of many the many constraints that impact our ability to effectively manage our finances. In this final installment of Talent 3 we will take an in-depth look at our own personal journeys which aims to discover the emotions that we have which guide our wealth planning process. These emotions build the bridge to self-discovery and guide the financial goal which we often focus on. Money can often take on the form of our nobler desires but can also be driven by our sinful ones. Ultimately it is our emotional and spiritual states which must drive our financial desired and dreams.
As we begin to explore some more important content we are aiming to uncover some potential areas of questioning that will be used to frame our desires and goals. You want to think broadly about the topics that matter the most to you in your life and frame wealth management process around them. For some these will be related to your family and for others work may be the most important element. Whatever are your desires, passions, interest or dreams I hope to help concentrate you on better self-reflections to formulate a longer lasting plan which aim to achieve your desired goals. Let turn to some important points surrounding emotional exploration.
Drive your Emotions Forward. No back seat Driving Allowed.
We are constantly bombarded with messages from the financial industry using complex terminology aimed at over complicating that which should be elementary training. Many of these terms put the emphasis on the potential reward but financial goals always start with real life issues at there core. You must put your focus on these life issues first rather that the financial issues surrounding them. All discussions have at their core emotional issues and by exploring these first you will be better able plan according to your desires, goals and dreams.
Family First is a Good Rule of Thumb
Family topic are usual the most sensitive and emotionally charged as they make up a large and integral part of our identities. I want to run through a couple of questions that can help you discover those priorities that import for you when formulating your financial plan related to your family.
• When it comes to you and your family's lifestyle what challenges do you see the future having for it? There are many obstacles that can impact the desired lifestyle that you would like to enjoy with your family and personally and try list them all out.
• When it comes to your family's health and home what are the biggest concerns that you have for your future.
• What are your plans for contributing to your children's post-secondary education?
• Do you plan to take professional or personal developmental training courses?
• Describe your children aptitudes and attitudes in general. What are your children's personal goals and what expected goals do you have for them?
• If your parents are still alive how is their health, and have you prepared to be able to care for them financially and emotionally.
Protect Your Lifestyle
With proper planning strategy and execution, you will be able to maintain and protect the lifestyle that you and your family are accustom to. Let look over a few important questions you should be asking yourself related to this topic.
• How well do you manage change in your life? If something happens to you will your family be taken care of? Do you have any insurance in place to be able to mitigate some of the risks to your lifestyle should a series of unfortunate events happen?
• How dependent is your family on your income for its continued lifestyle? Could your family survive on one-person income if you had a health issues that impacted your earning power?
• Do you have any large concerns about your family's health? You will want to look at your extended family and see if there are any hereditary diseases which you would want to potentially plan to mitigate. Do you have a power of attorney to ensure that your affairs or the affairs of your spouse will be managed effectively should a health issue arise?
Plan for Your Future
The process of planning goals for the future is quite important and I have developed a series of questions that can help you explore this topic in greater detail. I have seen many people prepare for retirement their whole life just to have their quality of life fade quickly when they lose the meaning that their work provided to their continued existence. There is this fantasy that is provide by the financial industry to individuals about the freedom of retirement, but such freedom is an illusion unless it is what you really desire and will give your life active meaning to sustain you through what can be difficult retirement years.
• Do you have an idea what retirement would look like for you? Have you taken the time to sit down with your spouse and talk about what you both want collectively or individually? How will retirement change your life, and will these changes make you happy? What is your largest concern about your retirement.
• Have you any idea how much you would like to retire on? How much income do you require to live comfortably and do all the things that that you love to do.
• Where are you planning to live during retirement? Do you need to retrofit your home to ensure that is convenient for your retirement? Will you go live in a retirement community or a nursing home or in your own home with nursing help?
• Ask yourself emotionally how you are going to handle lifestyle changes that getting older will impose on you. Accepting the future as it happens to you will provide a solid foundation to weather any storm that may come along your path.
Build Your Own Legacy
As an individual within a community of peoples we should aim to leave a lasting positive impact. Your legacy is not what your grandchildren will think about you but rather what their children's' children will know about your contribution to your community and their lives. I have provided a few questions that you should be asking yourself when exploring your personal emotional goals and dream related to the legacy you would like to leave behind.
• Are you confident that your assets will the distributes according to your desires when you pass away?
• Is providing part of your money to a charity when you pass away an important objective for you? Are there charities that you believe may have a positive impact on your community long term that you would like to contribute to as part of your estate?
• How are you going to protect your estate from the taxes that the government will levee upon your death? Is it important that your family and other beneficiaries of your estate are provide with a specific amount of after tax assets upon your death?
• When is the last time you have updated your will to reflect your current desires and goals for your family?
As you can see these questions are designed to have you start exploring your emotional state related to the above topics. They are not designed to replace professional financial counsel but rather help guide you in the emotional discovery process. Once we have give some though to how theses topics impact our emotional state and our desires and goals we can turn to link them to financial discovery. Our emotion can be beneficial for us or create hurdles to our success so although we may desire something it may not be practical or beneficial for us to bridge those emotions into reality by acting on them.
A Bridge Over Troubled Water
Assuming that you have given some careful thought into how your emotions are impacting your though process and desires and goals, we may now bridge those emotions into reality via wealth management solutions. Remember to only proceed with choosing the financial products that align with your emotional objective upon deep consideration of your needs and concerns and go through the below questions with your emotional state in mind.
Your Legacy
To focusing on your legacy, you must utilize both your estate plan but also build your legacy before you pass away. Many people have accomplished the hard task of turning financial success into life significance and proper planning can help you with this.
• Are you going to have to help your children or parents in the future?
• What is your plan for your future?
• Are you planning to provide charitable donation while you are still alive? Will you want to focus on philanthropy?
• Are you wanting to have a living legacy in your lifetime? Will you want to accomplish those objectives that will contribute to your life or the lives of those around you in your community and enjoy the benefits of that legacy while you are alive?
Accumulation, Protection and Conversion
Deciding why you want to accumulate assets and protecting them once they are accumulated is of vital importance to being able to ultimately convert them into income streams for the future. Deriving income from assets will mitigate many risks that are associated with retirement and also risk linked to disability, family emergencies and unemployment.
• What do you want? How much will need to get what you want? What is your current amount of savings? How much can you currently save to accumulate wealth to get what you want?
• If you would have to define what risk is for you personally how would you define it. Can you anticipate any changes in your life that you would consider as increasing the risk of achieving your dreams? Once you have defined it what would you say would be the level of risk you are comfortable with? What do you want to protect most from the risks defined above?
• How much income will be sufficient for you to live on? Where will this income come from? What income streams do you have in place to offset potential disability or job loss expenses?
To conclude
The process of managing your money starts like any other in that you must first put a value on a potential future outcome and then go about the process of working towards that outcome. By discovering those emotional topics that drive your desires and goal you can put into action a wealth accumulation process that is meaningful and long lasting. Calculating your net worth and the wealth management process come after a process of emotional exploration as they are the fuel that will drive your financial plan forward and keep you on track. In our next installment of the Five Talent Series we will explore how to Approach Using Credit and Managing our Debt. I hope this series has been useful to the community and I will see you all in my next post.