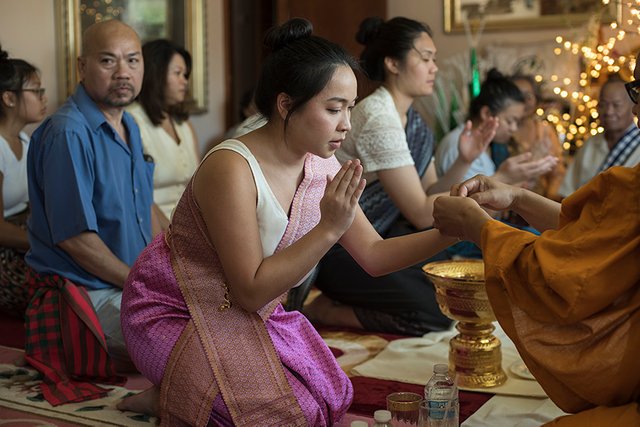 Hey, Steemit! It's been a crazy week in preparation for a family trip to Iola, WI to meet @wcpublishing for the Car Show, and then a continued journey straight through to the east coast to visit @bonni, @customnature, @bryan-imhoff and hopefully […fingers crossed], @drwatson and @la-fumettista. My last day in Minnesota for a while, I'm helping get @kismetart set up to make his introduction post here at @caffetto. Good vibes to get us through this crypto-desert to the awaiting, prosperous oasis that is sure to come.
Speaking of good vibes, I have some very personal photos I'm excited to share today. One of my favorite things here on Steemit is getting glimpses in to places and cultures far beyond my daily life. @slowwalker's walks through Korea are some of my favorites. @herbaliblog's lifestyle in Indonesia is tranquil. @eveuncovered's homeland of Finland and her travels have become a conduit for the places I'd love to go and see. My brother @customnature has accumulated an impressive passport of stamps over the years.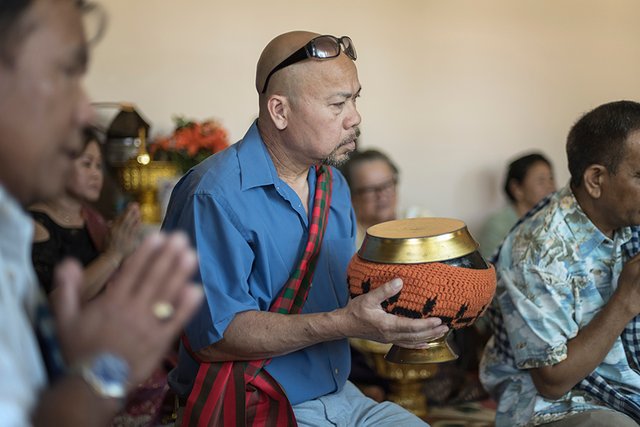 This past weekend, I had the chance to experience a new culture close to home, in my own family. @vermillionfox and I have been sweethearts for years but the times she's gone to temple, I've always been out of town working. During the first week of July, we've all been looking for her Su kwan celebration of life. I really do adore @vermillionfox's grandmother and in turn, she adores @guthrie. She's been kind to us since I was first introduced to the family. For weeks, preparations were made for this event. @vermillionfox will most likely do a deeper summary of the festival.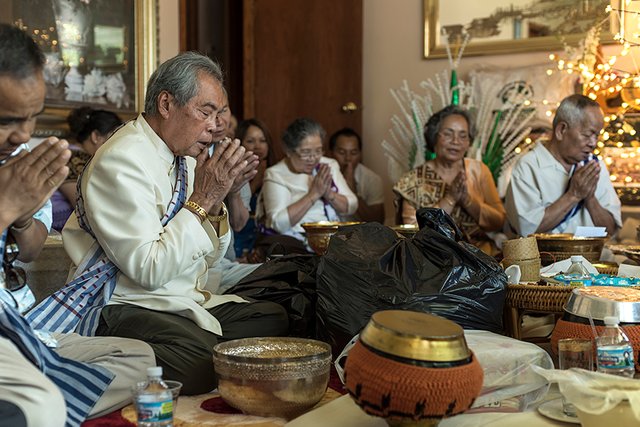 @guthrie and I arrived Saturday night for food and to spend time with friends. It was late, so we weren't able to stay long, but the real celebration was happening the next morning. Sunday, we arrived at 9:00a.m. in our best clothes. @vermillionfox was inundated with work and food preparation. The monks from the Lao temple arrived shortly after us and the family was gathering in the living room. The children were downstairs and by 10:00a.m., the ceremony had begun.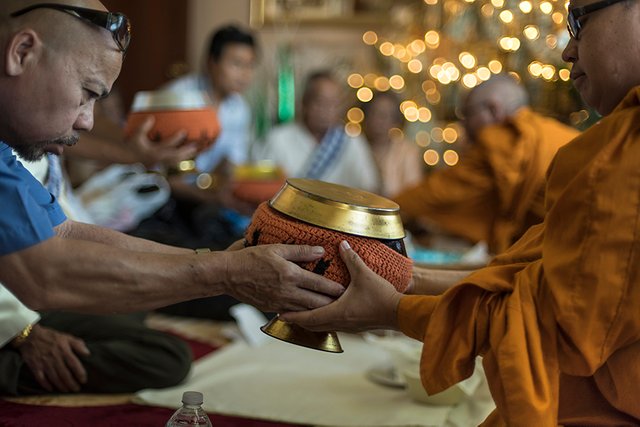 I took my place near the monks with my Nikon D750. I tried to be quiet and respectful as @vermillionfox's uncles and grandfather prayed. The monks and elders would exchange prayers and verses on life. An offering was made to the monks in food and money. Once the monks ate, the rest of the family was allowed to gather and eat lunch. There was a variety of traditionally Lao foods. @guthrie and I stayed on the conservative side with sticky rice and homemade beef jerky.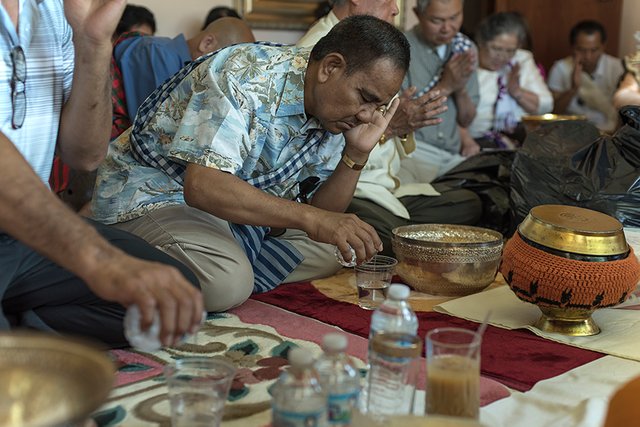 After lunch, we gathering back in the living room. The monks lead in the blessing of water. Once the water was blessed, the oldest monk dipped a wooden roll in to the cups and shook water on the heads of the family members gathered before them. After final prayer, the family members and children got in line to receive blessings in the form of small bracelets. One by one we kneeled for this prayer of luck and good fortune; the monk tired them around our wrist and we bowed three times before thanking them and leaving.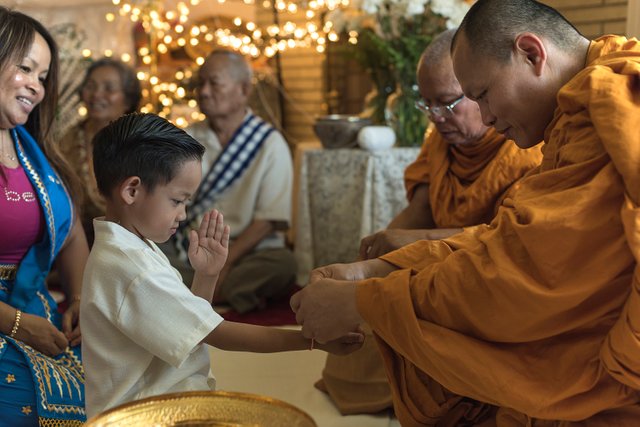 Thanks for reading. This was a rich experience and I loved having something in my family that contrasted my own culture, especially for @guthrie who was able to experience this tradition at such a young, impressionable age. For more photography, art, illustration and life experiences, follow me here @kommienezuspadt!