BLACK PANTHER REVIEW **spoiler free**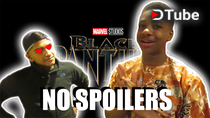 ---
That movie is flipping amazing, definitely my second favorite movie! (nothing is topping The Lion King)
Thanks for watching Kingdom!!!
King Lawson Wallpaper: https://goo.gl/photos/gbmU1jSv8W5n5CaS9
SoundTrack: The Kiss - Gavin Luke
SoundTrack: Look No Further (Instrumental Version) - Sven Karlsson
SoundTrack: Lil Yachty - 1 Night [Official Instrumental]
Like Comment and Share... I mean if you want to...
Hit me up with that Subscribe too...I mean if you want to...
IG:Obey.Lawson
SC:Young.Lawson
Twitter: Don't have that... yet...
Kingdom Team:
Thumbnails: https://www.instagram.com/sn0w2/?hl=en
Let me know what I should do next...
Obey the Law-Son
From ya boii KING LAWSONNN
---
▶️ DTube
▶️ IPFS