In this blog I would like to share a moment of myself where I went from a stance of 'waiting my way through life' to a moment of self-actualized self-empowerment.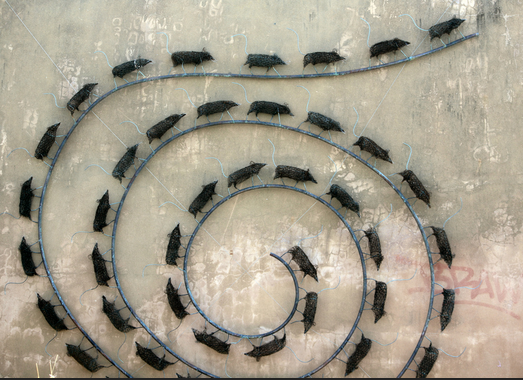 This moment was birthed from a series I am writing about quitting the rat race, and the moments as gifts I was able to give myself using writing to break down my pre-programmed autopilot default mode way of living, to becoming a fully functioning and aware human being that cares about herself, others and this world.
I will be leaving the rat race in 37 days, and I will not be leaving empty-handed.
I will not be getting a big payout or a package of any sort. I will have only what I was able to save by moving in with my parents and living simply, but I will not be leaving empty-handed.
I will be leaving the rat race with gifts that money cannot buy, gifts more valuable than a dollar amount can represent, and I will be sharing every single one of them.
I'd like to look at how I was able to actualize the point I realized in my previous blog "Leaving the Rat Race - Going to Africa" (https://steemit.com/life/@kimzilla/leaving-the-rat-race-going-to-africa).
I ended off doing some self-forgiveness, which is a very effective tool to peer through your own bullshit to the core of what the issue is, and then also how to handle it.
I noticed I had this point of bracing myself and waiting through, toughing out difficult moments at work. Sometimes when I am sitting at my desk I just want to explode and quit in a fiery blaze, walk out a not waste one more moment of my life in that office. In these moments I lose focus and find it incredibly difficult to get anything done.
This is an old patterned habit from back in school, one which made it difficult to study or get good grades, fit in or really take any steps toward my utmost potential.
I confronted one of these moments today, when I was tired and fed up but had hours yet to go before the day was over. I noticed myself sliding down into my chair, legs jumping, feeling my OCD creeping in wanting to escape this moment with every cell of my body.
But I then triggered myself to remember what I had written the day before, about sailing through these moments just to get through them, and I thought about the advise I had given myself, about how I was actually creating this. I was actually stiffing myself from living this one moment fully.
I remembered about how I had committed to push myself to live every moment fully, and about the realization that if I don't do this, I will end up waiting forever. I remembered about how I should instead look to see how I could be living this moment better, and remembered I had looked at the word 'discipline'.
With all of this support, I took a breath and really looked at myself and what I was accepting and allowing myself to become. I sat up straight in my chair and shook off the bad attitude, the self-defeating mindset, and the diminishing narrative I was about to indulge in. I looked at the tasks in front of me, and without judging it or creating reactions about it, I simply broke it down into steps and started doing it.
The amazing thing I realized was that in applying a little mental discipline, as in, becoming more focused and applied in an objectively gentle kind of way, I actually felt lighter and more effective.
It is as if being disgruntled actually takes more work and effort than simply doing the work without participating in the mind's narrative and emotions about the work.
I ended up being quite productive in my last hours of the day, and taking on some issues that would have otherwise exasperated my bad mood.
In ending my day this way, I felt like I had more physical energy to walk home instead of taking the bus, stopping by my local yoga studio and renewing my membership, getting home and actually being pleasant company to be with, and preparing my lunch and gym bag for the next day.
These actions are like setting myself up for self-defined success, in taking steps towards creating the kind of life I want to live: one where I take care of my mental and physical health through changing my stressful and anxious mental state, while also eating well and exercising to keep my body fit.
I will continue to apply myself this coming month, so that I leave the corporate world, not as a diminished version of myself crushed by stress and self-defeat, but as a strengthened and expanded version of myself that will be honed for a future of life creation.
I see this job as like a sort of boot camp I put myself through, where I took the most difficult and challenging environment and placed myself directly into it in order to develop my weaknesses into strengths that I will be and have for the rest of my life, so long as I continue to life in an effective way. I see self-development and self-expansion not just as a way to get through certain particular situations and events, but as a way of life that will be lived from each moment forward.
Stay tuned for tomorrow's blog to see what other gift I find in the rat race of self-creation.