So here I go again.
I thought it would be nice to share this blog with all of you Steemians. I am happy to have my own painting serving to illustrate this story. I used oils on canvas for this painting. What I wanted to accomplish was to communicate to my audience that in this world everyone is unique in their own way.
We are never going to be the same. Some will be fast learners, some will not be able to learn as fast. Others will be introverts while others are extroverts. Some are right-handed and others are left-handed, others love cricket while others prefer football or soccer, some are careful about what they eat while the many others don't worry much about that. The only constant is that we are all humans.
So what am I driving at? A cursory glance at the painting below and most viewers would prefer to identify with the horse as the clear winner of this race duel. Very few would want to give the camel any chance on this race. Why? Because the camel being slower has no chance running faster than a horse, and in any case the horse is already leading.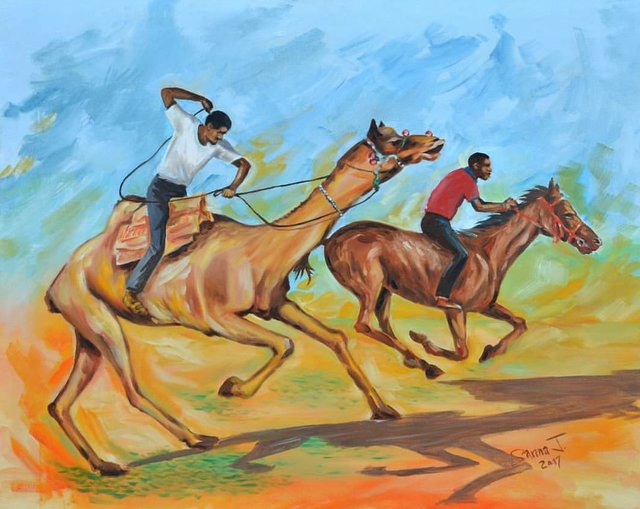 So here's where the majority want to be the "horse" even though they may actually be the "camel" in real life. We are talking metaphors. Most of us want to identify with the winner, this is understandable in the world we live in. But you see, you may take longer to accomplish certain tasks, but if you are determined, you would still finish what you set out to do.
You may succeed later in life but ultimately it is still success. Or you may even have your break much earlier in life. There are no straight lines in life, at least most of the time. What is important is that you go at your pace using what you have, work hard, work smart with laser focus on what you want to achieve.
Run you Race!
By the way this 50 km race event could have taken place in a desert with no water breaks. Your guess as to who won the race is as good as mine.