Elephant's Road Rage
Lila was browsing the website of the "Wil, Lil and Vi Survivors' club" and she read Sander Hoffman's true account of a rogue bull elephant's attack on tourists in the Kruger Park. It was stunning to the point that she found she was holding her breath as she read it.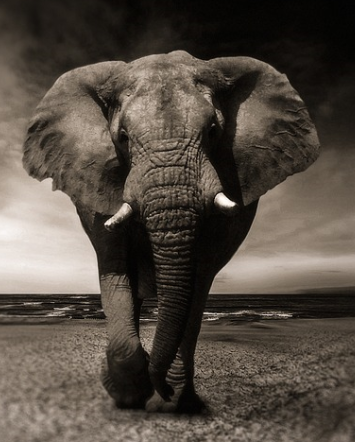 Pixabay
'Whew!' she said out loud to herself letting out her breath in a rush, this 'is a must for our next dinner party'.
It was Wil's turn to host the event. All three dressed in their best as Wil had decided to take them out to celebrate, quite what he didn't say, in the rotating restaurant on top of a tall building in the middle of Johannesburg……the lights promised to be spectacular on this clear evening.
The lift zoomed them skywards and they all laughed, delighted to be doing something unusual.
The room was beautiful with tables dressed in floor length cloths with overlays in a delicate turquoise. Roses and ferns were the centrepieces of each table.
Once they had ordered their wine and were sipping it and waiting for their hors d' oeuvres of Mussels in a white wine sauce with fresh cream, Vi and Wil turned to Lila and said, 'you've whetted our appetites with a promise of a good story about elephants on the rampage…..let's hear it!'
'Only one elephant actually, but he did enough damage for more,' said Lila. Taking a deep sip and closing her eyes for a second she began.
'Sander wrote that he and his wife were driving slowly along a road in Kruger game reserve when they came upon an elephant that was walking fairly aggressively in front of them. It was a large bull and he checked signs that it was in musth*. It was not obvious but he was obviously 'on a mission' so they kept a reasonable distance behind him.
Inevitably the elephant soon came face to face with a small car coming towards him. Instead of
reversing , which would have been the sensible thing to do, the driver stopped his car and began taking pictures of the approaching GIANT.
The elephant puffed up to make himself look even more intimidating. He raised his large head and flapped his enormous wing like ears. Even after a frightening mock charge the driver chose to remain where he was instead of driving rapidly away. But the drama was not over even though the bull disappeared into the bush at the side of the little car.
Perhaps the driver was frozen with fear because his stationary car infuriated the bull so that he suddenly exploded from behind him. With dust billowing from his running feet the elephant lowered his giant curved tusks and with an enormous thrust spiked the boot of the car. He raised the back of it clear off the ground and with a mighty shake of his head, dropped it.
The audience of Sander and a few cars behind him watched n relief as the driver eventually managed to start his car and drove towards them. After a chat with Sander through the windows of the cars, the tourist was able to drive back to his camp.
Sander and the line of cars followed the road as the elephant seemed to have disappeared. But the drama was not yet over!
Rounding a bend they came upon a terrifying sight. There, in the middle of the dust road was another small white hire car, ON ITS ROOF! There was no sign of movement. Sander and the following South Africans decided to turn their cars around and reverse up to the damaged car.
This was so that if the elephant was still close by they would be able to speed away.
As they did so the couple in the car thought they were being deserted and began hooting desperately. Reversing right up to them, Sander looked about carefully and in desperation got out of his vehicle to help the trapped couple. (This is not advised but obviously this was an emergency)
Although they weren't badly hurt they were helpless, strapped in, hanging upside down in their seat belts. As quickly as they could they put the couple into the South African's back seat of his 4x4 to wait for the Park authorities who someone had phoned.
It was while this saga was unfolding that yet another car had pulled up and the driver took photographs which sped around the world in headlines;
Jumbo Takes Tourists to Tusk and
Hellephant!
What became of the bull?
It was fortunately untrue that he was shot…………..simply a rumour.
The authorities were fairly certain that he had joined a large breeding herd in the area and he most probably reformed under the discipline of the matriarch.
One can't help wondering however if the bull ever got over his rampage that day…..we all know what they say about an elephant's memory!
Lila had wisely told the story with enough pauses to enjoy the mouth watering mussels.
Finally with a champagne cork being popped, Wil announced to Lila that he and Vi were celebrating becoming engaged.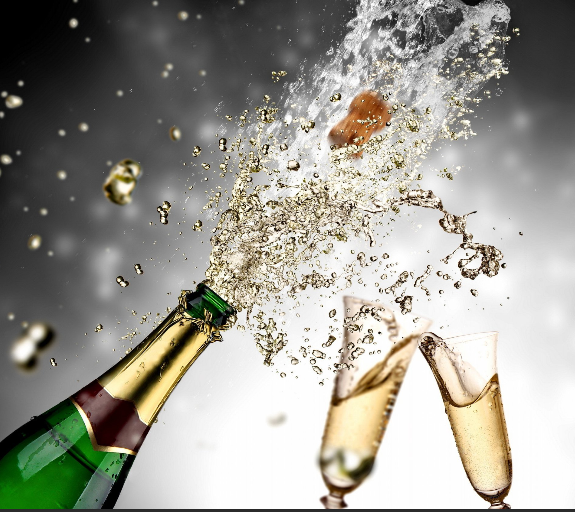 pixabay
With that he took out a small velvet box from his inner pocket and Vi opened it. The sparkles of the diamond matched the sparkle of tears in Lila's eyes as her two best friends made their promise to marry, official.
The 3 of them grasped hands and with her champagne glass held up in her other hand she toasted the grinning couple, lost in their luck at finding one another in their middle age.
She said,' to my best best friends in all the world. How privileged I am to be part of this most welcome and glorious coming together of two people who truly deserve the happiness and joy in which you find yourselves.'
The glasses clinked gently together and the lights of the huge city of Johannesburg seemed to sparkle even more brightly as the 3 of them gave tribute to .
'The Wil, Lil and Vi Survivors' club.'
*Musth is a condition shown in bull elephants only. Tears leak from ducts on the face and wet patches can be clearly seen. The bull also leaks urine. It indicates that the elephant is in a fragile state of mind and is dangerous. Tourists are urged to keep a respectful distance from any elephant but especially one that is in musth.