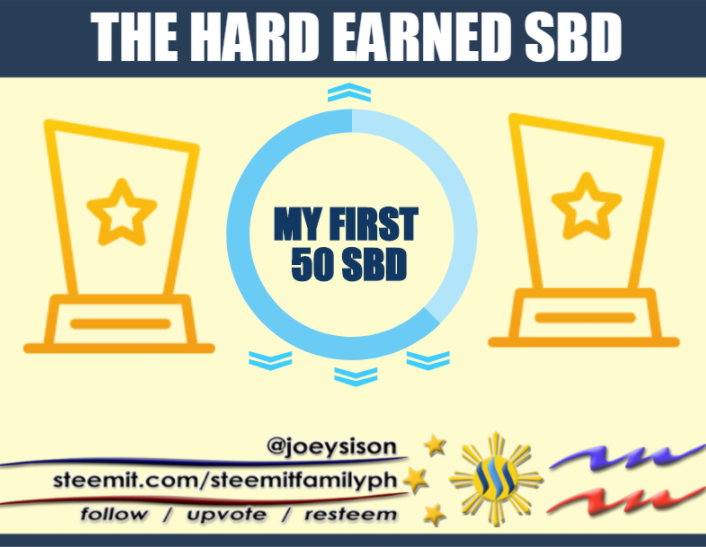 "Beginning is always the hardest"


I agree that beginning is always the hardest and it applies to all aspect of our life. I remember January 8, 2018 when I started joining steemit I thought it would be an easy thing but when I tried to create a few posts and received only $0.01 SBD I became discouraged because you gave your best to create your post and yet you only received $0.01 SBD, it seems that the return is not equal to the effort you exerted. You know that feeling? So heart breaking right?
But when I change my perception in doing steemit, when I changed it from SBD oriented blogger to Experience and Learning oriented blogger everything changes. I am happy even I received $0.01 SBD because at the end of the day I learn a lot, I learn to compose a post, I learn to check and be conscious about my grammar and spelling, I learn to try something new, though I didn't receive SBD from those post I know to myself that I improve even a micro inch from my previous level. Because I really believe in this statement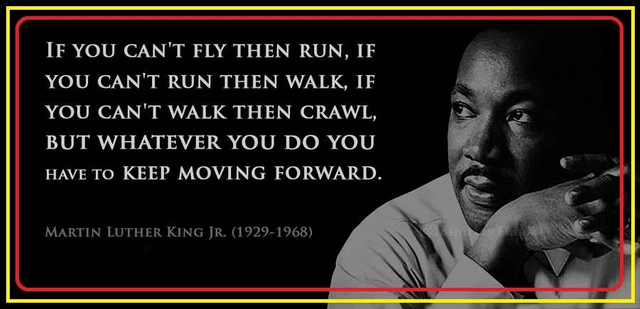 Source Image
whatever I do I should keep moving forward. After two months of doing steemit I finally achieved my first 50 SBD, yes my meaningful first 50 SBD. I know it is just a small number of coin, I know many people can achieve it even in a single post. Honestly, I really salute those people who are in just one post can have 100 - 300 SBD. As a "person" I got jealous and dreaming that one day I will become like them but I always think of one thing, those people went through the same situation like mine, may be before when they are in their second month they only received 10 SBD or 5 SBD. I am still privileged because the value of SBD now is different to the value of SBD before.
Honestly, I stalked some account that really inspires me to continue my steemit journey, people like @stellabelle, @donkeypong, @dobartim, @surpassinggoogle @juliank because in their single post they are rewarded of hundreds of SBD but again they deserved it because they commit from the beginning. That's why they are just reaping what they sow. I want to imitate those people who really reaping what they sowed before. Because of their commitment I concluded that
Only those who commit has the privileged to see history.
Why? Because they are the people who see the beginning and might see the ending, those are histories.
So, what is 50 SBD all about? - my first 50 SBD is not just a quantity of coins that can be traded but also signifies sleepless night thinking what should I post, hundred of people whom I contacted with, 64 days of thinking about steemit, fixing small quarrels with co-leaders, answering queries, facilitating games, replying to comments, these things are the value of 50 SBD. Through steemit I really learn a lot, this 50 SBD shows how I dive into new world, doing new things like video editing, infographics creation, poem making, story telling , joining a contest, competing with competitive people and building a community that one day will help many people in steemit. Steemit is also teaches me that sometimes I am a winner and sometimes a I am a learner. Even we don't received as much as we expect still we gain an abstract coin called - "Experience".
Experience is the best cryptocurrency that we could ever have, a coin that cannot be stolen.
For many it might be a small earning but for me it is the portion of my personality, portion of my time, portion of my life. I really treasure every cents every single cents. I just realized that
the value of money is not only dependent on the number attached on it but also to the effort exerted on it.
50 SBD became meaningful for me because of what I've been through, I thank God for this platform. I thank God because of my coaches, community, contest that helps me to improve myself.
One day I will read again this post and on that day it is no longer 50 SBD in two months but it will become 500 SBD per month, it is a declaration of faith a declaration of hope. I will keep on improving, I will keep on committing so that one day I will reap what I sow.
On below graphical presentation of accumulated SBD's and it shows that the 75% of my posts received $0.00 - $1.00 SBD and only 1% of all my post got $8.00 SBD.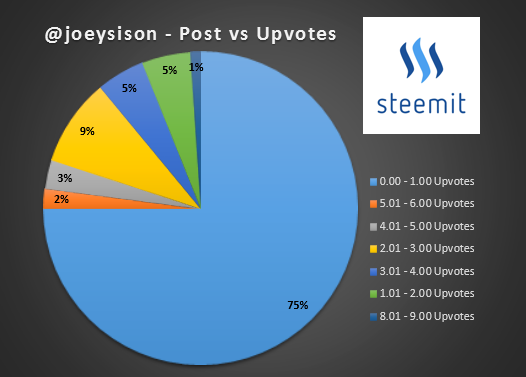 In this graph shows my accumulated upvotes per month, it is not as huge as others but to see that the monthly upvotes is improving there is something inside of me telling "Yes you can do it", "You can hit your previous month's performance".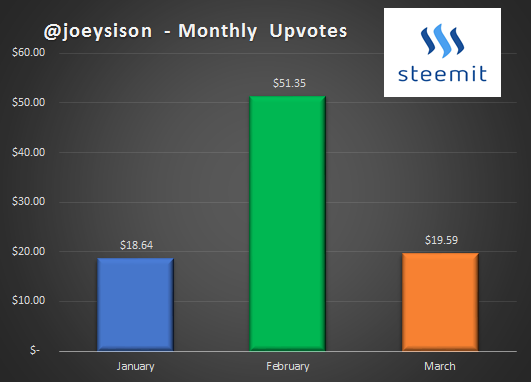 Why I am measuring my performance? Because in a our lean six sigma class the professor said that
"The things that you cannot measure you cannot improve."
That's why I am trying to measure my success little by little so that I know where I am now and where I should go.
How about you what is the story behind of your first SBD?
Thank you for reading this post, I hope through this simple post I encourage you to keep steeming and to keep dreaming. I believe one day you'll see your SBD growing more than what you expected.
Note: By the way, because of increasing number of hacking issue in steemit I decided to transfer my SBD to my bittrex account to make it secured because that was my hard earned money. You may visit this post so that you can transfer your SBD to your Bittrex account.

Follow me on Twitter
Follow me on Facebook
Follow me on Instagram