lessons from the great personality
"There is no meaning of success which is not in the national interest and in public interest, and not used righteous ways to achieve it"- J.R.D. TATA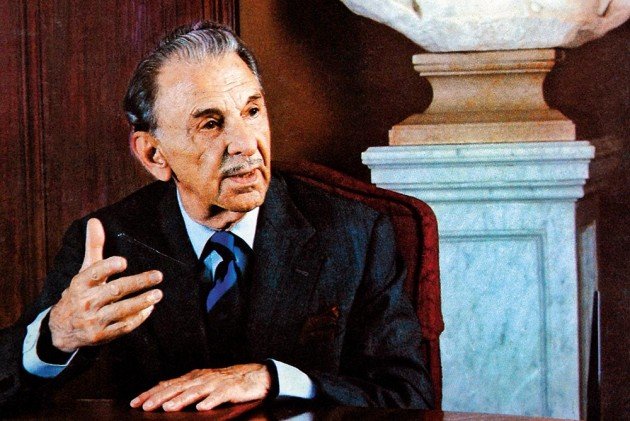 Jehangir Ratanji Dadabhoy Tata
Born- 29 July 1904
Died- 29 November 1993
First look at the Numbers of Tata Group of Companies
The Tata Group has more than 100 companies, its business spread over more than 100 countries of six continents
About 69,5,699 employees work in this group of companies
In the year 2016-17, the Tata Group had assets worth of Rs 84,5212 crore.
In the 2016-17 fiscal year, Tata Group firms paid Rs 47,196 crore as tax, i.e 2.4 % of the whole govt. collected tax revenue
On August 25, 2004, After TCS listing in the stock market, the group's total market cap has crossed Rs one lakh crore rupees, This is the country's largest group with 29 listed companies in the stock market
The Tata groups have 6.6% of the share from the total market cap of the Bombay Stock Exchange
Above Statistics have been taken from the Tata Group's website
Born in Paris on 29 July 1904, when he joined his father's Tata Group as an intern, he was only 22 years old boy. His father Dadabhai Tata passed away as soon as he joined the business. When he became chairman of the Tata group's flagship company Tata Sons, his age was 34 years. In his leadership, the company did an excellent progress, before his retirement, the company becomes huge with 95 companies of Tata Group. A group with a wealth of $ 100 million, was become 5 billion dollars worth of group. JRD is still remembered for his "No mistake business strategies", ie his fullproof business strategy. But as a businessman, his original heritage is always to think different and to do new things. At the time of World War, when the mechanics and technology were growing rapidly in the world, JRD focused his attention on the less popular Aviation Industry. He did not only become India's first licensed pilot but also laid the foundation of India's first commercial airline. In the first year, his company earned 60 thousand rupees of profit. After five years when their contract was completed, the profit exceeds 10 times, Tata Airlines of that time is today's Air India. he was used to adop a unique idea, like every businessman, and with his commitment, he make that idea successful to all over the world.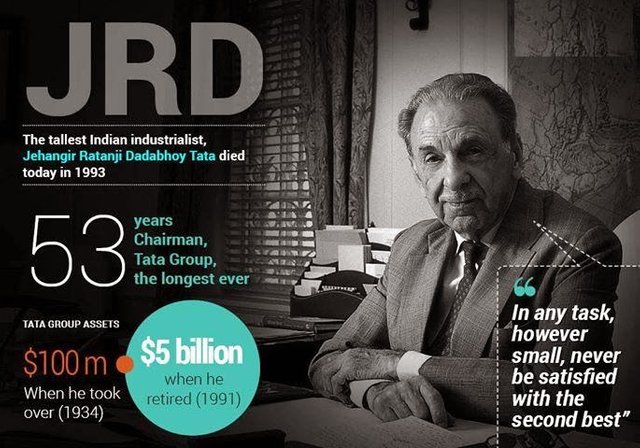 JRD's leadership was such that he was taking together a team of different types of employees. He was able to identify the strength of each and he knew very well that the mistakes, defects, and differences of the people should be ignored. He always gave credit to his team and he did not hesitate to take risks too. After independence, he recognized the country's condition and followed the industrial revolution. After independence, it was necessary to utilize the natural resources to make India competent and capable. JRD faced a complete life situation for that, he also said that "Making of steel can be compared to making roti. Even if you do not have gold tongs, but it is necessary to make the dough well for a good roti(Indian bread)".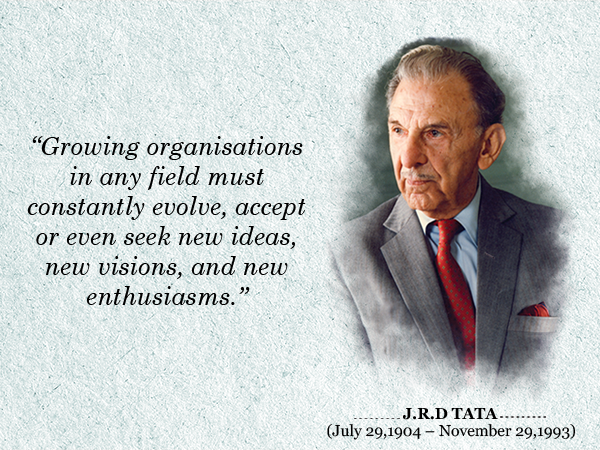 He adopted a business mantra "good thoughts, good words, and good deeds, He believed that there is no meaning of success which is not in the national interest and in public interest, and not used righteous ways to achieve it. The result of his future thinking is that he was the first to introduce the Human Resource department in his company, He is the man who introduces paid leave policy and he also introduced the 8-hour work shift and it was implemented when America and Britain still didn't had any law about work timing. Free medical aid, accident compensation, and employee provident fund all this also came from his brain. Later all this policy accepted by the Indian govt. Until the last days of his life, he was used to of saying that "we don't laugh much ", Once he said that "Whenever I go through a car, I always give a Ismail (intensely saying Ismail instead of a smile to make people laugh) to anyone who looks at me".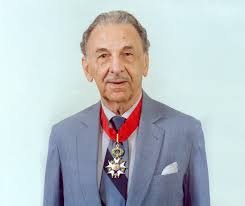 In 1992 Indian Govt gave him Bharat Ratna Award A highest civilian honor of Republic of India.
Thanks for reading
Stay tuned for more motivational good read
Regard From
@jigsindian