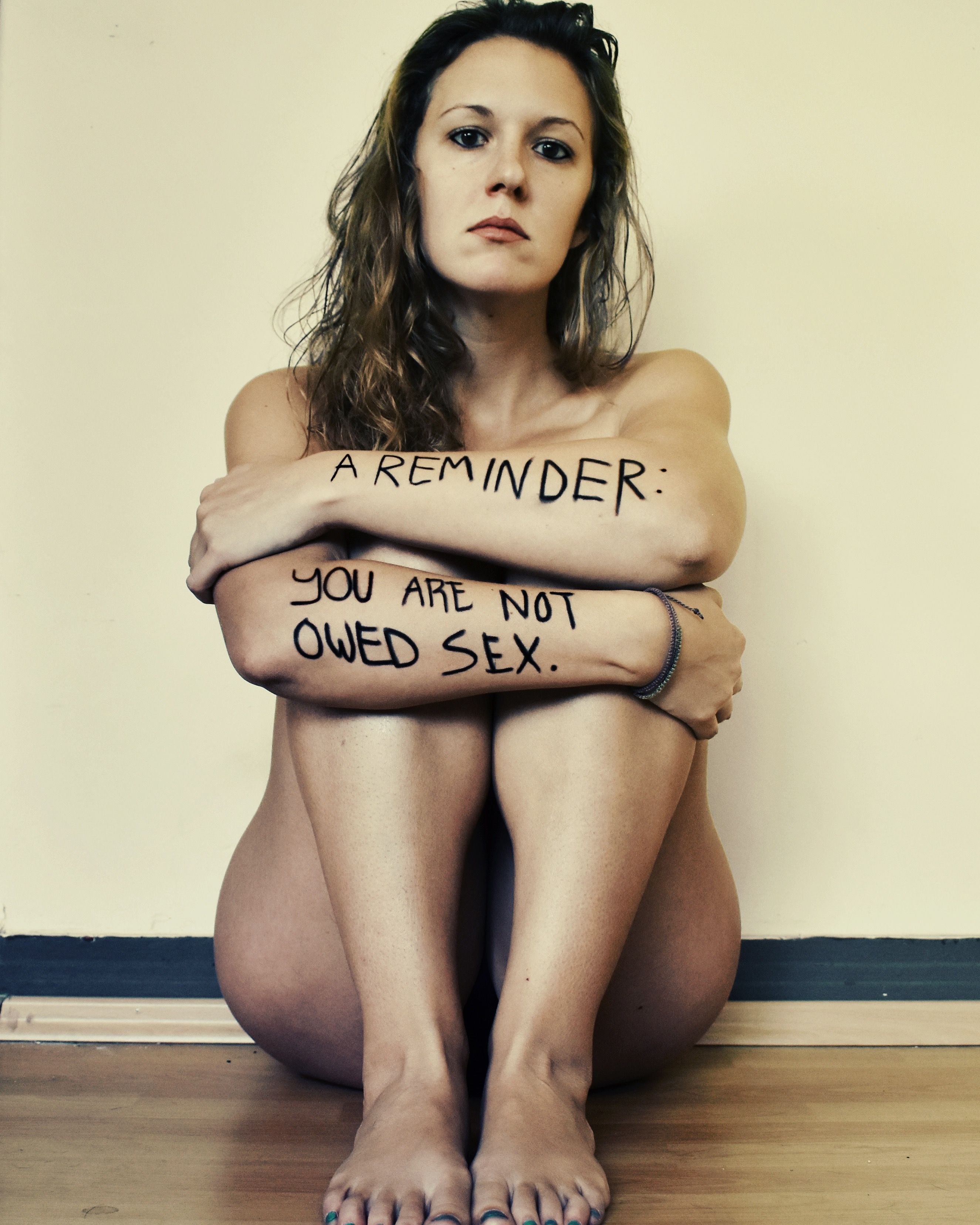 A REMINDER: YOU ARE NOT OWED SEX.
Why am I saying this? I just read an article in Vox about a new movement of mainly white men who think they are owed sex and that society is preventing them from having it. They are called incels. It stands for Involuntarily Celibate.
I learned about this for the first time this morning, and it makes me so fucking sick.
Here's a pretty direct explanation of what I'm talking about from the Vox article, if you haven't heard of it: Incels are "an online community of men united by their inability to convince women to have sex with them…Some self-identified incels…have developed an elaborate sociopolitical explanation for their sexual failures, one that centers on the idea that women are shallow, vicious, and only attracted to hyper-muscular men. They see this as a profound injustice against men like them, who suffer an inherent genetic disadvantage through no fault of their own."
I encourage you to read the full article which I linked to above for a more detailed understanding of the incel and the grotesqueness of this movement. It is an abomination to society.
What the actual fuck, you guys. No one is OWED sex. Not men. Not women. Not for any reason. If you think animals are owed sex and you'd like to go back to the times where we act like animals, then survival of the fittest bro, and then those "muscular" men will likely just kill you for creeping on "their" women in the first place.
But regardless, muscular men are not owed sex either, obviously. No matter what she says or what she's wearing or how you bought her those drinks, none of those things equal you being owed sex. No one is owed sex ever (with the rare exception that you paid explicitly for sex from a willing party, in which case, if that is the arrangement, then I guess you are owed sex. So Incels, if you are listening, if you think you are owed sex, you best well have paid for it from a willing party, or you should go back to under the rock you came from and figure your shit out before coming back to this society).
Did you know that the white male terrorist who drove a vehicle into a crowd in Toronto is an Incel? He is part of the "small radical fringe [that] believes that violence, especially against women, is an appropriate response — that an 'Incel Rebellion' or 'Beta [Male] Uprising' will eventually overturn the sexual status quo."
A couple things.
If one of the genders is the "victim" of the other gender's shallowness, it is women. Women are far more harshly critiqued and held back or given opportunities than men in society at large. One easy way to notice this is by how much Hillary Clinton's clothing choices were at the forefront of media coverage of her presidential campaign versus how much attention was given to Donald Trump's clothing choices (none). That being said, no one is a victim for not "getting" sex, because no one is owed sex. If you're not having sex, look inside yourself and make some changes that could help you to reach your goal. Make people like you by being someone that they like. It's not as easy if you don't fit into society's neat little standards of beauty, but rest assured, most people don't, and most of them are having sex. What are they doing that you're not doing? Instead of blameshifting, solve your fucking problem by being a good person and showing people how great you are.

Women are far less likely to base who they have sex with/date simply on appearance than men. I'm not saying that it doesn't exist. Yes women are shallow too. But more women are less shallow. More women than men are willing to see internal beauty and overlook physical appearance or simply not rely on physical appearance for deciding with whom they can find a happy and healthy partnership with, including sex.

If someone does not want to have sex with you, bro, that is on you, not society. People in the incel movement are likely very ugly on the inside, and that is why they can't "convince" girls to have sex with them. It's more about who you are than what you look like, dude.

Based on what I have read about incels so far, they are mad because super hot girls won't sleep with them. They talk about how all these "ugly sluts" are sucking dick here and there, demeaning them in terrible, misogynistic ways. The exact behavior they are criticizing they are doing. They don't want the "ugly" girls. They only want the super hot ones. Why should super hot girls see past your lack of muscles if you won't see past a girl's lack of media-approved booty and boobs? Seriously, the hypocrisy of that might be the most disgusting part of all. Well, except that it has now caused those two noted instances of mass murder in Santa Barbara and Toronto. That is the worst part.
I am writing this because I have such deep sadness and disgust from the fact that it exists. However, everyone should know it exists, or else there will be no stopping it. We do not need any more hate groups in the world. All the more pronounced haters against people of color, homosexuals, transexuals, to name a few, now people just keep adding to it. It's fucked. The more we can address it out loud, the better chance we have of making some changes, or preventing people from getting to the point of joining these atrocious groups before they would even consider it by presenting logic, showing the beauty of the world. Ugh, I am so saddened by this. Incels. What the actual fuck.