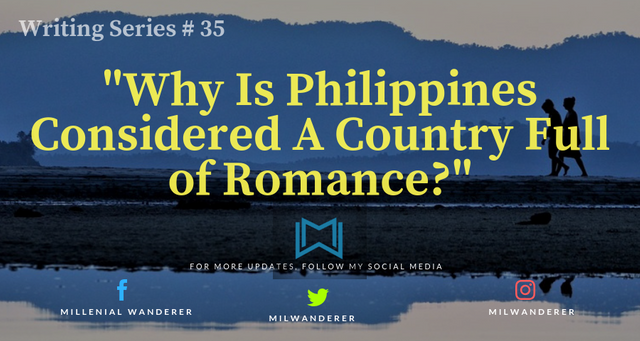 Filipinos, like other nationalities, were known for being romantic. We love the idea of romantic relationships and the giddiness it makes us feel. We want to feel special, loved and cherished by someone who would do anything just to be with us. We love celebrating occassions with our special someone like christmas and valentine's day. We're also into romantic places that gives us a vibe that makes our time with our significant other even more special. While others see it as corny or too cheesy for their taste but we could only care less because we are in love.
Here are some things that proves why Philippines is considered a country full of romance:
- Love songs. Admit it or not, throughout the decades, songs abour love has dominated the music industry of our country. Whether it's a light-hearted song that expresses how beautiful love is or a sad love song that shows the heart-breaking and ugly side of love, as long as it's a love song, majority of the Filipino music lovers would really appreciate and embrace it.
- Hugots. We love to see relatable quotes about love on social media. They make us remember the crazy things we did for love and how much it hurt us. We can almost relate everything with love. Even the smallest things around us can be associated with love using our wit and sense of humor.
- Romance is a very popular genre for both movies and novels here in our country. Majority of the films produced here in our country are love stories. And they're major hits! Yes, no matter how cliché they can be, they always seem to find ways to make it different than others, hence, a lot of them were blockbuster hits.
- Loveteams. We love to pair up celebrities when we see that they have an intense and undeniable chemistry. Filipino fans tend to go crazy for them. We go to mall shows just to see our favorite loveteam in person. We buy the magazines which features them, we support their movies and TV series and even fight for them on social media against their haters. Sometimes, this kind of fanatism can get too much. And I mean it in a negative way. Some fans want their loveteams to really be together in real life to the point of interfering with their idols' personal lives.
Love is such a beautiful thing that everyone deserves to have. And Filipino people happens to love celebrating the idea of falling in love and we also love to feel the pain that comes with it through music, movies and even in words. It's not everybody's thing, to be honest. Not all Filipinos are romantic because some people have past experiences that made them skeptical towards love and romantic relationships. But there's still a lot of us who chose to fall in love after getting hurt multiple times. Some still chooses to risk their heart just to feel the kind of happiness that only love can give.
---
Posted from my blog with SteemPress : [https://millenialwanderer.com]
---