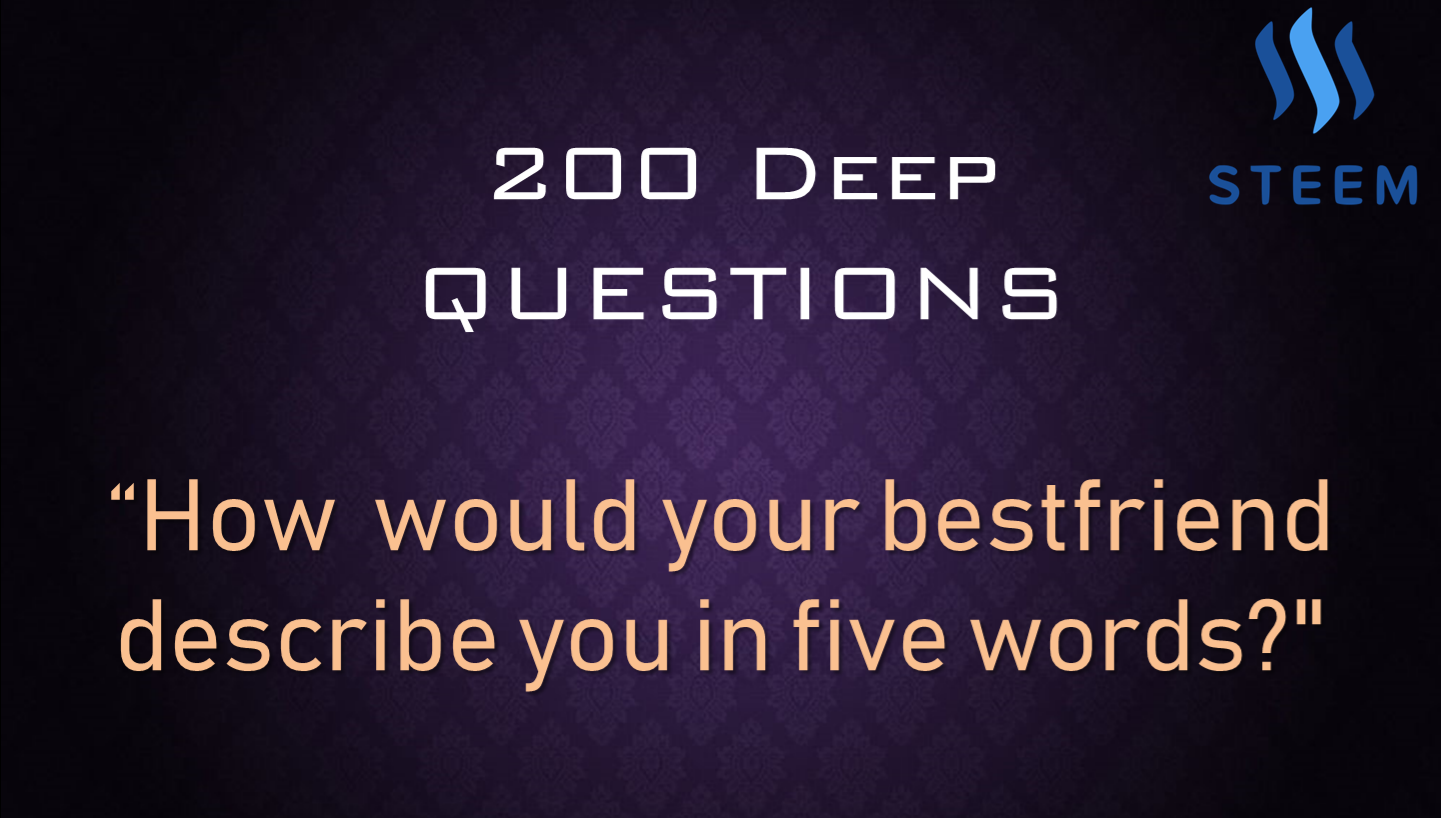 Hi everyone! I'm continuing the series of series of life topic which I find it exciting. The art of short-sweet questioning by Rania Naim on his 200 Deep Questions To Ask which I plan to continue up until I reached the 200th question. It will surely exercise my writing ability and at the same time improve my story telling. I found it a general topic to answer and I want to answer all of them from 200 to 1.
How would your best friend describe you in five words?
I have a lot of friends but I consider one best friend and that was since high school. It is a weird experience because on our first years, we seem to hate each other because of his competitiveness. He wants to compete with people and do things that will make him on top. Me? I seem to hate people who are not treating me well too. I'm a "people's approval" person. Most of the times, I tend to mirror the way how you treat me.
But on the next year, we became very close because of a competition that we need to help each other. We both excel in the field of Damath+Sci-dama and we need to choose where do we fit in. So the conversation + bonding happened and is continued until now. Today, he is already a professional teacher and me an Electronics Engineering graduate.
Witty | Wise | Humble | Kind | Ambitious
Those are the five words I feel @nielfid will describe me. We have been through series of sharing of problems and he knows a lot of me more than anyone else. We have shared a lot of thoughts and I feel he will agree with this.
Witty - Responsive to any kinds of humors but with cleverness. We often share our dreams and brag into each other. Even joking impossible things or luxurious possessions just to satisfy our bragging rights.

Wise - He's seen and witnessed the worst situation I faced and how I managed to climb hard despite of the obstacles I faced. Faced with financial incapability, family troubles, lack of support, and many more struggles, I still managed to find ways to escape the difficulty of thinking of them.

Humble - I had achieved some good achievements in life and being humble is a trait that needs to be done. He too, has been very successful and excel in a lot of fields. As close friends, we know the importance of being humble.

Kind - I'm always a giver. I even reward myself on simple achievements I got in life, especially the big ones. But more than that, I share my blessings to the people and to community. I know deep in my heart I'm a giver of blessings. As I received those blessings, I wish to become a blessing to others too.

Ambitious - Facing with a lot of unfair circumstances in life, I still chose to be ambitious. Being ambitious is an exciting journey for me and many more big things that I look up to.
I'm wishing to answer the 200 questions in 200 days. Meaning, I hope to post one question a day to finish it. I wish you'll read it too :) Thank you!
You may also want to read "