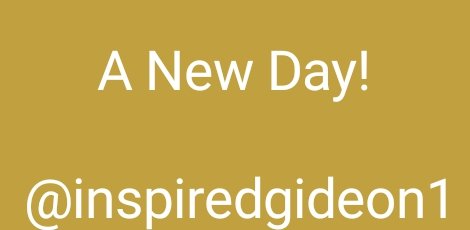 Good morning and welcome to another great day. It's a new day to start something new and profitable. It's a new day to forgive those who have hurt us yesterday.
Forget the regrets of yesterday and focus on the opportunities of today. Don't take your mind to the opportunities you lost yesterday as a result of carelessness or things beyond you, focus your energy and be focused on today because today got it's own opportunities.
Great people only go back to their yesterday to pick lessons and not regrets. Your yesterday might be full of many regrets and mistakes but you got let go of the regrets and focus on the lessons you got from yesterday's mistakes.
It's a new day to spend less on liabilities and channel your resources on assets, investments and insurances. If you repeat today the careless spending you did yesterday then be rest assured that you are already damaging your tomorrow. Be wise in your spending so that tomorrow you will not regret your why you spent money on unnecessary things.
It's a new day to leave unprofitable friends, leave those friends who never encourage you to be great. Leave those friends who never add any positive thing to your life rather they are reducing your positive values. Choose your friends today based on who you want to become tomorrow.
It's a new day, do something new.
It's a new day, help someone today.
It's a new day to improve on yourself.