Being a Woman in Tech: 7 things I wish I knew before starting my career in tech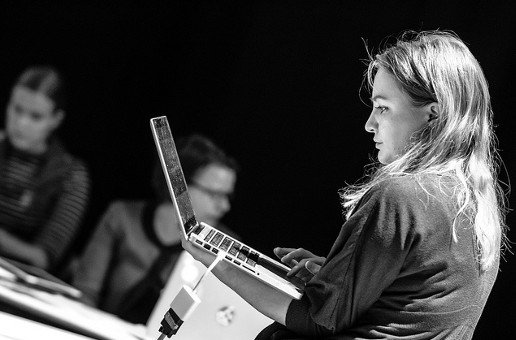 When I started my career in the tech industry I honestly didn't think that I would run in some difficulties because I was a woman. Maybe I was just too naive or too young to realize that women are a rare species in that industry. After my first few months I quickly noticed that I had to adapt to fit in and that nobody had ever told me that growing your career could be a struggle.
I would like to share 7 insights with you, that I wish somebody would have told me before I started my career in tech.
1. Speak up! Even when you are the only woman in the room.
One of the first things I quickly noticed that men in my environment were very self-confident and would argue and make their points in meetings. For them it was completely normal to just stand up in a meeting full of others and present their ideas and share feedback. Sometimes I would sit in those meetings, being the only woman, and realize that I actually didn't feel that comfortable to do the same. So far I always had a chance to share my ideas and people would ask me for my opinion. Now that was not the case anymore. If you didn't speak up, nobody asked you about your opinion. That ultimately meant that I went out of these meetings, not having said a word.
It took me a while to get the confidence to participate in these male dominated discussions and bring my points across. But the better I got in it, the easier it felt to just adapt to the environment.
2. Don't waste your time on stereotypes.
I do believe that pretty much every woman can relate to the fact that people still use a lot of stereotypes in the workplace. Women are not good with numbers, they are to weak to manage a team and they certainly can not be a great public speaker. There are so many stupid things that people use to call you out about something that is just not true. Woman can be great public speakers and having a woman in a management position can add massive value to the organization.
However, being a woman means that you will have to learn how to handle situations where people will use stereotypes on you. I am sure that being mistakenly called the secretary has happened to a lot of women.
3. Challenge yourself even tough you think you're not ready yet
Especially at the beginning of your career, I was not always sure if I should put my hands up to start this new project or not. If my manager would send out an email asking the team if somebody wanted to take on this new project, I was oftentimes hesitant to take it on. The guys around me seemed way more confident to just run with a thing that they had never done before.
After several chances passed, I also began to take on new projects and learned how to deal with things that you had never done before. This also meant that it would teach me how to deal with failures. I think that this is still the best thing I have learned in my career so far. You don't have to always get the perfect results, failing with something can add as much value to the organization as a big success. Both times you have learned something and can take that experience to work on new projects.
4. Being a woman is not a weakness
Woman are different in many ways. We are different leaders, we think differently and we our emotional intelligence is probably higher. These things don't have to mean that you can not be successful in a male driven environment. It is actually quite the opposite. In my experience, man do value these things in women and actually thing that we are in some ways better with people.
Managers are not called "people managers" without a reason. When it comes down to leading a team, men an be harsh and just make rational decisions. These decisions might be good for the business but are not always good for the individual.
The biggest mistake you can make when you start your career in tech, is that you try to change your personality and become more like a man. Do not get me wrong. There are things that we can learn from male leaders but you do not have to become a man to succeed. The skills that are unique to us are very effective when you want to grow in your career and get the position you always dreamed of. Do not make the mistake to think otherwise.
5. Learn how to give feedback.
As women, we can sometimes be a little bit hesitant to give feedback to co workers. We just think too much about their feelings and if it is okay to say this or that. If you work with other people feedback is very important and having the skill to deliver and take on feedback is going to bring you far in your career. It seems like a soft skill but it actually is very valuable when you don't feel awkward about giving somebody some feedback. Believe me, it is going to save you to overthink situations and move on with things very quickly.
6. Create a network that will support you.
When you run into situations where you are not sure how to handle them, it can be great to have a mentor. Boy or girl, having a mentor that can guide you through difficult decisions at work or just share some stories from their own career, is hugely valuable. Luckily, I got this advice pretty early in my career and reached out to two other people who I taught were great leaders. We went for coffee or chatted over Skype here and then. The conversations were always so helpful and I felt good about having the ability to share some things from work with somebody outside of my team. I am pretty sure that every woman can relate to that and knows how good it can feel if you can get stuff off your chest and talk it through with somebody else.
7. Be thankful and celebrate your success.
My last advice is pretty simple but we sometimes forget to celebrate our success in life and at work. Life moves fast and we do sometimes just not take the time to pause and think about the past week/month. Do not jump from one project into the next, take some time and be thankful for what you have just achieved.
Live in the moment!
What are your experiences as a woman in tech? What do the guys think about this topic? Any stories to share?