"True FRIENDS are the one's who walks-in when the rest of the world Walks-Out!"

This is a very refreshing and solemn place to behold where I've spent quality time with my friend.
I had a chance to visit my friend today and he welcomed me in his home with a delicious food. After we had our lunch I was thinking of going back home and be with my girlfriend since she was not really in good mood before I left. But then all of a sudden my friend told me if I have time to come with him somewhere. I was hesitant but somehow I can see in his eyes that something may have bothered him and wanting to express it with a friend.
I decided to go with him after he told me that we are going to visit the grave of his Father. We went to a very silent and solemn place.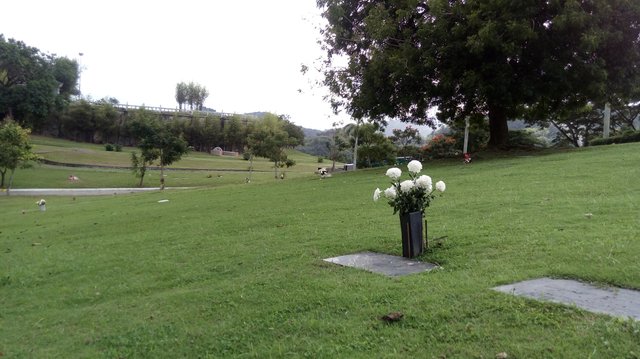 We visited the grave of his father and he prayed for a few minutes. Then we walked around looking for a good place to sit down.
We finally find a place with a very magnificent view of nature. We sat down there for more than 3hours. That long hours sitting with a friend was a very fruitful and enhancing moment to both of us. He has shared to me the story that unfolds in his whole life. It was an honor for me to hear his story which was full of complexity and heart-melting experiences. He has gone through a life beyond compare and he has fought a battle more than anybody can imagine. He lives a life of remarkable journey.
I was tounge-tied when he told me this line...
"... you know what brother, believe it or not... I was praying to God to meet a friend like you who can bring some light to my Life and bring me a little closer to God."
This line melted my heart. He is such a genuine person who seems to have been waiting for a true friend who will spend time with him where he can fully express all the unforgettable events, experiences and stories that unfold in his Life.

It's here on this peaceful place where we shared a quality time together. It's here where we exchange our life's experiences both worst and glorious stories.
It's my first time to have spent a quality time with a friend who's life journey has been filled with a very emotionally moving events and heart-melting experiences. It was an honor to become a good instrument to a friend who've been holding a long story behind his back and just waiting for a real friend to walk-in in his life.
Indeed, it's a very meaningful day filled with enhancing thoughts and good insights. It is always good to spend time with your true friends in life no matter how occupied and busy you are. We don't know that one way or another we can be an answer to thier prayers. Learn to be a good friend and always stay as a GOOD FRIEND.
Thank you guys for dropping by. I appreciate your time.
Don't forget to ....
👉 UPVOTE
👉 COMMENT
👉 RESTEEM
"Be a Good Friend and Stay as a Good Friend becuase YOU can be a God's Blessing to touch other peoples lives!"
Your friend,
@iamwhatiamnot