Black Bike Fun on the Playground
This is my 2004 Kawasaki zx10r black bike on a fun ride on the playground. My bike has a blue gear indicator shown in second gear for this whole video. You could ride all day in second and never change gears due to the incredible power range of the engine. It would be like having an automatic transmission but you would still use the clutch from a standing stop. To the right of the speedometer is a black sock coozie over the front brake plastic master cylinder to save the plastic from uv sun damage. You can see what the sun has done to the sock coozie. Here is a video of my black bike.
The camera is mounted on the gas tank with a good view of the speedometer and front view through the windshield. You can clearly see how quickly the speed changes, rises and falls due to massive engine power of a sportbike. The gas tank mount was only used for a few videos as it isn't good to show your speedometer all the time. This is shown in the following picture from the video.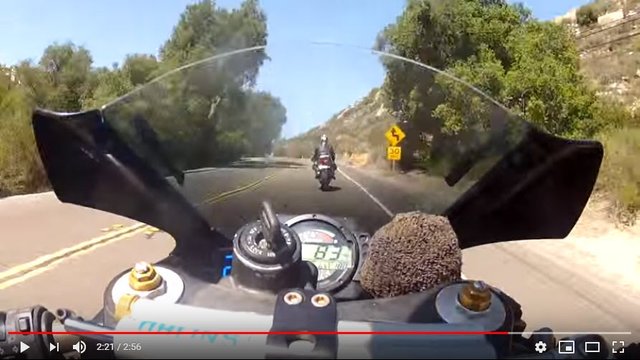 Clearly we were riding Mexican roads as we would never be speeding in the US. We moved the camera mount to a different location to not look through a scratched wind screen or show the speedometer because it is just safer that way. This was just an easy ride on a sportbike, not pushing hard or being agressive at all, else the speeds would have been much higher. As always, Enjoy the ride!