JIHAD | A Journey Towards Nirvana | Episode 5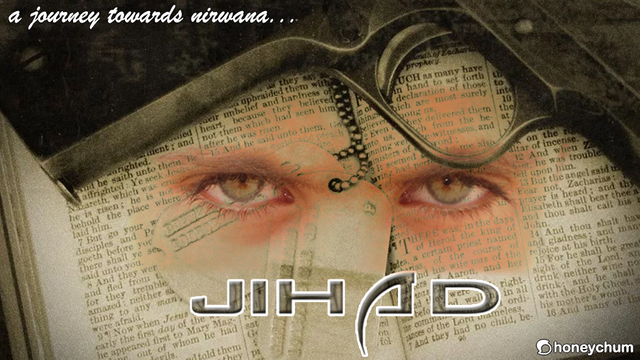 Episode 5
Through out day and even while sleeping this one word echoed in Shoaibs mind. All he was thinking about was Jihad. He realized that everyone has a motive and a reason on earth and Jihad is his reason.... JIHAD.
"Ladies and gentlemen, as we start our descent, please make sure your seat backs and tray tables are in their full upright position. Make sure your seatbelt is securely fastened and all carry-on luggage is stowed underneath the seat in front of you or in the overhead bins, Thank you. Shoaib opened his eyes. Finally, he was about to reach the land of Demons. He tried looking out of the window of the plane but could not see anything other than the clouds. He slept most of the time during his flight to America, thinking about all those whom he had lost or had left behind in Pakistan.
After the customs clearance, Shoaib came out of the airport and tried looking for Washim khan. Suddenly somebody patted on his shoulder as he turned around he saw a middle-aged man holding a board with his name on it. He was wearing jeans and looked quite moderate. Assalam Waley cum, walleye cum slam said Shoaib. my name is Washim and I was sent your picture, you will be staying with me at my house. Ohh yes I was told about that, yes let's go. both of them went in Washim's car. On the way Washim started praising Shoaib about the courage he had shown by taking this cause in his hand, Mashallah Jihad needs people like you. You are a very brave man. Shoaib did not say anything and he kept quiet.
Washim's house was in a very nice locality. He drove his car into the garage. He had a passage into the house from the garage. They both went in and Washim told him that his family is not in the town and they would be coming the next day.He showed a room to Shoaib upstairs and Washim asked him food but Shoaib just wanted to sleep so he said no and asked Washim about the arrangements required from him. Washim laughed and said that there would be no problem arranging everything and he had already taken care of the most of the required things and waived him good night. Washim, looked around the room,' it has everything,, back there in Kashmir when he would roam around the village and the small town he would see poverty, scarcity, people struggling for survival, struggle against winters, struggle for food, clothes,there would be terror in their eyes always as they were living under the command or it was there 100% loyalty towards religion. They were so poor but yet so satisfied yes they are satisfied with the very less what they have.
Rahim Chacha, when he would go out every week, he would go and see Rahim chacha. Rahim had a small tea stall in the small market. he likes seeing him because he would see honesty and love in his eyes for whoever came to his shop. he would serve tea and would crack jokes and also he would tell fairytales about the mountains. Listening to his stories and listenings to him while sipping tea had always been the best time for him, slowly he came very close to Rahim Chacha and he would treat him like his own son. He met his daughter 13 years old, Ada. she was very beautiful and sacred like quraan sharif. when she would smile it would occur like the whole quaint would stop to enjoy her smile, she was like an angel her teeth look like pearls and skin like silk. she loved Shoaib like her brother and he too would wait all week to go see her. Life had been very harsh with him but yet it has given him few things to carry on, carry on with a belief that he had been sent here on this planet to do something really good for Islaam for his religion. He then would remember the words of Gazi, "Khuda ne tumhe zameen par ek aham maqsad ke Liye bheja hai, or woh maqsad'e' aham hai Islaam ki bandigi. Aaj Islaam Mushkil mein hai. Ek Taraf Isaiah hamare mazhab ko tabah Karne par tuli hai or doosri taraf Yahudi. Ikk taraf yeh Kaafir hindu hamare mazhab ko zamindoz karne ka mansooba dil mein liye baitha hai. (Khuda has summoned you to this world on an important mission and the mission is to serve Islam. Islam is in danger today. On one side stands Christian and on the other side Jew. This Qafir Hindu too wants to sabotage our Islam.) Aaj Allah hamaari Taraf dekh Raha hai, Aaj Allah tumhari Taraf dekh Raha hai ki tum us maqsad e aham ko poora Karo jiske liye usne tumhe yahan bheja hai. (Today Allah is looking at you and at us all. This is the time when we complete the mission we were sent for.)
Tum log anath hue kyu ki allah ne jiss wajahat e khass ko mukkamal karne ke liye tumhe yahan bheja tha woh nahi chahta tha ki koi bhi rishta tumhe uss maqsad ko poora karne ke raaste mein aai. Tumhari zindagi , Tumhari moujudgi sirf allah ki ibbaadat mein , uski tizaarat mein or uske mansubo ki tameel karne ke ewaj mei hai. Islaam ko aaj tumhaara khoon chahiye , khoon khoon do apna , khoon. ( He turned you into Orphan and kept you away from all comforts, just because you were the chosen ones. He did not want you to become lazy or weak. Your life, your presence in this world should be for Allah and to complete his motives. Today Islam needs your blood. Give your blood to Islam. Jihad, Jihad, Jihad.