3 Things I have Set Myself to Do Every Day!
There are three things that I have set myself to do every day to improve my physical and financial health. The first one is exercising one hour every morning, the second is writing a blog post on Steemit and the third thing is to trade cryptocurrencies.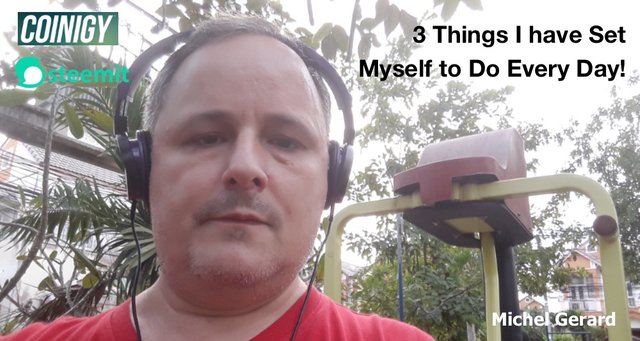 3 Things I have Set Myself to Do Every Day!

It's not that my health is bad and it's not that my finances are bad, but there is certainly room for improvement and the best way to progress in life is to do what's uncomfortable, and then create habits to reach certain goals.
First Thing: Exercising

I have started exercising on and off more than a year ago, and I had very successfully managed to lose weight, like 4 kilograms, by just exercising 20 minutes with the fitness equipment and a one-kilometer walk every day.
In June I started tracking my activity and I lost my motivation along the way. September was the worst with less exercise and more weight. October was a school holiday and we traveled quite a lot and enjoyed the food.
I enjoyed it so much that I broke my record in weight and it has been so hard to see positive results since then, even after 3 weeks of more intensive exercises.
These are my results.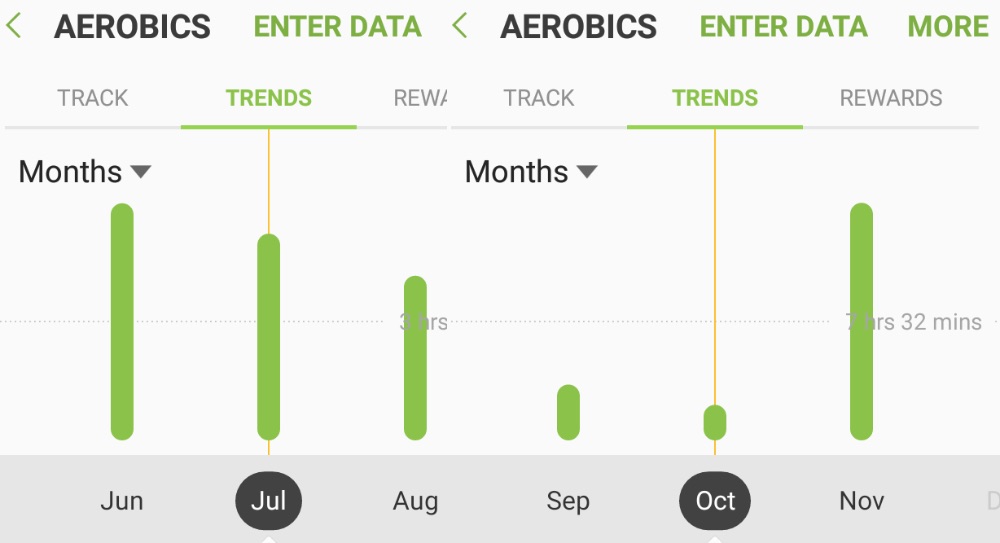 I set myself to exercise with the fitness equipment available outside in my village for 40 minutes every day and I use each of them. This November that's 20 minutes more than it previously was.
Then, I set myself to walk 2 kilometers per day, which is double than what it was as well, and now I have running shoes!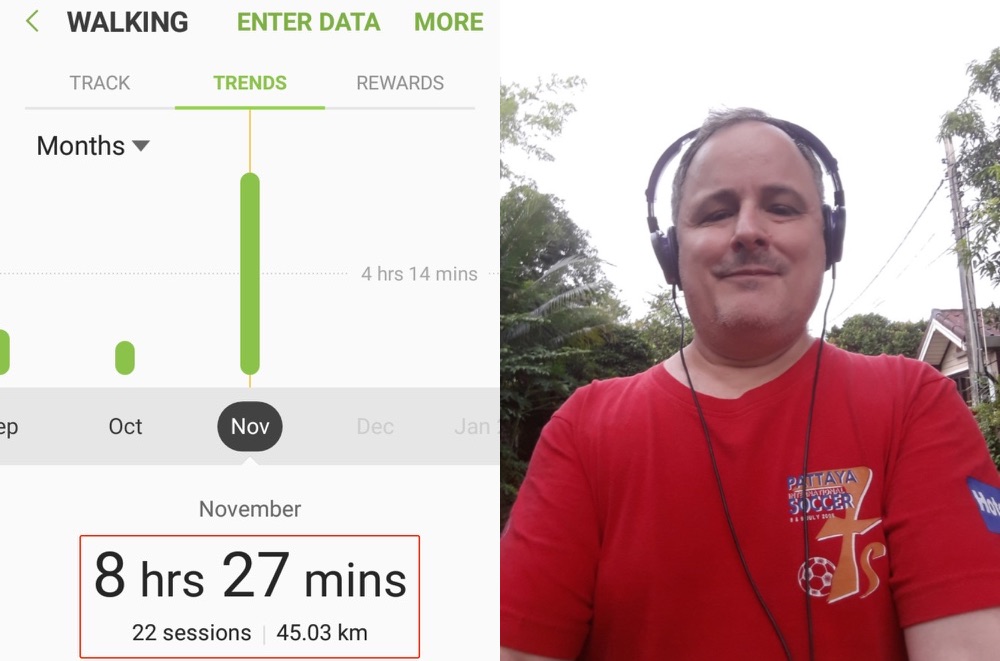 I just can't believe that I already walked 45 kilometers this month. My average speed is 5.6 kilometers per hour now and I walk because I hate running.
I set this time in the morning at 8:00 after I drove my daughter to school. I exercise while listening to motivational and self-development recordings and it is what gives me the will to do it. It's like killing two birds with the same stone.
I have lost 1 kilogram already and I hope it's going to continue that way as I enjoy more and more doing it because I feel much better.
I haven't exercised that much in my entire life!
Second Thing: Writing a Steemit Blog Post

The second thing I set myself to do is write a Steemit blog post like I am doing now. This is just a question of creating the habit, making the time to do it and also be less perfectionist.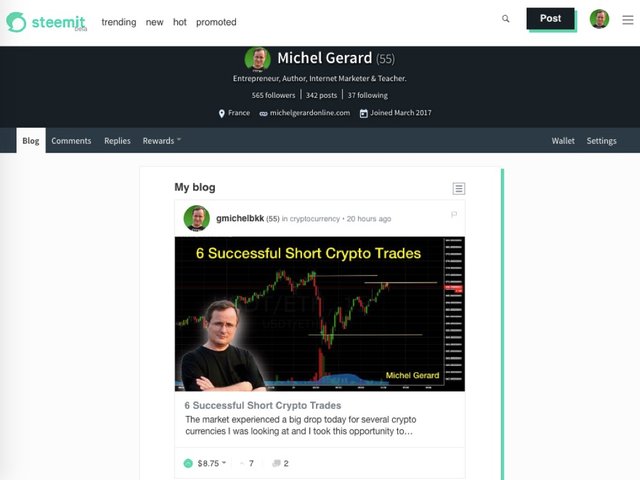 This is not new to me because a few years back I set myself to write one blog post every day on my blog, which I did for more than a year: http://www.michelgerardonline.com
The blog didn't earn me any money, but I developed my writing skills and consequently I got some interesting writing work to do afterwards.
In the contrary, Steemit is earning me an average of $5 per post at this time and this translates in $150 per month and $1,825 per year if I manage to write one post every day. This is at a time when Steem is very low and if it just doubles in value, my rewards double as well.
I keep all the Steem in my account and use my SBD to promote the posts, so it will be a growing investment. Imagine if Steem reaches $4, the yearly incomes become $7,300 just by blogging, and it is without considering the fact that the earning per post may increase over time as I get more followers and upvotes. 
I'll do one post every day and if I miss one day, I will write two posts the next day.
Third Thing: Trading Cryptocurrencies Daily

This year I fell for a couple of scams online with Bitcoin and a big misadventure with an ICO so I decided that the way to go was to educate myself in trading cryptocurrencies and do the trading myself instead of trusting some company doing it for me.
In addition to learning here and there, I joined the cryptocurrency trading course to get myself a mentor who has done what I want to do, which is successfully trade cryptos.
If you are interested to join me, use coupon code "michelsentme" at check out, I will get a small commission and you will get a 20% discount.
I took the course and it is an everyday learning experience where practice makes the difference, so the third and last thing I set myself to do is to at least do one trade per day, or a simulation, to be in the habit of reading charts and understanding them.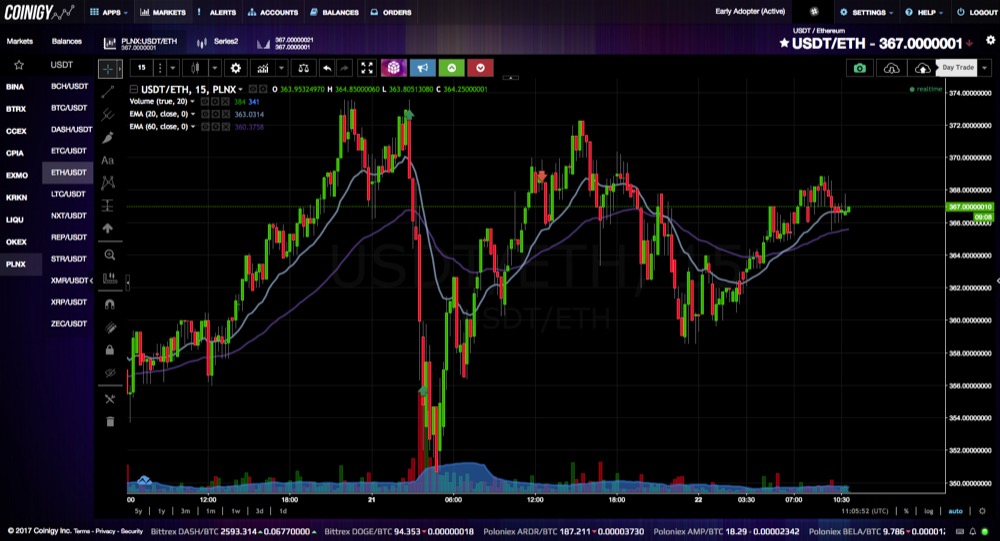 The goal is not to earn big doing that at the moment, but to practice with small amounts and as I gain confidence in what I'm doing, trading more. I have no doubt that "practice makes perfect." It's not the first thing I have learned and applied successfully. It's just that you have to take the time to do it.
I use Coinigy to look at charts and place trades, if you would like to try Coinigy please use my referral link https://www.coinigy.com/?r=842aeb1c because I will get $15 if you purchase later on.
That's all!
Three things I have started to do this November because I do not need to wait the new year for resolutions.
I hope this is helpful for you.
Would you upvote this post and follow me for more because this will encourage me to make more posts like this one?
Michel Gerard