Either that or I didn't know how to play the game beforehand, lol. I was literally trying for the last day or so, to at least get into Champion III to snag 80 cards and so it finally happened just a few minutes ago. That was hell getting there though! But as I've also said to myself throughout life, there are positives to be had in even the damnedest of situations. I say that because I honestly never thought I'd clear "Diamond I", lol!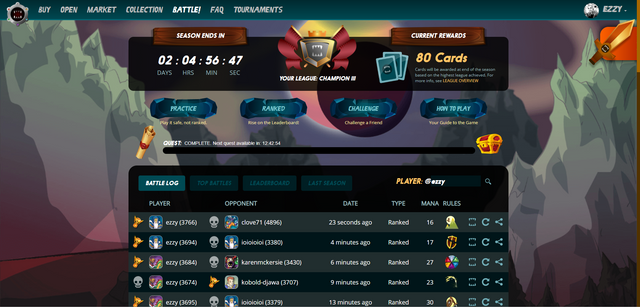 ---
But yeah, about those positives! I did get a crap load of practice in which, in essence, has made me a better player. In that, I have also learned the mechanics of the game in much finer detail. Such as the importance of which summoner to choose, the strategic positioning of individual cards in-game and also the psychological element (such as which players usually go for which decks). It's a game of numerous intricacies and tough as nails to master. At least, from my point of view anyways, lol.
But I certainly felt the difficulty spike going into the "Diamond" league. You can't just dole out cards in any manner you see fit. A good understanding of the game is required if you wish to progress from there on. Maybe this is old information to most seasoned players out there but it's new to me, lol. New in terms of, it's been a while since I've made it to the "Champions" league again but I definitely don't remember it being this hard to get to in the past! Shows how popular the game is getting, I suppose, and the skill level needed to rise in the ranks.
But an awesome, fun game it absolutely is. No question about it. And I'm so glad it's here on the STEEM blockchain. Although, it must be said, winning in Tournaments is a whole 'nother beast entirely!!!
See you on the battlegrounds, my Steemian peepz! :)

Hope you enjoyed this post, please look out for more on the way... (author: @ezzy)
---