Well, it's the talk of community right now. Possibly even overshadowing the spectacular self-nuke imposed by Banfield on himself a few months back. What else but the swift exit of DLive out the backdoor, littering the path with spilling fund out of their digital SWAG bag. But surely not, I hear you cry! After all the support they've received from Steem Inc., the community and everybody in-between? Well, let's delve in a little further, shall we...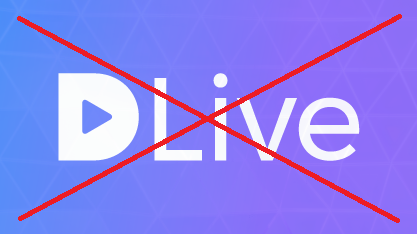 ---
It's no big secret that this intriguing little Dapp, that seemed to spring out of nowhere, was welcomed with open arms almost one year ago. Enjoying a sizeable 2 million delegation from @ned as well as the resoundingly positive response and praise all round, things looked more than peachy. Fast becoming a popular and trusted brand within the Steem eco-sphere, Dlive at the very least, provided for a viable alternative solution to using Dtube. And competition gave rise to innovative between the two camps, which in the big scheme of things benefits us all. Such was the level of support that the community even readily accepted self-voting within the team as a means of "collecting a salary" to continue improvement and sustenance for Dlive. Everything couldn't have looked better, until that is, Sept. 20 2018... Five days before the highly anticipated HF20.
The announcement that they were leaving (on the day of the hard fork release, no less) caused an understandable flurry of fractured emotional turmoil for all of us. Confusion, bitterness, but mostly outrage. The team so revered and respected had single-handedly (or single-postedly, as the case maybe) undone all the good they were perceived to have been doing. Upon reflection, their new motives now seemed selfish, calculated and parasitic by nature. Employing the Steem blockchain, one with an established reputation and being technologically sound, was now but a "platform of convenience" to propel their name into the limelight. The dagger couldn't have been plunged any deeper. But why in the hell press the big red "nuke" button out the blue and with no prior warning?
I mean, they cited whale voting politics as a major contributing factor in their decison-making process. But with the upcoming SMT's on the horizon, parameters afforded to a development team before releasing their product, should provide the tools for adequate solutions for this to be put in place. No, it just doesn't add up. In terms of "best interests", they're now seen to have sought out their own just to cut and run. Taking with them a huge chunk of money at the expense of the community and blockchain combined. Surely some form of gratitude in return for all the assistance that has been pushed their way, would have seemed a formality at this stage. But no, their exit strategy has "suspicion" written all over it.
Well, whatever the reason behind the untimely departure, the one small oversight on their part is the integral power of community. You see, as technologically advanced as a social-based blockchain can get, the most essential ingredient would be its user base. And that's where Dlive's actions may well come back to haunt them in the future. I mean, did they think to just pull off a Keyser Soze and disappear off into the sunset on a wing and a prayer? Somehow, I don't think that will happen. We're entering a new era of competing Dapps and gone are the days when a certain development team held the monopoly on a specific area of interest. Therefore, I see "morality" playing a much larger role as the market in general continues to thrive and grow. People don't refer to the crypto space as the "wild west" for no reason. In a world of community-born integrity and policing, unscrupulous actions like these are magnified hundred-fold. And make no mistake, word spreads fast. Especially as Steemit is widely recognisied and fast becoming "the" de facto news forum for everything related to the space. And make no mistake, we already has a huge community (of which Dlive used to be a part of) and tend not to forget such events of this magnitude. This is not a simple blemish on their track record, but rather a definitive example of questionable ethics and fleeting loyalty. And believe me, I'm putting that as nicely as I possibly can.
So, for arguments sake, even if the "grass turns out to be greener" on the other side from a technical standpoint, I see last night's move following them around for a very long time to come. Long enough perhaps for an equally (if not better) competitive decentralised application to take front stage in an already established and powerful community. That community being the one using the Steem blockchain right now. Irreparable damage has been done on the part of Dlive and I can only wonder as to where they will go from here.
"Technology means nothing without the force of strong community-driven individuals behind it." Let's watch this space and see how it all unfolds...

Hope you enjoyed this post, please look out for more on the way... (author: @ezzy)
---