Vlog #46: The beginnings of a Steem blockchain economy are slowly emerging.
Yesterday I didn't make a summary for a vlog. @gigafart, a user on Steemit asked (in a comment) if someone could make one.
User @abh12345 made a really nice summary and got rewarded by @gigafart with a full upvote. I thought it was so cool that he took the time and effort to make one that I also gave my full upvote. (+$60 total).
This was, of course, a cool event but it means more for me. It's the first time I saw that a user was being rewarded for filling a request by another user (on my own post made it extra cool). Not like a job, more like an open request that got filled.
It's just another cog in the wheels of the Steem blockchain economy I see slowly emerging.
A platform where you can earn Steem in other ways than blogging alone.
The bigger the Steem blockchain gets (more users, more frontends, apps, marketplaces ect..) the more Steem tokens will be accepted as a form of payment worldwide.
It's the social aspect of the Steem blockchain that's making this possible. This is the key.
Earning Steem tokens through blogging will get less and less in the future and earning it in other ways will come more to the forefront.
We are literally at the beginning of this process in my mind.
---
---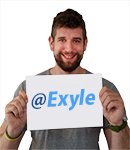 Follow Me @exyle
---

Bitcoin SwC Poker, download and use affiliate code: Blazin8888