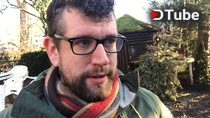 ---
Yesterday I talked about my investment strategy.
I set a baseline and I'm buying crypto with fiat when it goes under that.
It appears I bought at the bottom for now, so I don't have to buy today.
I'm sticking to this plan.
STEEM is behaving super strong in this downtrend and has already gone back to $3.70.
Considering that at the end of November 2017 STEEM was around a $1 the price is fantastic.
SMT's and communities
---
My dad is a programmer and a huge fan of Stack Overflow. A community of programmers.
I have been explaining SMT's (Smart Media Tokens) to him for a long time but it never clicked.
Until now.
I have project Peer Query to thank for this.
With SMT's it would be possible to reward contributions to Stack Overflow in the form of a token. You could upvote and reward the best answers or even send a couple of tokens to the provider of the answer as an appreciation.
It would even be possible to set bounties for questions you want answered.
The token will have value because it's tradable on a open exchange. (And maybe the community could even find more use cases for the token we haven't even thought of, adding to the value.)
Being able to thank others for helping you out or set bounties made even my dad interested in the STEEM blockchain and the SMT's.
Now you can also turn this around. For others being able to earn tokens would be an incentive to join a community and do their best to add value.
So, what I learned from this is that the key to explaining SMT's is to find examples people can relate too.
For example: it doesn't have to be a programming site. It can be a cooking community where you can thank someone for sharing a recipe for instance.
I talk about it more in my vlog.
---

---
I am a witness with our developer group @blockbrothers for the Steem blockchain. If you want to support us I would appreciate your vote here.
We build Steemify a notification app for your Steemit account for iOS.
Get it Here:

---

---
▶️ DTube
▶️ IPFS