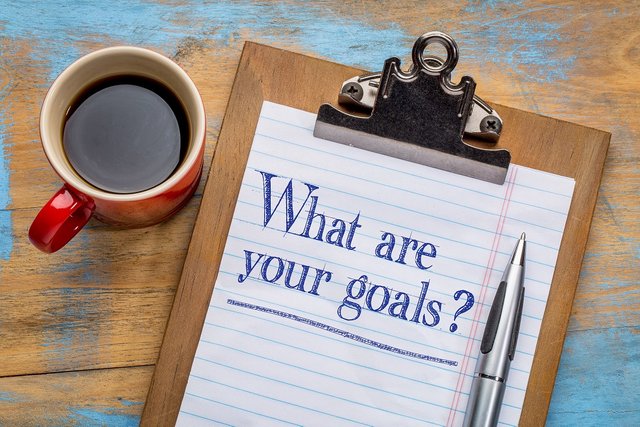 Today we will talk about goal setting for success.
To achieve the outcomes you want in life, you have to set goals, and work towards them. Though, it can be challenging at times, you to keep moving forward.
How do you set goals properly?
First, sit down, and think through, what you want out of life, some good ideas to think about, is where do I want to be in one year from now, two years from now, five years from now, ten years from now ETC…
Then, identify what problems you have, that need to be overcome, to reach your goal. Now write down those goals on a big sheet, for everything you feel, you need to do, to reach the outcomes you desire, in life.
Next, start planning which of these goals, you will achieve, over the next month.
These goals, do not have to be huge, remember, success does not come, from one big all-out effort, but from hundreds of tiny steps, that overall ensure the outcomes, you seek to bring into your life, become a reality.
Then, start to identify, what sources of finance, I need to obtain, to ensure I can reach the outcomes, I want out of life.
If you're stuck on ideas, on how to move forward, and achieve your goals, this is a good example:
We recommend, considering traveling abroad, to somewhere, you have always wanted to travel too.
Our partner, trip.com offers incredible experiences, on their website.
Our trip.com affiliate link, that makes possible the content we write,
http://www.jdoqocy.com/click-8976599-12641137
There are many places in the world, that you can learn new things, and grow in confidence, on the road to achieving the success you desire in life.
Being well traveled, is an advantage in life.
I personally always wanted, to travel to the US for years, and in 2014, I achieved the goal, I had always wanted to do. It made me feel incredible, because it was such a great relief, to achieve a long-term goal, in life.
When you sit, and plan the goals you seek to achieve in life, you must realize, growth does not come easy, and you must be prepared to push on, and keep moving forward, when the going gets tough.
If you keep focusing, on achieving your goals, you will achieve the outcomes, you want in life eventually, with enough time, dedication, and effort.
Your family, and friends, may not be supportive, in you achieving your goals, or worse, may attempt to sabotage you, in your efforts to achieve your goals, like my family did, who have made the massive effort, attempting to stop me, achieving the outcomes, I wanted in life.
However, my families efforts, to stop me achieving my goals, failed miserably. This is because I kept getting back up, no matter how much, they tried to stop me, achieving my goals in life, and one by one, I achieved the outcomes I wanted in life.
Recognize, the effort to achieve your goals in life, has to come from you, you have to have a vision you seek to achieve, to give you the willpower to get back up, when the going gets tough.
I keep achieving goals in life, constantly, that I seek to achieve.
I am on the way up in life, going to higher, and higher, levels of success.
What goals will you achieve?