So... I got a fun anecdote for you all on this beautiful Saturday.
There are two beautiful time wasters. One is with a raspberry pi (the tiny computer, not the dessert). The other is a... Tape measure.... Hit up both the virtual and the real worlds and threw my time away.
Raspberry Pi Head Scratcher
So I had set up the raspberry pi (tiny computer) and it's been chugging along... Doing absolutely nothing (because I wasted many many hours prior to this trying to get it to be a print server for an older printer and failing. I've got other plans for it too. Just needs the time... Anyway...
I recently changed the network settings, a new wireless router. That meant I needed to figure out how to change the settings on the raspberry pi as well to get it to work.
Well... This was a puzzler before and took a bit of time to figure out as well.
If you search "set up raspberry pi without a keyboard", that's what I needed to deal with. Essentially you can get it to install by setting up the SDcard on a different computer, and can even preload the wireless settings.
Okay, so I just need to go back into the SDcard and see if I can tweak the settings. Pop in the SD card, find the file... (wpa_supplicant.conf), and... Wait, why isn't it saving? Turns out my Chromebook couldn't write to the folder. It's a Linux ext3 partition, and I guess there's no support. Fine, let's go to my wife's Mac. No support either. Oy....
Oh! I have a mouse! And a HDMI cable to a TV. Ok...
Now I'm clicking around (it logs in by default without asking for a password, otherwise I would be dead in the water). I can click the internet settings, click my network... But can't type in my password.
Click the file explorer, found the same wpa_supplicant file, and tried to edit it. That's when I realized that I had the ability to copy, cut, and paste with the mouse.
Okay... In a style similar to what you see in those classic Ransom movies where the ransom letter is cobbled together with individual letters cut out from a newspaper, I was frantically opening up random files to see if I could get the letters to make the modification.
After significant effort, I got the file to the right state, and clicked save. Nope. I need root access. I would need to open a terminal, get root, and then edit. So I did that for a few minutes until I realized I was missing something obvious.
Earlier I just needed to type in my wifi password. So I just pasted the password I cobbled together earlier and I was connected!
Wait... Internet didn't work. Oh... I set a static IP, and it turned out not to match the current settings. Luckily, re-remembered where that was and cobbled together a new IP address and saved.
Now I'm set, and could SSH into my raspberry pi to do this the civilized way (with a keyboard).
Or.... You could read all of what I just wrote and come to the saner conclusion that I should have stopped, went to Amazon, bought a keyboard, and waited a few days.
But no, I have issues. Stubborn stubborn idiot that I am. Still gratifying though, so fun when you able to successful in solving a... Well, call it a mini puzzle.
Measuring Tape Malfunction
So the very next day, I was to mount a few things on the wall. Got my tools, and while fumbling around I broke the tape measure. The small metal piece that keeps the end of the tape on the outside broke and the tape went inside the box.
I want that tape. Also figured, can't be that hard to fix, can it? Yeah....
With significant effort, I broke through this outer rubbery shell to unscrew the casing of the measuring tape and then...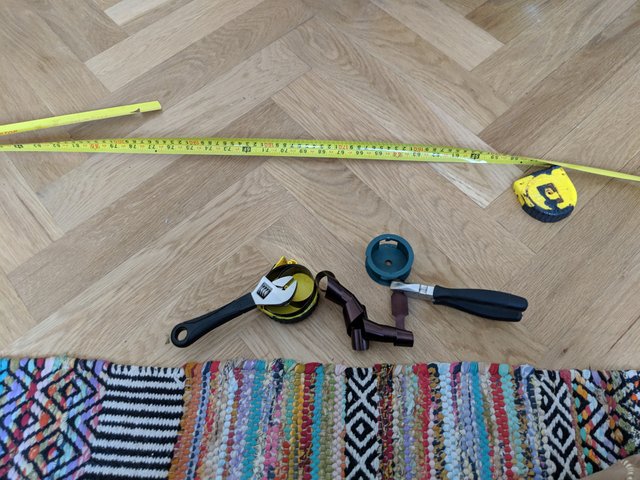 Odd I didn't show when I got it in a real tangled mess and the horror on my face as order went out the door.
Imagine that you gave a cat a tidy ball of yarn, and the ensuing messy tangle. Now imagine that same image with string replaced by this weird springy wound up metal coil. There's the yellow tape measure with the numbers and an inner spring
This is me figuring out how to get the spring back in a coil, and eventually forming a nice coil.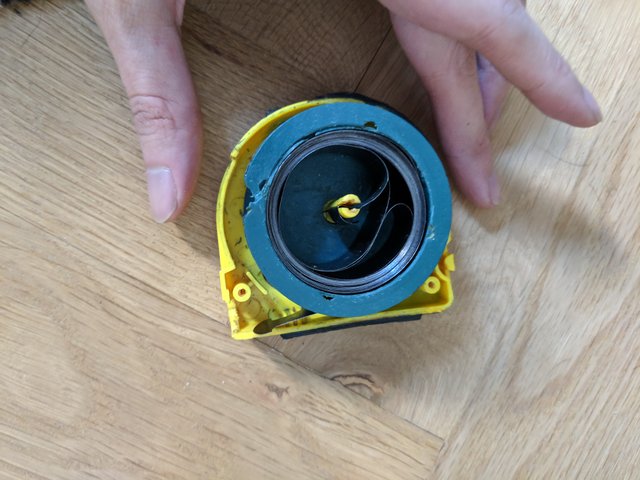 Yeah just buy a new tape measure already! You must be screaming internally as you read this. But it's probably fixable, and I'm completely fascinated by the spring and the simplicity of the contraption. Getting that spring back in an orderly coil was very satisfying.
However, I couldn't figure it out fully. I wasn't sure how to get the spring and the tape to get the correct retractable property. Instead, I have a compact coil and tape that requires to pull the tape out and push it back in hahaha....
At that point somebody was very very unhappy with me for having wasted so much time doing this, but I was thrilled. But I did need to finish mounting something so I used my new family non-autoretractable measuring tape to place and mount the wall hooks. Maybe I'll fix it later... Or not. Just buy a new one and throw this one out. At least it's not a giant unwound mess though...
---
I can put it on my resume:
" Good at: wasting time (with possible gains in wisdom??)"
On an unrelated note, time for a haircut....