BASIC SKILL – HOW TO MAKE A FIRE
FIRE
Fire is not important when I'm hiking, I'll never need to know how to start a fire. NO!! Making a fire is one of the most important skills to know when in the wilderness. Fire can be the difference between LIFE and DEATH in some situations. The some uses of fire are for boiling water, cooking, and protection from wild animals and insects etc. Fire could also be used to make tools examples such as a spoon, bowl, to harden or shape wood. With the proper skills one could even make a boat. Now you know that Fire is pretty imperative skill when it's comes to the outdoors so, let's talk about the specifics.
When making a fire you need proper ventilation, fuel, and a hot source to ignite the fuel. The more oxygen the brighter the flame will be, use wind, or a force breeze to maintain a high temperature and a rapid fuel burning to start. Once done, minimize the ventilation flow to allow embers to glow for less fuel consumption.
Preparation
Preparing for this fire is key for success. Have the proper amount of tinder, kindling, and fuel with out these you are DOOMED to fail. Also, be sure to have a proper fireplace (any spot that will not lead your fire to an outbreak).
FIRE SPOT
A fireplace is essential for any fire. The selected spot for the fireplace should be sheltered from wind. DO NOT light a fire at the base of a tree or a stump in doing so will potentiality lead to a fire breakout. Do your research about where you're going to be camping and follow local fire laws before deciding to make your own fire.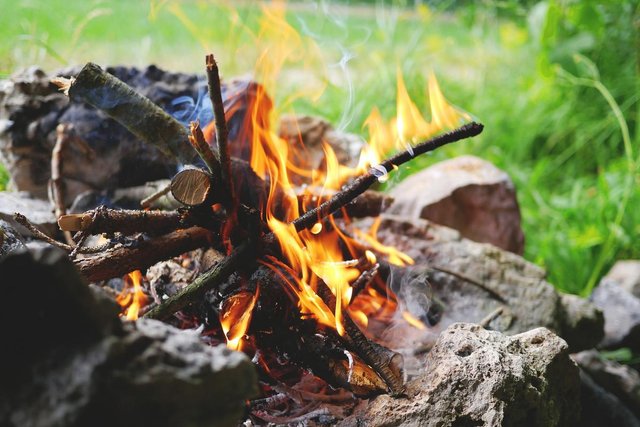 Source from pixabay
Leave No Trace
You finally made it up to the summit, you feel exhausted from the weight of 50-pound back pack filled with food and supplies. Your body aches from head to toe but an overwhelming feeling of satisfaction and pride come over you, you look to your right you see mountain pecks, the clouds, bird, and in the distance, you even see a mountain goat. You look to your left you see an ugly campfire ring filled with partially burned logs, heaps of ashes, metal, glass, and scorched earth and rocks.
Not too pretty am I right? Anyone who has hiked before have seen this and know this is not what you want to see in the middle of the woods. Although we can't stop people from doing this, we can have a fire without destroying the environment. The principle is called "Leave No Trace" to keep it simple it means exactly what it says, there are no signs that you were ever there (I will probably go in more depth in a later post). Using firepans and fire mounds will greatly reduce the impact on the enticement. If you do want to use a fire ring ONLY use preexisting rings do not make one yourself.
TINDER
Tinder is any material that takes the minimum of heat to catch fire. Good tinder only takes a spark. Good examples of tinder are bark, grass, leaves, shaved wood, cotton, paper, and cardboard. Please note: tinder, kindling and fuels must be dried.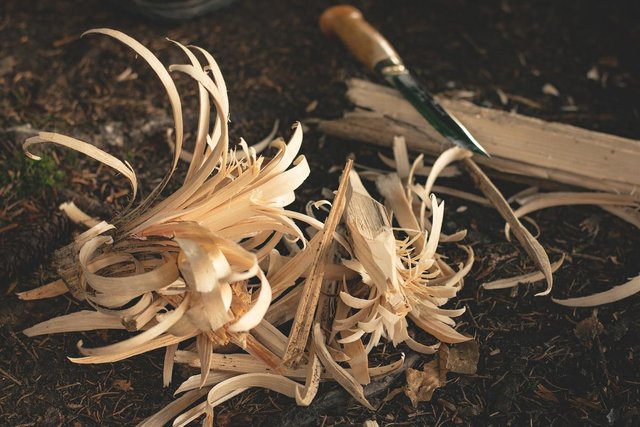 Source from pixabay
KINDLING
Kindling is a level up from tinder meaning it is wood used to raise the flame from the tinder so that larger wood could be used. Great kindling consists of small dried sticks.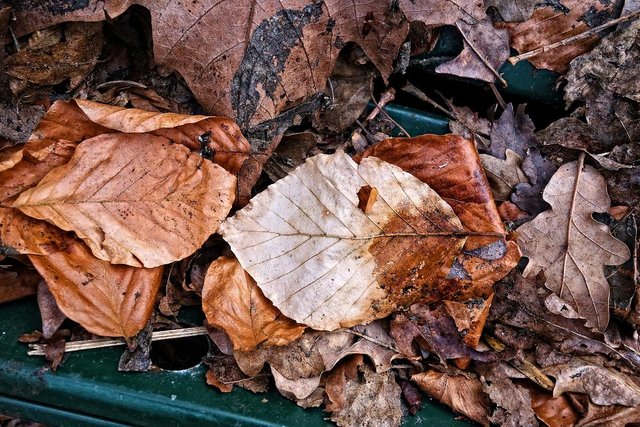 Source from pixabay
FUEL
Fuel is wood that is much larger then kindling fuel consists of dried logs. Once you have a consistent and stable fire you could use wet wood without worry.
LIGHTING THE FIRE
The easiest and most simple way to construct a fire is using the typical tepee fire. Make a bed of tinder, form a tepee around the tinder using the kindling. Next surround the tepee with the fuel slightly larger than the kindling. Light the tinder of your choice using a lighter, matches or flint and steel. Once you have a stable fire you can add larger logs, if need be.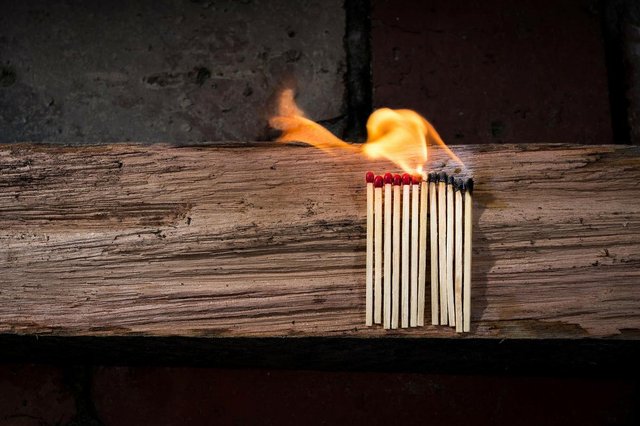 Source from pixabay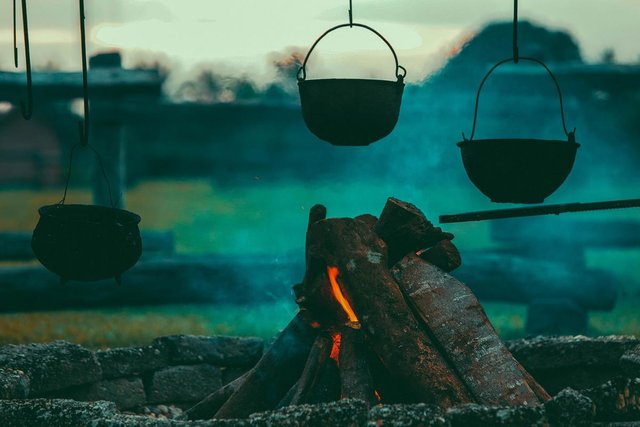 Source from pixabay
THANK YOU FOR READING
work cited
John lofty wiseman SAS revised edition survival handbook