My Favorite Tree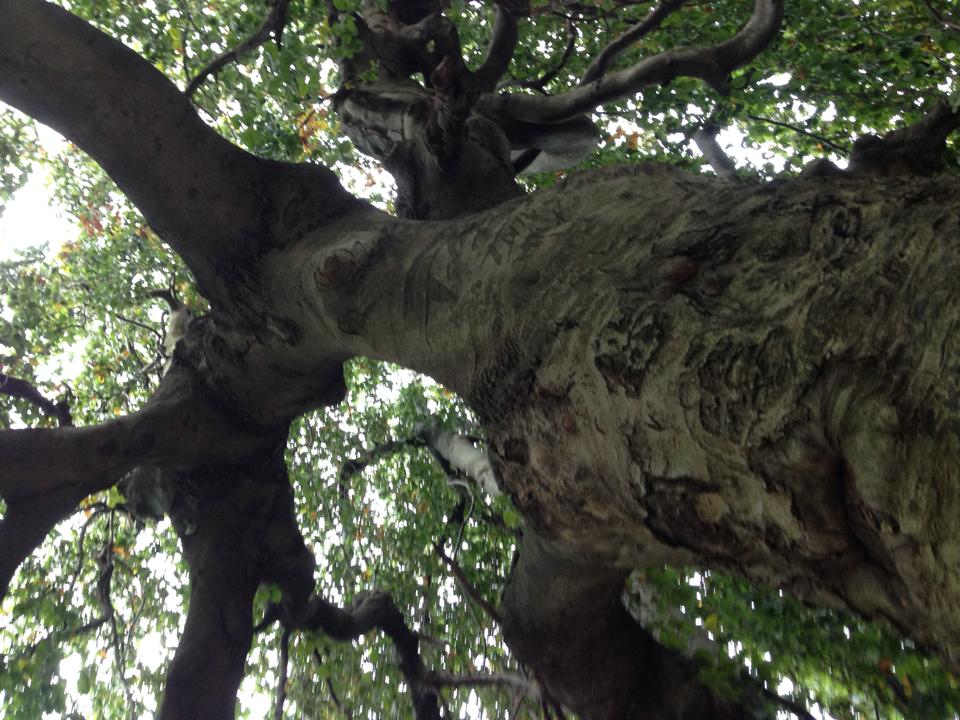 Sitting under my favorite tree in Hero Park.
To share something very personal with the Steemit community is not an easy task. I have shared quite a bit about myself, but one thing that is very intimate is my relationship with trees. There is nothing distasteful going on, but I do have a very unusual relationship with them.
When I realized I was an empath I started to have specific abilities, and with those abilities came responsibility. I started to spend more time with nature, trees, and walking in dirt. For some this may not be so unusual, but the thing is I started to get in line with my Native American ancestry and speak to trees. As a member of the First Nation, only those from the lineage of Medicine people have the ability to speak to trees.
To be honest, we all have the ability to ground and center any turmoil we may be having by hugging a tree. As humans we may be guilty of allowing the daily stress of life to keep building within ourselves. At some point, we will need a release. This is where the trees are our helpers.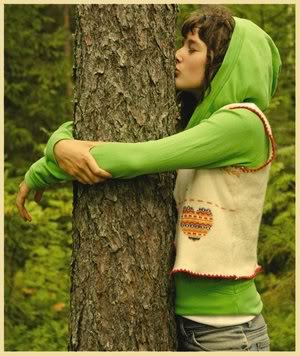 Image Source
Many of us have heard the term tree hugger, and while some may take offense to that term it actually is quite accurate. A protector and lover of trees is actually well known, common, and celebrated. Scientists have found that hugging a tree improves concentration, reaction time, depression, stress, anxiety, and many forms of mental illness. Apparently, as long as we are around a tree there is a healing taking place.
If a person is an empath, has psychic abilities, or just feels stress I always recommend to hug a tree. This will immediately help to ground and center a person. I suggest to take our shoes off and stand barefoot in the dirt surrounding the tree, breathe in the energy, and thank the tree for sharing its source.
It is at these moments that I have felt the closest to Creator and felt true love energy surrounding me. Sometimes, the light will gleam down from the heavens and the trees will whisper their story. I have cried many times just soaking in the communications from Spirit and basking in the moment of true peace.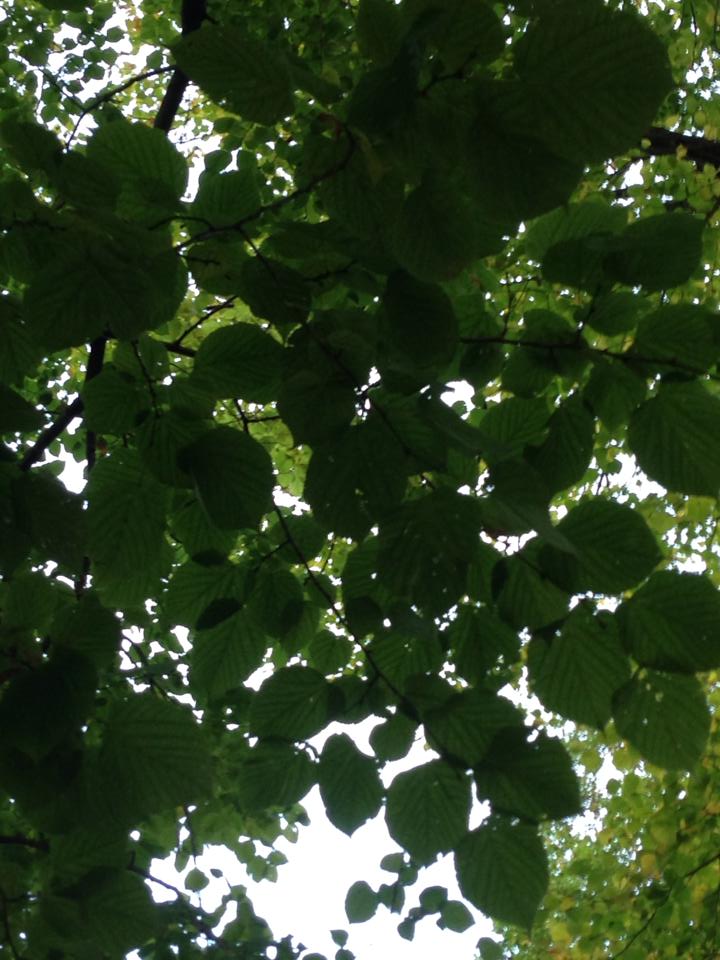 Looking through a canopy of leaves under my favorite tree.
The tree I am sharing today is special to me, in that it was the first one that I listened to and that became my friend. I was living in New York City at the time, and most trees are within small protected parks. It being a large city with many boroughs. Within my borough was this lovely park dedicated to veterans. The name of it is Hero Park, and it always held my respect as a place that remembered others and held a scared space.
The grounds at Hero Park were always immaculate yet wild, and there were never many visitors. This made for an area where I would not be looked upon as the crazy lady that came around and hugged the trees. I made it a habit to go to this park at least three to four times a week, and I made sure to hug nearly every tree throughout the years I lived in the area.
As I look back, I see how free I truly felt and how I just loved being happy. As a person who was usually alone it became very important for me to learn all forms of respect for trees and to give back to Mother Earth. Therefore, I started to hold ceremonies that some people may call witchcraft or Wiccan. However, I do not like to call these practices anything other than communications of love.
Throughout history, dating back to pre Indo-Eruopean era there have been earth centered religions based on nature, earth, gods, and goddesses. Many of these practices were woman centered and based on fertility. We may have heard the term Divine, and many ancient practices are focused on the Divine Mother who can give life and take it away.
There are many names associated with the Divine and some of these names are Danu, Mat, Skakti, and Ninsun. In my culture, she is simply Mother Earth. Within my tribe there is also the Crow Mother, and I will describe her more specifically in a future blog. Crow Mother is the mother of all Kachinas and guardian of children. However, Mother Earth is who we hold ceremony for being a giver and sustainer of life.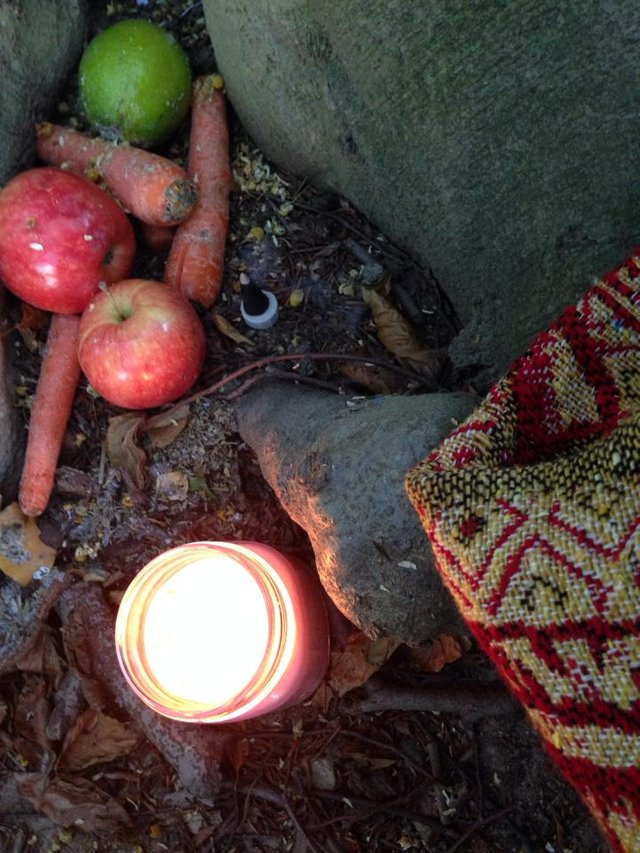 Holding an appreciation ceremony under my favorite tree.
Typically, in a ceremony I would give back to Mother Earth and show appreciation for what she gave me. The location would be right under my favorite tree. I would bring old plants, leaves, flowers, incense, a nice smelly candle, and old food. The purpose was to show how much I honored and cared for all living things, nature, and Creator.
What was most interesting was that many people who walked by would stop and ask what I was doing, and if I was playing meditation music they would sit with me. I found this time in my life to be one of the most prolific. People would share their stories, their secrets, and sometimes their soul. I was and still am truly honored for that experience.
My life has certainly had its share of ups and downs, but when I think of the lesson to be learned from trees it is that they will help us be a better person, and on occasion bring people together in peace and harmony. Blessings.
---

All photos are the property of @eaglespirit, unless otherwise stated.