---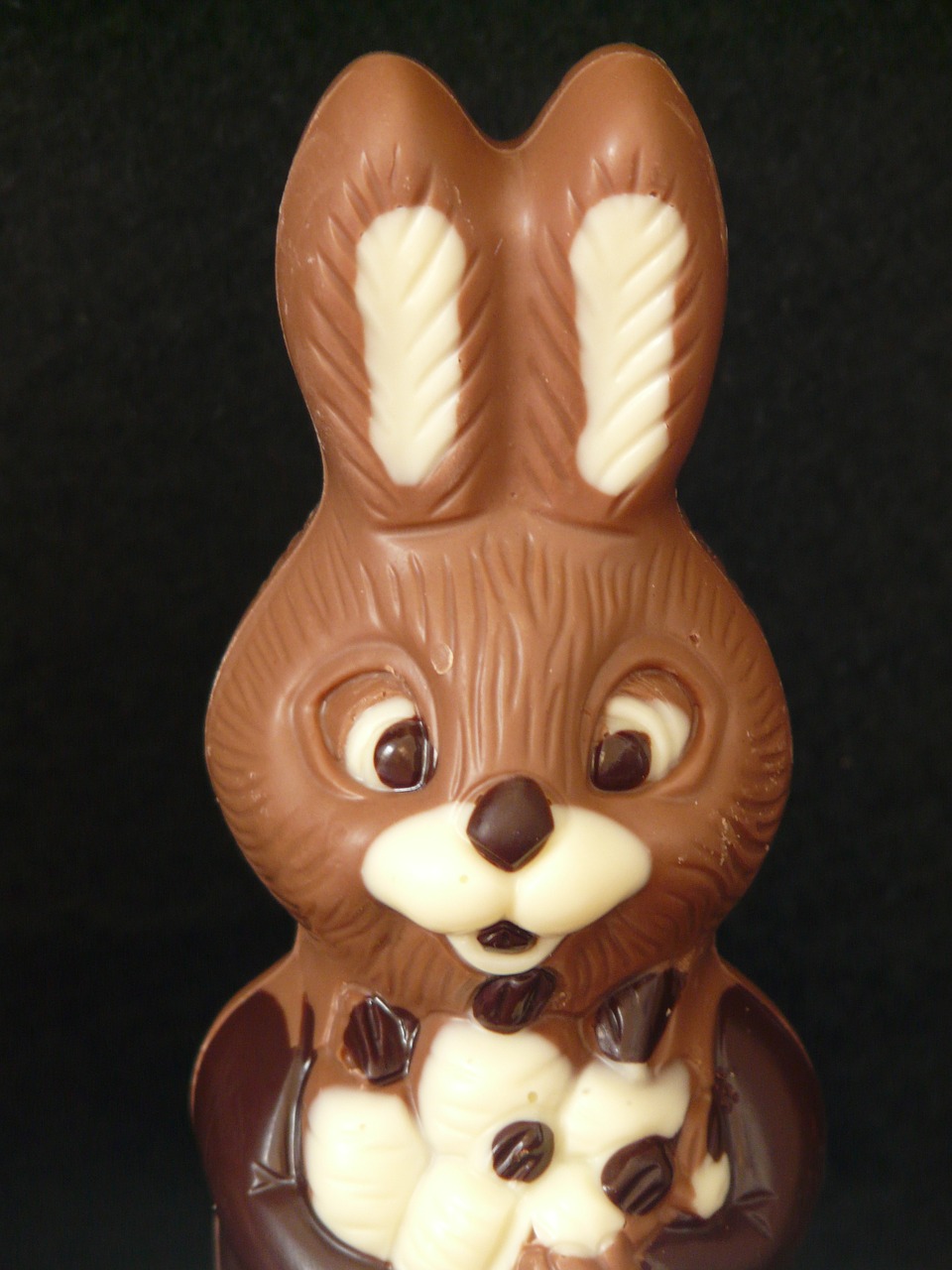 source: Pixabay
---
Every year, @raluca is going to visit her close family for Easter. They gather around, eat a delicious meal and update each other on whatever last year brought in their lives. That's what Easter is about, after all, family and sharing.
Also, each year, she brings back an assortment of Easter specific food: some "pasca", a beef salad (without beef), and sometimes "cozoonac". On top of that, there's also a chocolate Easter bunny. The kind made of 95% sugar and 5% chocolate, pre-packaged in a transparent plastic bag and looking downright spooky.
For years, we observed that the majority of the food was vanishing in a couple of days, The only item lingering around, sometimes for weeks, was the chocolate Easter bunny. Well, if I really think about it, it's more than just "weeks". Probably months. Wait, I clearly remember one of these chocolate Easter bunnies lasted more than a year.
We barely eat those. They're more like emergency food, but even so, we're more likely to give them away to guests or friends than to eat them ourselves.
And yet, we still get one of those every Easter.
The Chocolate Easter Bunny Layer
As I was looking at the latest chocolate Easter bunny resting on a shelve in our kitchen, I suddenly realized this is not an isolated glitch. The "chocolate Easter bunny" is a very common situation in our relationships. And I'm not talking about couple relationships, I'm talking about relationships in general.
They are the symbol of "I-don't-want-to-upset-this-person-so-I'm-going-to-silently-accept-his-crap-for- a-while" kind of situations.
They are the symptom of an inability to adapt, for both sides. The giving side is unable to adapt to the expectations of the receiver (who doesn't give an actual fuck about the "chocolate Easter bunny") and the receiving side is unable to adapt to the expectations of the giver (who is not used to getting rejected).
And so the "chocolate Easter bunny layer" is born.
It's an ubiquitous layer, surrounding the vast majority of our relationships, sometimes cushioning them to the point of rendering the whole thing dull, sometimes barely keeping them from dismantling entirely.
It's a layer of benign misunderstanding and silent concessions. A layer of pretending we're good for the sake of keeping the status quo. A layer of just playing along, because we're too tired, or too shy, or too afraid to actually expose ourselves just the way we are.
It's not a lie, because we're animated by good intentions, but even if both sides are entering this exchange with good intentions, the end result is heavy and uncomfortable, at worst, and, most of the times, just lingering around, inert, at best.
I wish I could say there's a way out of it.
I wish I could say: "here's what we have to do in order to get rid of the chocolate Easter bunny layer and live authentic and powerful relationships".
But I'm afraid I can't do that. Because that will imply we know everything about every person we meet. And we don't. We barely know a few bits about ourselves.
So, the least I can say is that this layer does exist and it's just there. Sometimes, like I said, it starts to debilitate whatever authentic vibes we had in a relationship to the point of making it dull, while sometimes - like in the case of still maintaining the ties with our families - might be the only thing keeping the relationship afloat.
We pretend we like chocolate Easter bunnies knowing that, at the other end of the gesture, somebody will feel good about themselves.
As long as the shelves are not too crowded with more and more "chocolate Easter bunnies" stacking up on top of each other and eating our space, I think it's safe to do it.
But as the shelves are getting more and more bunnies, we need to find a way to deal with the problem.
Otherwise, like in a bad cartoon, the chocolate Easter bunnies will wake up one night, will silently start to march towards our beds and eat us alive.
---
I'm a serial entrepreneur, blogger and ultrarunner. You can find me mainly on my blog at Dragos Roua where I write about productivity, business, relationships and running. Here on Steemit you may stay updated by following me @dragosroua.


---
Wanna know when you're getting paid?
I know the feeling. That's why I created steem.supply, an easy to use and accurate tool for calculating your Steemit rewards
It's free to use, but if you think this is a useful addition, I'd appreciate your witness vote.
Thank you!
Psst: new to Steemit? Start Here