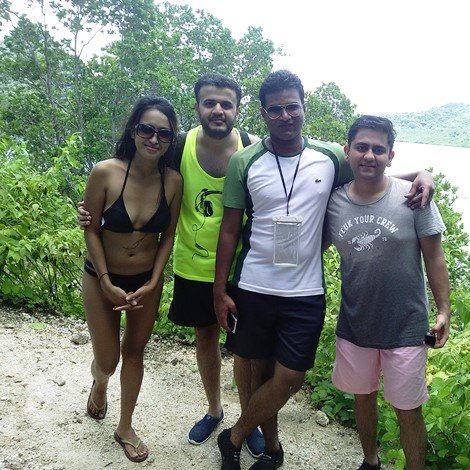 The other day, I ranted about Booking.com and other comparison websites that are now killing small businesses. I have accepted that there's really nothing I can do about it. It's a dog-eat-dog world in the travel industry. What I can only do is to be different. To give what these corporations cannot really give to people - humanity.
Moving forward, I'm just going to focus on those who value quality over cheapness. Those who prefer a holiday experience with a human touch. Right now, I am experimenting with creating different packages for my target clients. I am writing some articles on my website and promoting unique packages on social media.
I admit that after my tour last week and this whole Hardfork madness, I don't find time to write for Steemit anymore. It's not that I am no longer interested, it is just that I need to focus on my website day and night. It is mine anyway. Can you blame me? I am just a passionate entrepreneur here. Last week didn't really feel like a job to me. I was on boat trips with my clients. I was diving with them courtesy of the dive shops and my suppliers. I was drinking and dining with them. These are just the perks of my business. I was actually having more fun than working.
I used to spend all my time here - writing and engaging. Steemit was my life. Although this community is still my first love, I am just heading on to a new chapter in my life. I am just really happy that my followers are very supportive of my endeavors. Don't worry as the fruits of my labor will go back to the Steemit community someday!
So, after realizing the dilemma about Booking.com, I realize that there are still people out there who are not up for going through all the trouble - and possible risk of booking their accommodations through this website. There are quite a few out there who still want all-inclusive packages. They are more into value-added experiences rather than discount offers. And I will make sure that these people will get more than what they pay for. Who needs everyone? I need quality clients who want quality service. I need those who deserve more from their trips.
My goal is to offer lifelong memories. And there's one thing that tour operators and other businesses here cannot really give and that only I can give - my time. My whole time. I have no other responsibilities in life so I can give all my time and attention. My clients last week are now back in their country, they told me that they can't really forget the whole trip. They want to come back!
I'm actually very excited about designing trips because this requires my own creativity. I have to think of extra something that I can add to these holiday packages that will wow my guests. So yesterday, I started creating unique trips and liveaboard dive packages. The good thing about being a licensed tour operator is that I have access to exclusive deals and perks from hotels, liveaboard vessels, dive centers, and resorts. I am now partnered with some of the best resorts and hotels in town - from 3 to 5 stars. They are actually more than willing to give me the best rates for the low and high season as they want their rooms to be booked all the time. It is really up to me to create all-inclusive packages with accommodations.
Aside from hotel accommodations and boat trips, I am thinking of other unique activities to add to my vacation packages. I prefer to call these 'experiences'. I want to offer my guests cultural experiences such as cooking class or a trip to a known locale. I am also doing the food + pub crawl as I want to spend more time with my guests to get to know them better and of course - to give them an authentic experience. I want my tours to be more about meeting locals, spending time with them and learning about their lives.
I earned quite something from my last tour and I realized how everything is worth all the hard work. There are still lots of things to improve on in terms of service as I am dealing with the whole learning curve. My local guides and service providers are used to cheapness and providing just whatever. They are not really used to seeing someone going the extra mile to please the clients. It's craziness for them. For my next tour, hopefully, I will make sure to set a meeting with my local guides to make sure that they on the same page in terms of client service.
I realize how I am loving everything and hopefully, I will stay the same even when the time comes I get more difficult or whiny guests. Sure, I cannot please everyone. But I will do my best to please them anyway, or make up for anything that they find wrong. This is my fear actually. I don't want to project the negative things but I want to be mentally prepared for anything. I'm quite a perfectionist so when things go bad, I get very stressed out, anxious and angry. I am in the business of pleasing people now. My other self will remain here on Steemit.
I will still write for Steemit but it will be more about my tours, entrepreneurship, and learning experiences. I also hope to inspire people out there to go after their dreams and find their purpose somewhere. I really think that if you strive to be good at something, like really good, then there's really nothing impossible.