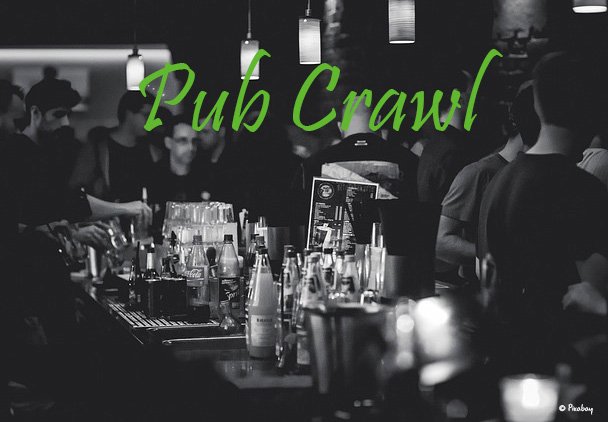 In hopes of becoming viral in this small town, and getting a bit of positive Trip Advisor reviews to start with, I am organizing a weekly "pub crawl" + walking tour for travelers. It's not just all about booze and seeing the town's nightlife, it's a community-based cultural exchange. It's an opportunity to meet locals. Does it sound cheesy? Damn, quite a big responsibility for a misanthrope actually, but got to pay the rent!
I've advertised this event on social media platforms - Facebook, Couchsurfing, Instagram, and Tinder. I actually just started using Tinder for business, ha! I think this is a low-budget marketing tactic as I'll just post the Facebook event as public and everyone in town gets to see it. After the pub crawl, I'll have photos for tagging (subject to the approval of participants of course). I might even promote 'chartering a boat' for a personalized island tour for the group. It's like an upsell. Does it sound cheeky?
This can be just a promotional campaign for now as I don't really have a marketing budget yet. My niche is really more for the high-end market or for those who like to plan their trips in advance. I need to establish a reputation first, or will this ruin my company's reputation? I am planning the itinerary or the route, bar stops and all that. I am trying to get some special deals from the local bars and clubs as well.
It would probably be nice if there would be some scavenging hunt, games or tasks that are related to "community-based cultural exchange" because my tour agency promotes the theme. I am thinking of maybe having a "pub crawl passport" where everyone gets a stamp when they enter a pub. Maybe there will be some tasks like meet a local or have a selfie with them or something. Do you have any other ideas to make this look like more of a cultural experience rather than a wild party event? Does hosting a pub crawl even sound like a good idea?
I just started this as a small Couchsurfing meetup event. I want to be safe so I prepared the Pub Crawl's T&C below based on other Pub Crawls' T&C out there. Let me know if you have any corrections or suggestions.
---
Pub Crawl Terms and Conditions
By participating in any promotional campaign or event (including pub crawls) organized and hosted by PA Tours, the pub crawl participant (herein referred to as "participant", "I", "you", or "your") agrees to the following terms and conditions without restriction.
Your Contract with PA Tour's Pub Crawl: Acceptance of the event invitation posted on any social media platforms (e.g. Facebook, Couchsurfing) is required in order to participate in the pub crawl event.
All participants are responsible for their own well-being and safety during the event. PA Tours will do its best to ensure that participants safely attend a variety of venues and localities within this town. However, PA Tour's promotional campaigns and events cannot mitigate every eventuality and as such, PA Tours' events involve an element of possible risk. All participants acknowledge these risks and attend events of their own accord and solely at their own risk.
PA Tours' promotional campaign and events include opportunities for participants to consume alcohol at their own discretion. PA Tours' urges all participants to drink responsibly and cannot accept any responsibility or liability if participants drink excessively, resulting in ill health, injury, damages, or death.
All participants should be aware of their own mental or physical limitations before attending the event. Participants with medical conditions or who are pregnant are strongly advised not to participate in PA Tour's pub crawl events and must inform PA Tours of the full nature of their condition before participating or accepting the event invitation.
All pub crawl's participants must be 18 years or older. Only official government identification will be accepted as proof of age and includes Passports, driver licenses, identification cards with proof of age (18 plus), etc. Unacceptable identification includes student cards, photocopies, and other non-government issued identification.
PA Tours reserves the right to cancel a pub crawl event at our discretion and for any reason. In the event of a cancellation, PA Tours will try to inform all the event participants through the social media platform (e.g. Facebook, Couchsurfing) where the event is posted.
PA Tours reserves the right to change the pub crawl event without notice, including changing or altering venues and routes. In the event of a change, PA Tours will try to substitute comparable venues but accepts no liability for changes.
PA Tours accepts no liability for participant's behavior and reserves the right to refuse entry or remove from events anyone who is abusive, disorderly, aggressive, drunk, or anti-social. In the event of removal or refusal, PA Tours will not cover any additional costs incurred by participants as a result.
The participant agrees to indemnify PA Tours (it's local guides, hosts, suppliers, bar owners, distributors, representatives, etc) against any third party claims as a result of the participant's actions and behavior. Any damages or loss caused by a participant is solely the participant's responsibility.
All venues (including bars and clubs), attended by PA Tours reserve the right to refuse entry or remove participants from venues for any reason including abusive, disorderly, aggressive, drunk, or anti-social. PA Tours accepts no liability in the event of refusal or removal and will not refund entrance ticket prices in such an event.
Please note that during any of PA Tours' promotional campaigns or events, your photograph/video may be taken. You have the right to ask for that photo/video not to be placed on the PA Tours' website and our social media accounts. The images will be reviewed and appropriate actions will take place.
Any acceptance of the event invitation through our social media channels (e.g. Facebook, Couchsurfing) shall constitute consent to all provisions of this Agreement as set forth herein.