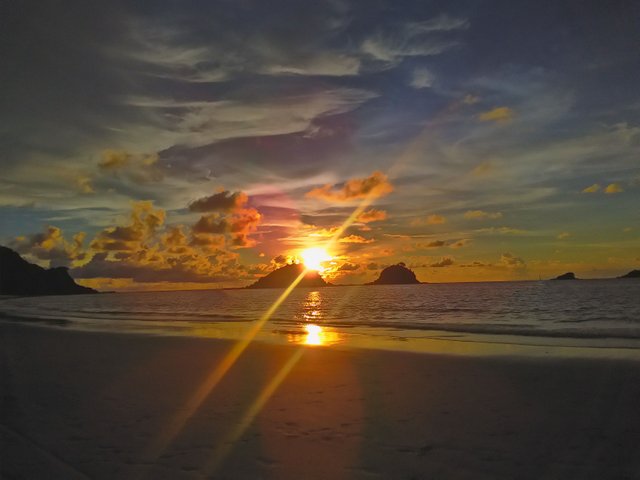 There are days when I have to make a choice between writing and drinking. The latter has become more frequent lately and surely it is hurting both my writing and pocket. I know myself enough that I cannot do both but there's no other way to cope. I'd be too exhausted to sit down and think, or I'd be too consumed by my own words that it would be hard to find time to drink.
I don't want to pretend here, I really don't know how to write. It started as something out of hopelessness actually. Last year, as I was figuring out a way to restart my life after traveling, I figured that I couldn't keep a job anymore. Perhaps I am not mentally stable for that kind of thing, or for anything really. To be with the same people for 8 hours straight while doing the same thing, that's hard. I had enough time in my life to mask my own craziness and I cannot afford to show my monster side to the normal beings in real life. So I began to write.
You have to try "Steemit", my friend in another city told me. He told me that I could start sharing about my travels and earn at the same time. Now that was promising. Writing about topics that I truly enjoy and making a living out it sounds like a dream job for me. I was already planning to start a business but I just didn't know where to start. I didn't know where to get the money.
Unlike those people who doubt me whenever I talk about Steemit, I didn't doubt my friend for a second. He didn't even have to explain what Steemit is exactly. I just went on straight to the website, signed up and there, I first started writing about my time in the Galapagos islands. I didn't care so much about the money yet. I found out how easy it was to just let the words flow on the screen fresh from the vault of my memories. I could live inside the document for hours, it's like some form of meditation. I had no problem writing for 3 hours straight editing and trying to rearrange my words to make sense enough despite the imperfection.
Now I feel like I lost it. I forgot how to write. It is not because I am running out of things to write about, it is just that there are too many things happening in my mind at the same time. I feel the need to think and not think. I feel the need to care and not care. I'm way too conflicted these days that it is hard to put myself into a set of simple words. It's like trying to make something beautiful out of a messy pile of rubble.
Chances are, I might complicate your life too. Last night I was made aware that I'm quite mad. It is better for humans to stay away from my contagious madness. I think I am the only one who can put up with Me. I am Me on so many levels that I don't understand. I figure that the only way to make sense out of Me is to write. I will never really get to know so much about myself if I didn't have the courage to write my thoughts. So yeah, I want to write again, like the way I wrote last year, or yesterday, or the way I will write next year. Write how excited I am about my life, and just be myself in my own words without apologies.
I have less energy now to worry about all the ways I might be wrong about myself. Contrary to what I've always thought, I never really think so highly of myself. To think that I'm zero or lower than dirt is what makes me feel special. And the only way to make it sound damn special is to write about Me, all of Me without feeling sorry. There are way too many monsters all competing for that little space in my mind, dictating who am I really. Something wants to think that I am special and unspecial, perhaps it is better to just settle on being nothing. There's nothing wrong in being nothing, for all I know, everyone is just one big mass of nothingness. Trying to make something out of themselves, trying to be special. When I think, everyone is just nothing. Started from nothing and becoming nothing. But then again, I have less energy now to worry about all the ways that I might be wrong about myself. It is better to remember how it is to write again and make something out of being nothing, at least, for a moment.