CREATE NATURALLY - CO-CREATING
Being in harmony with both the Source of Life and your own creative spirit is the primary way to being more creative in dynamic and fulfilling ways. Cultivate what inspires you and you are well on the way to being an inspired co-creator.
Whatever the origin of Life, our purpose and responsibility here seems to be to co-create with our highest values as guides for the common good of Life. Positive, noble, life affirming and sustaining values are sure guides for the direction of our creativity. We can create almost anything, but we often create that which fosters war and pollution and this is very unfortunate for the survival of the species. So creating that which is more sustainable seems to be an intelligent direction for the 21st century. We need to grow in creative awareness and power as humans - that is the mission of my forthcoming book Create Naturally.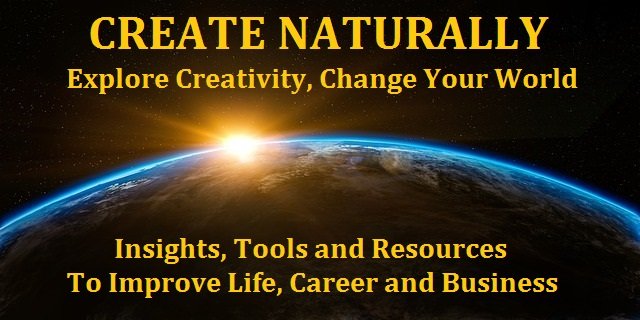 We can all make choices to lend our creative energy and ideas to positive and healing causes and visions. We can make a choice to center ourselves in our deepest self and by reflecting on high values and dreams. We can attune ourselves to the mysteries and wisdom of Spirit as the Source of Love. We heal ourselves by Love. We can stimulate our visions and creations to express as happy dreams within the material world. We can allow our highest expressions to flow through us and radiate the world with Love and Healing. This is an ideal picture of human relationship and co-creating. It can be a visionary stimulus to consider.
The truth is that we co-create with Creation and the Creator. Humans did not create the Universe. We did create egotistical attitudes and a great deal of meaningless stuff and violent attitudes – all of which has to be un-created so we can become more effective co-creators, more in harmony with our world and the Creation. We want to create more personal and planetary well-being, don't we?
The Creator is part of the Divine Mystery. Almost all cultures have Creator myths and stories and beliefs. The possibility of a definitive description and agreements may be remote. A suggestion is to think of the highest Source. The Source of Life, Love, Wisdom, Christ, Buddha, Nature, Universe, Intelligence, Peace, Imagination...
What is the Ultimate Source of the highest wisdom, the wisest beings, the expanding Universe and Life on Earth? That Source, that invisible Source of consciousness and Life is awesome and that is what we can happily co-create with!
Ultimate Source is about as non controversial as possible. We are trying to avoid controversy that divides us as humanity in this exploration of creativity. The Creator is the Source of Inspiration for thousands of religions, spiritual practices and numerous theories about the origin of the Creation. We are given freedom to reject any and all ideas.
An appropriate sense of awe and wonder from contemplating the immensity of the known universe is a valuable attitude.
Our consciousness enables us to co-create in the world around us. We extend the expression of life by personal and cultural creativity. We co-create with That which created life, matter, energy, form and consciousness. Humans did not create the Creation, we extend it by co-creating. How we extend it is by choice and responsibility, talent and value.
Stay Creative Steemers!
All writing by Daniel Hime copyright 2018