In a private conversation which I cannot repeat in public I was inspired to confront and explain a very important yet not often discussed topic. In my previous posts I have discussed the concepts of "dramaturgy, self monitoring, microsociology and morality". I also initiated a discussion around the concepts of reputational risk and feedback in decentralized governance. The main objective of this blog post is to introduce the concept of signalling theory and to encourage debate around the possible long term psychological consequences of radical transparency. In my opinion too few people study what the actual effects of radical transparency could be on the practitioners of it with way too much emphasis on a very narrow law enforcement or moralist perspective.
It is true that radical transparency could make it easier to enforce social norms (the moralist benefit). It also may help law enforcement whether in a traditional or non-traditional context if social systems have greater levels of accountability. What often is missed is that humans (and most primates) have no experience living without some degree of privacy in their lives. The technological trend of expanding the public space to encompass everywhere and everything (hyper connected yet open) is completely new and I would argue foreign to our species.
My argument is that humans as we currently know will cease to exist as the implications of radical transparency becomes apparent. The argument being that once enough people adapt to for example all votes being public then we will have no way to know if a vote is a genuine vote or a virtue signal vote. We will lose genuine communication in favor of radical transparency (this is based on signalling theory). Of course my argument could be wrong but the basis of this argument is that because honest communication is more likely to be punished harshly there will be a reinterpretation of communication where it is not possible for Alice to know the true opinion of Bob or for Bob to know the true opinion of Alice.
How signalling theory works in nature
Those who study the field of communications are probably aware of signalling theory. In my post on the topic of self monitoring and dramaturgy I specifically focused in on following the perspective of an individual within a society where all actions are to be judged. In this hypothetical society (which mirrors the current trajectory of our own); Alice must in essence monitor her behaviors for how anything she does might be interpreted by her audience. If we as a metaphor think of the audience as the community, and we think of the audience as a sort of jury, then Alice must by her actions consistently prove she is good enough to stay on the "good person" list. This good person list may be a formal list such as the case with the cyberocracy social credit we see in China or it may be an informal secret list which Alice doesn't know if she's even on (such as how things work in the United States).
Technology currently allows for the creation of these lists. In fact the Enigma project definitively proves this technology is plausible in their latest blog post which I think is a must read. The Enigma Team calls this proof of concept: "Token-Curated registries". What makes Enigma's proof of concept unique is not that this capacity didn't already exist using less advanced technology but that these lists can actually be formed in a decentralized context on the blockchain. The idea of an encrypted "good person" list where the votes are private is not at all science fiction. In fact if you have more interest in the TCR concept just check out the Meetup
Discussion of Anonymous Benefactor Bot Networks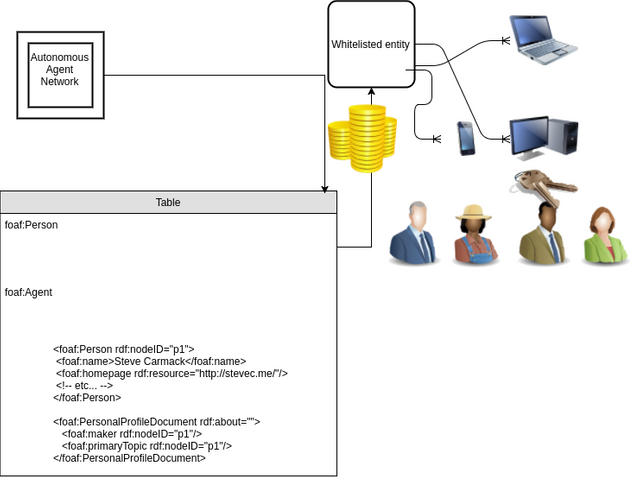 Let me make it clear that I do not think privacy technology is bad. In fact I offered my own version of a concept which could use TCR called "Anonymous Benefactor Bot Networks". The reason I contemplated this idea is because I wanted a way for good people to help each other grow and because I wanted a means of implementing a permissionless form of basic income. I did not pursue the idea because of regulatory uncertainty but I did introduce the idea (which leverages from what Enigma will allow). In my Anonymous Benefactor Bot Network concept I used a table rather than a "list" but the table could be seen as a more expensive list. The reason I used a table is because when I thought of the concept of I was not aware of TCR but was aware of RDF and Tau(Tauchain).
The point being that lists are extremely powerful, and if you have lists which can be curated in an anonymous or pseudo anonymous fashion then it can be used for positive (to create benefactor bot networks to reward good people) but it can also be used in negative ways such as lists of people deemed "bad" or "evil" for whatever arbitrary reasons the creators of the list define. I will not discuss in this post the differences between a graph and a list as that is a very nuanced discussion but there is a difference. In my concept diagram you can also see the "whitelist" which essentially could be implementable using TCR over Enigma (or over Tau).
Genuine communication under radical transparency?
Now we see that it is possible to have a formal specification based on the concept I introduced above "Anonymous Benefactor Bot Networks". This technology can only be properly implementable if there is privacy due to the sensitive political nature, questionable legal ramifications, etc. At the same time if such a technology did exist then we would potentially have clandestine judges who go around essentially deciding who gets put on the secret "good person" list. Remember that the secret lists are encrypted in such a way that people can vote anyone's account onto the list or off so think of it like a magical island which an individual verified account holder must be voted onto because they give enough people the impression that they are a good person.
These lists existing in cyberspace would mean there are potential economic incentives for people to want to always be perceived as a good person. Just as Santa makes a list, so too would the crowd. But what does this mean for genuine communication if everything a rational account holder does is to give off the perception of being a good enough person to make it on the secret "good person" list? And just as there could be secret "good person" lists to worry about there could just as easily be secret "bad person" lists which unless the good person lists there may not be any way to know how not to wind up on the bad person list. The problem of these lists being secret is that the criteria for entry onto any particular list is going to be unknown to Alice.
What is genuine communication anyway? Well we don't see it defined as "genuine communication" in the technical sense. According to Wikipedia "honest communication" is defined below:
In biology, signals are traits, including structures and behaviours, that have evolved specifically because they change the behaviour of receivers in ways that benefit the signaller.[4] Traits or actions that benefit the receiver exclusively are called cues. When an alert bird deliberately gives a warning call to a stalking predator and the predator gives up the hunt, the sound is a signal. When a foraging bird inadvertently makes a rustling sound in the leaves that attracts predators and increases the risk of predation, the sound is a 'cue'.[4]
As we can see, animals communicate between each other. When I question what it means to be human under radical transparency it is because human as we know it requires a degree of privacy. The fact is, human is not necessarily a static concept but in order for some of our laws to make sense it requires treating human as if it is some sort of static concept. In reality if we humans are put into a position where we must live our lives in public then we adapt and evolve for those circumstances. The debate is how exactly does this impact the psyche? Honest communication between predator and prey is defined above but what is dishonest communication? That is defined below:
Because there are both mutual and conflicting interests in most animal signalling systems, a central problem in signalling theory is dishonesty or cheating. For example, if foraging birds are safer when they give a warning call, cheats could give false alarms at random, just in case a predator is nearby. But too much cheating could cause the signalling system to collapse. Every dishonest signal weakens the integrity of the signalling system, and so reduces the fitness of the group.[16][17] An example of dishonest signalling comes from Fiddler crabs such as Uca lactea mjoebergi, which have been shown to bluff (no conscious intention being implied) about their fighting ability. When a claw is lost, a crab occasionally regrows a weaker claw that nevertheless intimidates crabs with smaller but stronger claws.[18][19] The proportion of dishonest signals is low enough for it not to be worthwhile for crabs to test the honesty of every signal through combat.
Virtue signalling as a means of making it on the secret good person list
Virtue signalling is something which is already in the popular discussion. It is when someone does a specific deed in order to earn the perception of being a good person. This for example could take place on Steem if a person for example upvotes a certain post which a lot of the high reputation people upvote because it will send a particular signal that they vote in a particular way or believe in a particular thing. Since on Steem voting is public, does this mean when you vote you're not voting what you really think of a post but you're voting based on how you want your voting patterns to look to analysts who might in the future use that as a data point to put you on the good person or bad person lists?
Education as a signal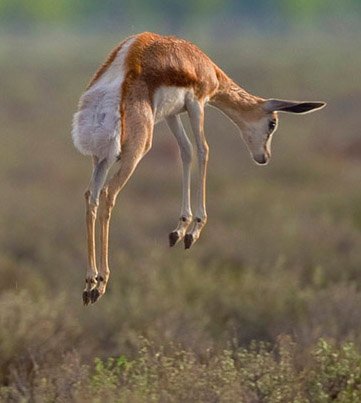 By Yathin sk [GFDL (http://www.gnu.org/copyleft/fdl.html) or CC BY-SA 3.0 (https://creativecommons.org/licenses/by-sa/3.0)], via Wikimedia Commons
To put the concept of virtue signally into a perspective for most educated people (particularly university) we have these videos which explain how education is a signal. Peter Thiel discusses this topic and it is also discussed by The Economics Detective called "The Signalling Model of Education. The Economics Detective goes into the problem of information asymmetry. Radical transparency offers the ideal of information symmetry but what are the consequences? If we think of education as a signal then just as where you got your degree from could "say something about you", or the fact that you got a degree at all may "say something about you", it's about the idea that people pursue the degrees to communicate something non-verbally and indirectly to others who might judge them. What if in the future people treat voting patterns on Steem in the same way that degrees are treated in order to judge the account holder by the quality of their voting patterns? To put it into a wider context, is there anything you can do which doesn't say something about you to those who judge in secret and form secret lists?
If you are more interested in the technical and economic aspects of signalling theory: