Hi Steemians I hope you are having a great weekend. The past ten (10) days I have been researching, trying to understand and explain the different ways in which we as human beings can act that will show our loved ones how much we love them. This is a very important topic to us "humans" since its really frustrating if we love someone but they can not feel we love them so our love can not be reciprocated.
As it is usually said in my community, "actions speak louder than words" because most at times telling someone "I love you" does not make them feel loved if our actions do not march our words. For example if someone we have been "preaching" love to finds out we had lied to them on a topic, they begin to question the sincerity of our words of love to them. These are the ten ways we talked about. It should be clear that they are not arranged in order of importance :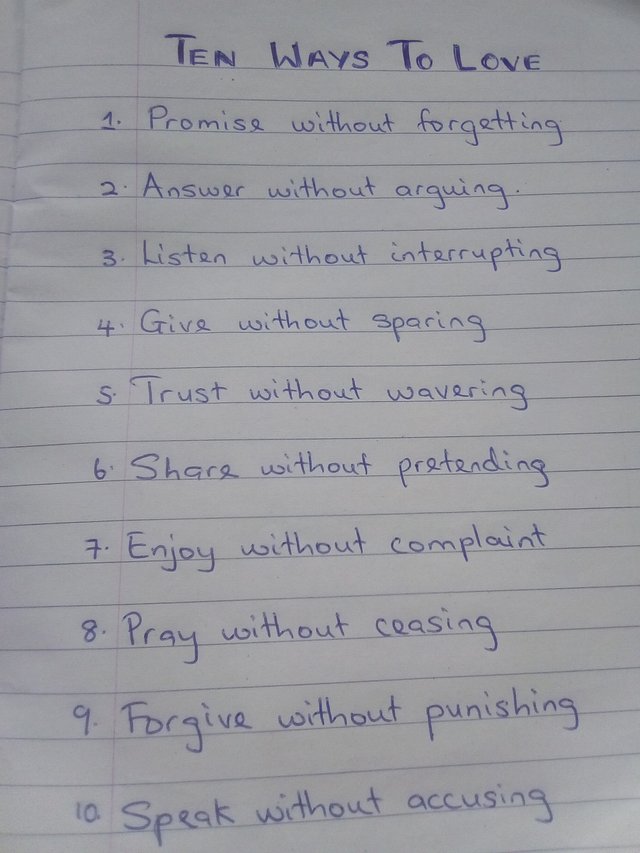 We must be able to show or loved ones that we love them both in words and in actions to really make them feel secure and loved by us. If we succeed to make our loved ones feel loved, we may avoid a lot of problems like jealousy, fights, quarrels, betrayals which are mostly the fruits of uncertainty and insecurity.