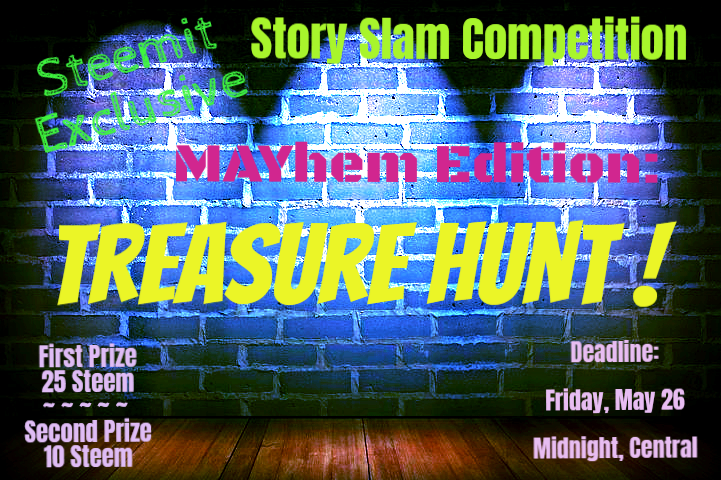 This month's competition is serving up a bit of a twist...
I'm sending you on a TREASURE HUNT!
The treasure is the audio or video story
you bring back to share with us.

This is the easiest to enter competition yet. Find three and improve your chances to win 25 Steem. I hear it's a bit more valuable these days. Here are links to four 'maps' where you can dig for 'treasure'. If you have another source for great stories that's great, too. These are just a jumping off point to get you started.

The Moth - Library
https://themoth.org/story-library/stories


Ted Talks
https://www.ted.com/


Storyteller.net
http://www.storyteller.net/stories/audio


Copy/paste the link in a post. Tell us why you like it.
That's it.
As a matter of fact, you don't even have to do a post - you can park your link and text in the comments below!


STEEMIT STORY SLAM RULES
Audio or Video Story of Your Choice
Make a separate post for each entry OR post it in the comments here
Entry must include your reason(s) for picking that story
Title must include: Story Slam, Entry (x)
First tag must be #steemitstoryslam
Ten Minute Limit
Limit 3 Entries
Prizes: 1st - 25 Steem / 2nd - 10 Steem
Deadline: Friday, May 26th, Midnight (Central)
@lexikon082 has graciously agreed to Judge this month's competition.

Good luck, Steemians... !

Upvote, ReSteem,
THANKS FOR YOUR SUPPORT!