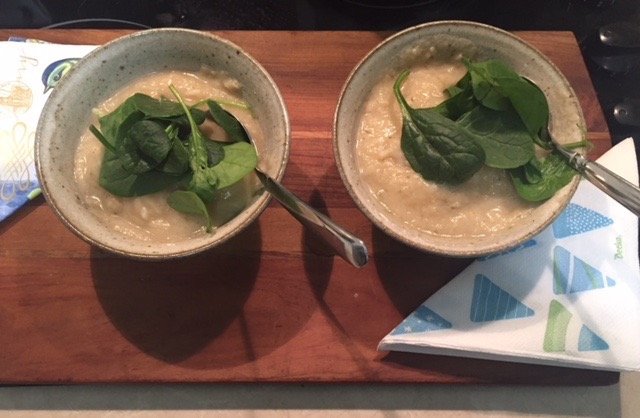 Heavy rain fell yesterday at my place on The Sunshine Coast, the warmer spring temperature changed dramatically to chilly 17 degrees. I was feeling the cold. Oops, this is an under the throw on the couch reading a book day. "Make some soup," flashed into my mind. *"You have nice big cauliflower sitting in the fridge, potatoes, onions and garlic cloves in the pantry to make a yummy Roasted Garlic Cauliflower Soup. "Hmmm, delicious, tasty and warming, a winner!"
My Roast Garlic Cauliflower Soup
1 cauliflower - cut up into small pieces
6 garlic cloves
1 slice brown onion
3 medium sized chopped potatoes
1 litre of vegetable stock
salt and pepper
Olive Oil
Pour oil onto a roasting tray, place the cauliflower pieces and garlic on tray and top with some oil. Roast for 30 minutes. Ten minutes before the cauliflower/garlic baking is finished place the onion and potatoes in a stock pot with some oil to cook gently. Add the cauliflower, garlic and 1 little of vegetable stock to the pot and bring to the boil, then simmer gently for about 30 minutes. Let it cool before blending the soup with a bar mixer.
Pour soup into bowls and top with spinach, parmesan or anything that takes your fancy. Serve with toast .
If you are wondering whether the soup took the chills away? It sure did.
---
Cheers
---