Nature Was My Teacher - The Vision of Viktor Schauberger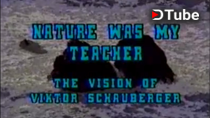 ---
A celebration of the natural energy work of Austrian Forestmaster Viktor Schauberger, a little known man of great vision, who dedicated his life to the salvation and glorification of water -- the lifeblood of the earth.
Witness for yourself the astounding contributions this one remarkable man attempted to bring to a planet already showing signs of the desperate times ahead during the 1920s and 1930s.
In 1958, what was to be the last year of his life, an elderly Viktor received an invitation from America he simply couldn't refuse: complete and ample financial support to carry on the work of Project Implosion -- a project which promised to give humanity free, clean energy while allowing for the return of balance in nature. And so, despite his deteriorating health, Viktor gathered all the materials of his life's work and made the trip to America -- at last Schauberger was to receive the long-overdue recognition for his awesome discoveries!
Unbeknown to Viktor however, there was no money, only a well planned set-up that kept him in virtual imprisonment until every bit of his incredible data was signed over to these mysterious Americans. Completely crushed and dismayed, Viktor returned home to Austria where he died five days later.
Who was this man Viktor Schauberger, and what sort of evolved discoveries had he made which prompted the methodical invalidation of his ideas and the diabolical destruction of his intense will to life?
This video reseals all the shocking details of his life commitment -- the proposals, the inventions, and the predictions that so upset the establishment. Was his heavily suppressed implosion technology really behind some UFOs? Why would life-beneficial technologies be hidden and destroyed?
This is one video you will want to show to everyone around to help spread its vital message. And use this as a catalyst to do more research on Schauberger and implosion/vortexian energy, there has been a lot of good work put out since I did this video in the early 1990s.
Nature Was My Teacher was produced by myself, Thomas Joseph Brown, and my late wife Alison Davidson, in 1991. here mirrored from my YouTube channel, as I migrate to d.tube :)
Original upload: