Find Places to Eat near you on the Steem Blockchain.
Steem Food Reviews on the Go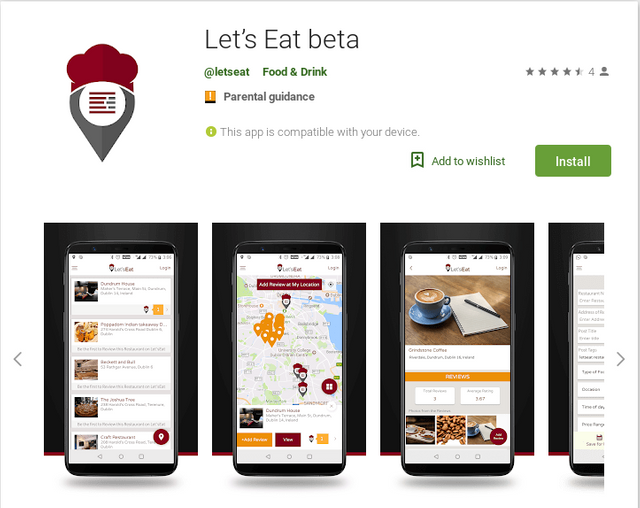 Anyone can use Let's Eat to browse nearby places and reviews from the Steem Blockchain. Download it from the play store today!


Let's Eat helps you browse restaurants, eateries and food near your location. If there has been a Steem Review for the place you will be able to see it in the app.
Finding Restaurants
I find when I am hungry I want to see pictures of food. Let's Eat is visual and you can find nearby places using a map view and see photos that people have left from their experiences.
Search Nearby Restaurants
When you launch the app the first screen will show a list of nearby restaurants and if there is a Let's Eat Review you will see a pin.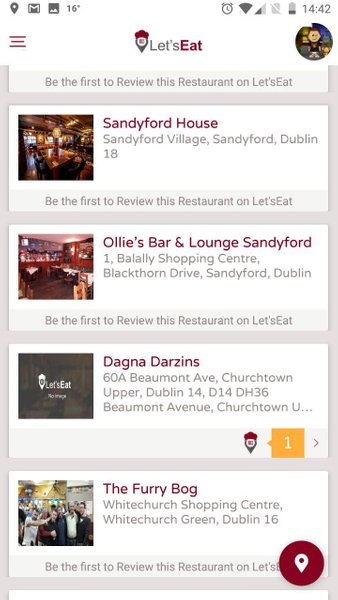 Map View
You can also browse via the map view navigate via the map icon. On the map view if you clicking on a pin will give you the option to see the reviews for that restaurant if they are available.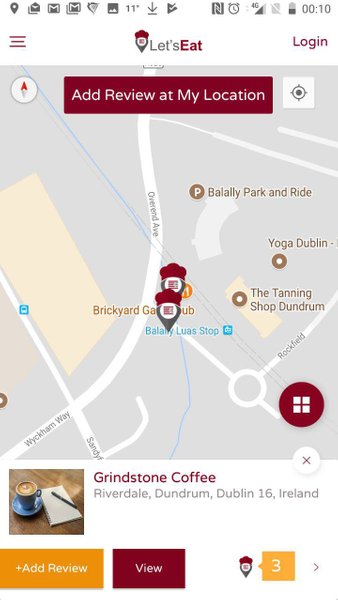 In the beta version there is no way to filter for different types of food, price etc in the beta version but this is on the roadmap for development.
---
Steemconnect & The Steem Blockchain
If you wish to leave a review you will need to log in via Steemconnect. If you are new to Steem and Steemit A big Welcome!
In order to leave a review with Let's Eat you will need to have a Steem account. Let's Eat is an app built on top of the Steem Blockchain. Steem is a public decentralised Social Media platform. Reviews and Rewards are stored and distributed via the Blockchain. You can find out more about Steem and how to get an account by visiting https://steemit.com. Steemconnect is a security layer on top of the Steem Blockchain, using this technology means Let's Eat does not need to store or access your private keys and passwords. In order to make a post with Let's Eat you will need to authorise the application to make posts from your account. You can read more about Steemconnect at https://steemconnect.com/
---
Lets get to the fun part!


Let's Eat will not only let you see reviews but it will help you make reviews on the go via templates.
Login
To make a review you will first need to login. This means authorise the app with Steemconnect to post from your account. Let's Eat will not store your passwords, logging in means authorise Steemconnect. To begin the authorisation process click the Login button on the top right of the screen.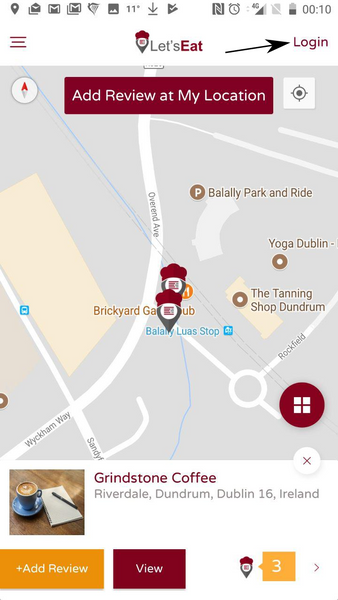 You will need a Steem username and active key to authorise Let's Eat to make posts from your account.
Making a Review
To make a review you will specify a location for the place so that it can be placed on the map.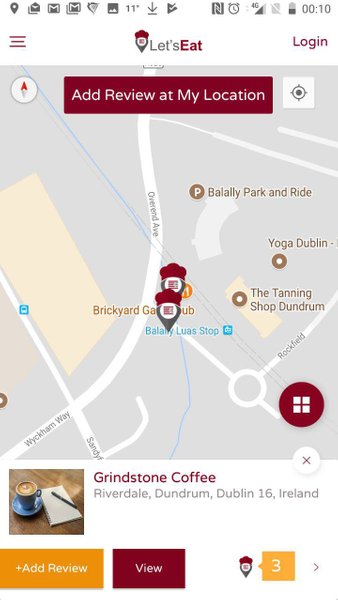 Pre Defined Places
You can select a restaurant from one of the pre defined restaurants via the map view. You will get the options on the bottom left to Add A Review or View.
View takes you to the restaurant to see previous reviews (if any) but clicking Add A Review will take you to the template for submitting a new review.
New Places
Not all Places will be pre populated so if a place is missing you can add it using the "Add Review At My Location" button on the map view. This will use your phones GPS to set the location but you can edit the address when you get to the template before submission if you wish.
Templates
When you navigate to the writing screen the template will be filled in with some details which you will be able to review and edit.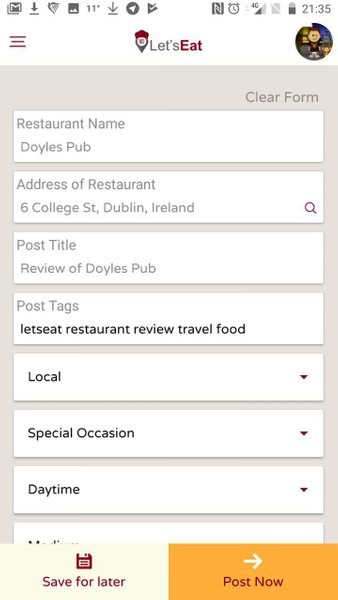 You do not need to fill in all the fields but you do need a location and a title. There is also a feature here where you can start a review when you are out and save what you have typed for later. You may wish to finish the review later after enjoying the experience.
Editing Reviews
If you wish to edit a review after you have submitted it you can do this via www.steemit.com. Just log in to your account and you can edit any of the fields in the review post or even add photos if you follow the same formatting.
Profile
The Profile Screen can be accessed by clicking on your avatar. This is where you can keep track of your reviews and see how much you have been earning with Let's Eat.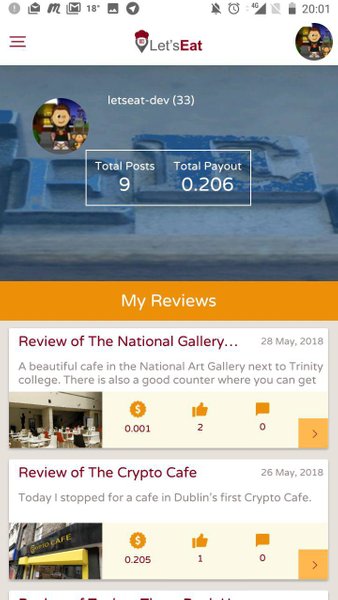 Tips for Reviews
When I have been searching for restaurants pictures are invaluable. The first photo you add will be what appears as the main picture for the Restaurant.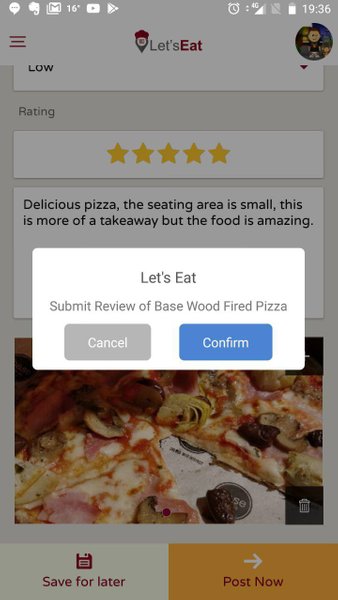 Picture of the Front Door
Even if you have the address a picture of the front door can help people find the place.
Pictures of the food
Not always easy to take good shots but these really help travellers decide on whether or not to visit.
You may wish to add take pictures with the phone and add them to the app later in the order you wish them to appear.
Descriptions
You should describe the atmosphere and the style of the place.
If you are in casual clothes after a long day sightseeing you may not wish to be dining in a restaurant with people in formal evening wear.
Travellers also appreciate knowing if you need to book in advance or if you can just walk in off the street.
What do you think makes a good review? Please leave your top tips in the comments.

Upcoming Features
The beta version of Let's Eat is note complete. There are some features which we wish to bring as soon as possible but for the moment you can use your favourite Steem Interface to perform the following actions.
Editing Posts
Upvoting/Resteems
Adding Comments
Top level comments to posts will appear in the app but the beta version does not allow you to add comments to reviews.
IOS Version
The IOS version is on the roadmap but is unlikely to be implemented for the beta version.
**In the next update post will give some more details about the roadmap for Let's Eat. **
I welcome any feedback about the app. This app is being launched to the global Steem community first and with your help we will polish it and make it yet another killer app for the Steem Blockchain.
You can read the announcment post here
---
Let's Eat will be a Steem app you will have fun using everyday!